Arsenal have a problem with slow starts under Unai Emery
Arsenal face Bournemouth live on Sky Sports on Super Sunday
By Nick Wright
Last Updated: 25/11/18 12:22pm
Arsenal are unbeaten in 10 Premier League games ahead of their Super Sunday clash with Bournemouth but their slow starts are a growing concern for Unai Emery.
Along with Cardiff, Arsenal are one of only two Premier League sides yet to lead a game at half-time this season. Against Wolves before the international break, they required a late Henrikh Mkhitaryan strike to salvage a draw after Ivan Cavaleiro's 13th-minute opener.
Arsenal did not muster a single shot on target in the first half of that game and it was not the first time they have underwhelmed before the break. Their first-half goal difference under Emery is minus three. In their last eight games, they have only scored in the opening 45 minutes twice.
It has been an issue in Europe, too. Indeed, after last month's Europa League clash with Sporting Lisbon, when Danny Welbeck's second-half goal gave Arsenal a 1-0 win after a poor first half, Emery touched on the subject in his post-match press conference.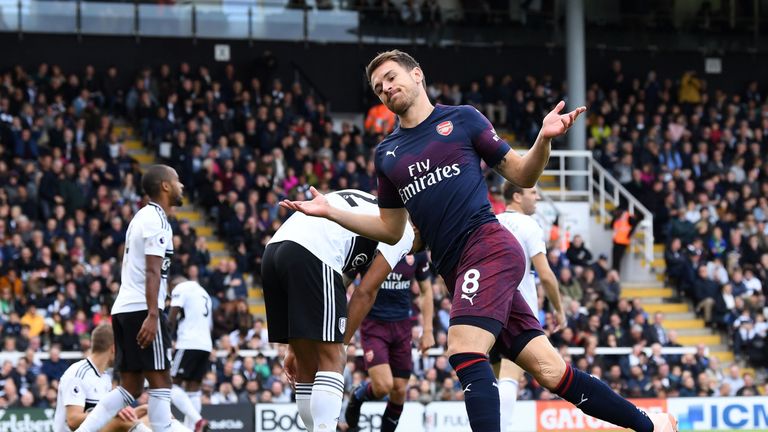 "We cannot impose our ideas in the first 45 minutes, but in the second half we have the chance and the opportunity to change the result," he said. "I think we did that in the 45 minutes of the second half. But we need to continue finding the solution for us to be better in the first halves."
It is to Emery's credit that the issue has not been more costly so far...
Super subs
Emery's substitutions have been a key factor in that. Arsene Wenger rarely made changes before the 70th minute and rarely withdrew key players at all, but right from the start of his tenure, his successor has shown a willingness to act decisively when things are going against his team.
Arsenal's Welbeck replacement
Nelson following Sancho's lead
There were three half-time substitutions in his first five games, setting the tone for what was to come, with Mesut Ozil, Pierre-Emerick Aubameyang and Granit Xhaka among those to experience the disappointment of being withdrawn long before the final whistle.
Emery's proactive approach has been rewarded on a number of occasions.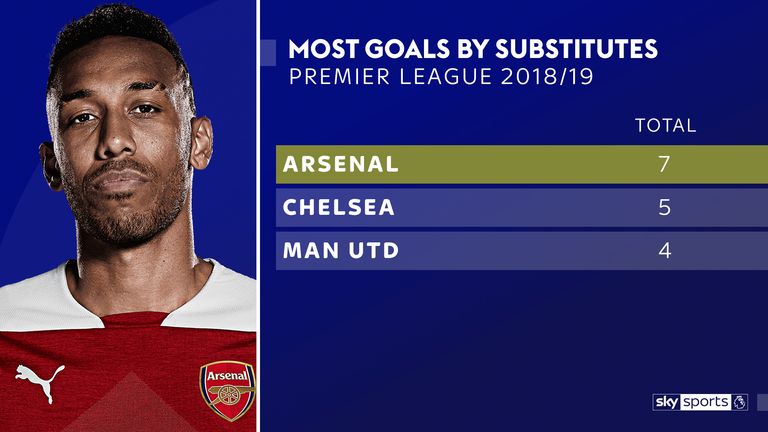 At Newcastle in September, Lucas Torreira was key in the 2-1 win having replaced Mateo Guendouzi at half-time. Then, a month later, Pierre-Emerick Aubameyang scored four goals in back-to-back substitute appearances against Fulham and Leicester. Even against Wolves, Mkhitaryan equalised having only emerged from the bench 10 minutes earlier.
Overall, Arsenal substitutes have scored seven goals this season - two more than those of any other Premier League side. On an individual level, Aubameyang has scored twice as many substitute goals (four) as anyone other player in the division.
Fighting spirit
The substitutions have been influential but Arsenal have shown impressive spirit and perseverance, too.
"I want team spirit, competitive spirit," said Emery earlier this season. "This character helps the team."
It certainly seems to be helping. The Wolves game was the fourth in which Arsenal have come from behind to avoid defeat. In fact, according to Opta, Arsenal have gained nine points from losing positions in 12 games so far - two more than any other Premier League side.
By way of comparison, it is only six fewer points than they gained from losing positions across the whole of last season. It hints at greater determination as well as more effective substitutions.
Fitness factor
Arsenal have also been helped by a level of fitness which has allowed them to take advantage of opponents tiring in the closing stages of games.
According to the tracking data, Emery's side have covered more ground (1,376km) than any other Premier League side this season, with Tottenham, Everton and Sunday's opponents Bournemouth next on the list.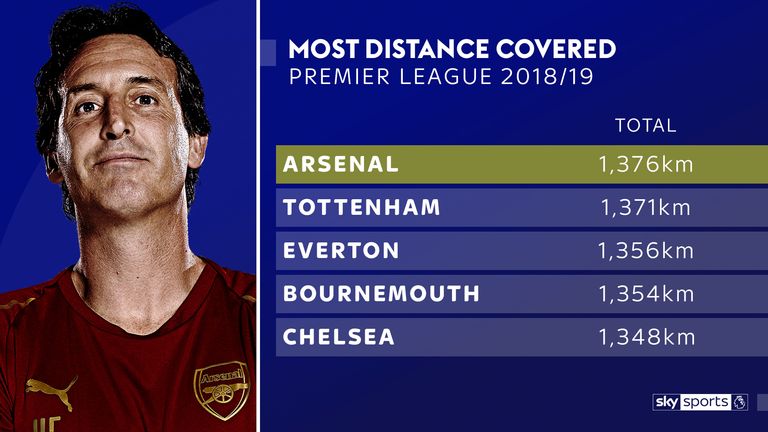 Arsenal rank highly for high-intensity sprints, too, with only Bournemouth, Manchester City and Liverpool making more so far this season. Arsenal's speed and stamina has given them an edge over many of their rivals this season and been instrumental to some of their comebacks.
Will it last?
The running stats could be interpreted as evidence that Arsenal's stronger second-half showings are a deliberate tactic. Is the idea to keep it tight in the first half before capitalising when games become stretched in the latter stages?
There may have been an element of truth in that in certain games, but what is certain is that it is not a sustainable approach. Against Wolves, Arsenal were dismal in the first half and ultimately fortunate to escape with a point.
Mkhitaryan bailed them out but the draw still left them three points behind fourth-placed Tottenham. Emery has shown Arsenal are capable of second-half improvement, but he needs to eliminate the slow starts altogether if their progress is to continue. Sunday's trip to Bournemouth provides an opportunity to buck the trend.
If you're reading on skysports.com comment below to get involved in the debate, but please adhere to our House Rules. If you wish to report any comment, simply click on the down arrow next to the offending comment and click 'Report'.