Unai Emery admits Arsenal will find it tough to impose themselves on Manchester City
By PA Sport
Last Updated: 03/02/19 4:34pm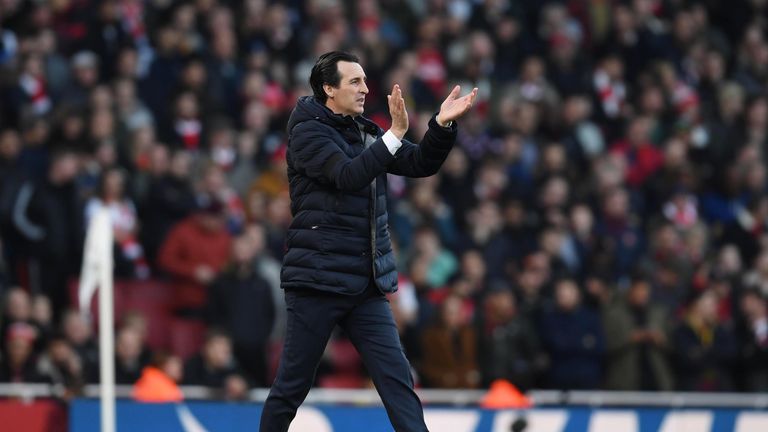 Arsenal head coach Unai Emery admits it will be difficult for his side to impose themselves on Manchester City when they meet on Sunday.
Newcastle defeated Pep Guardiola's side 2-1 in midweek playing a largely defensive style, while Leicester and Crystal Palace defeated City over Christmas after adopting similar counter-attacking tactics.
Emery concedes Arsenal may struggle to take a proactive approach into the game at the Etihad - live on Sky Sports - but is keen for the Gunners not to adopt too reactionary a style against a City side that will be keen to put pressure on leaders Liverpool, who do not play until Monday when they face West Ham.
"Usually Manchester City, in every match they impose their style," he said.
"You want to impose your style, you want to play with your personality, but sometimes you need adaptation - more or less, it depends on the opposition.
"It is very difficult to break their style and impose yours. When a lot of teams play with a very deep block, it's because they need to play like that and can also have chances to win.
"Usually you can play 10 matches against Manchester City - maybe Newcastle, maybe Crystal Palace, maybe us as well - you can lose 10 times playing the same, or maybe lose seven, draw two and win one.
"But this style can work for you like Newcastle and Crystal Palace won against them."
Arsenal were thrashed 5-1 at Liverpool in December as they looked to impose their own philosophy on the game but even that heavy defeat has not deterred Emery from attempting to try and impose a certain style on his players.
"They are two different teams," he said of City and Arsenal.
"Different manner of playing, but with very big organisation, very big managers and also very big players.
"For example, the progress from Liverpool is very important progress and now they are the favourites because they have the lead.
"Maybe Manchester City is a different example because they paid a lot and maybe we can't do that now like that, but our way is we can also do one way similar to Liverpool, similar to Tottenham.
"Doing more with young players, using well players who can improve with us. And we are doing that. We need time, but also we need to be very demanding of ourselves to do that."