Liverpool striker Luis Suarez flattered by interest amid Arsenal & Chelsea links
Unsettled Liverpool striker Luis Suarez has admitted it is good to know he is still valued by teams like Arsenal.
Last Updated: 10/07/13 6:39pm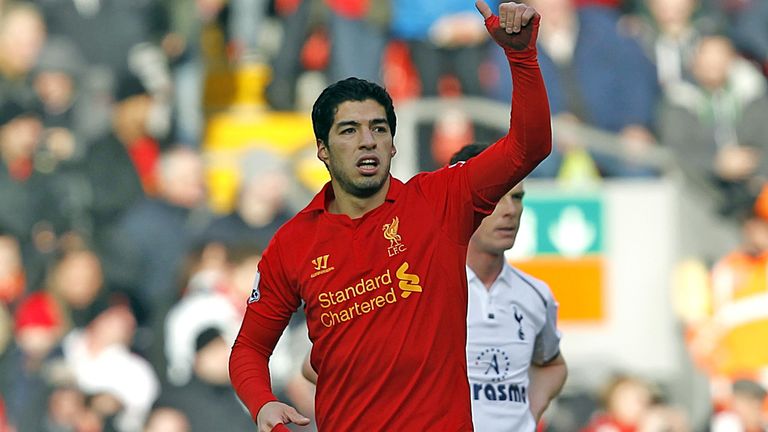 Suarez's future at Liverpool has been the subject of constant speculation all summer with the player not hiding his desire to leave Anfield.
It was reported that Arsenal had a bid turned down by Liverpool for Suarez, while Chelsea have also been credited with an interest in the former Ajax man.
Real Madrid are thought to be leading the chase to sign Suarez with the player's agent reported to have met Liverpool boss Brendan Rodgers and managing director Ian Ayre on Monday to discuss his future.
Liverpool are loath to lose the Uruguayan with the player thought to be keen on a move away in a bid to be playing in the Champions League.
The 26-year-old insists there have been no bids for his services yet, but claims Liverpool know his intentions to leave.
"There have been no offers yet, but Liverpool know exactly what is going on and what I want," Suarez told Uruguayan radio station Sport 890.
"My agent is in charge, he knows what I want, I am resting and relaxed. I am due back in about ten days, on the 21st of July (for the friendly with Melbourne Victory)... a phone call could change everything."
On the rumours linking him with Premier League rivals Arsenal and Chelsea, Suarez said: "It's good to know that I am still valued by teams like Arsenal. Friends call me up to ask if I am moving to Chelsea, to which I laugh.
"Don't believe everything you read or hear! I am sometimes off the grid. I don't even know where my phone is sometimes."
Since his arrival in England in January 2011 he has been banned for racially abusing Manchester United defender Patrice Evra, castigated for diving and is only four matches into a 10-game suspension for biting Chelsea's Branislav Ivanovic in April. He has also claimed he is being hounded by the British media.
"They (the press) have given it to me in England but, like we say, I've given them stuff to eat because if I hadn't done anything then probably they wouldn't have been as bad.
"But football is like that and you have to be accustomed to all that and it's good that the English clubs still want me."
Real Madrid, whom Suarez expressed an interest in last month during a series of interviews which put his future at Anfield in serious doubt, remain favourites although they have yet to make any approach.
Speculation about his future has followed Suarez for several months and he admits it does entertain him.
Chelsea were also linked with a move while he said his wife told him Paris St Germain wanted him after reading some of the gossip.
"It does amuse you because they (media) don't know anything," he added.
"I think it was my wife told me that I am going to speak French (at Paris St Germain) with (compatriot) Edinson Cavani. She comes and tells me something different all the time.
"Or when I'm having a chat with my brother in law and he says 'I saw Chelsea want Luis Suarez' and I say 'Ah yeah I see you're eating up what the press say.
"I say to him they know more than we do and it's funny. For now everything is going well I am very calm."