Arsene Wenger warns Arsenal midfielder Jack Wilshere over smoking photographs
Arsene Wenger will speak to Jack Wilshere after the Arsenal midfielder was pictured smoking.
Last Updated: 04/10/13 10:32pm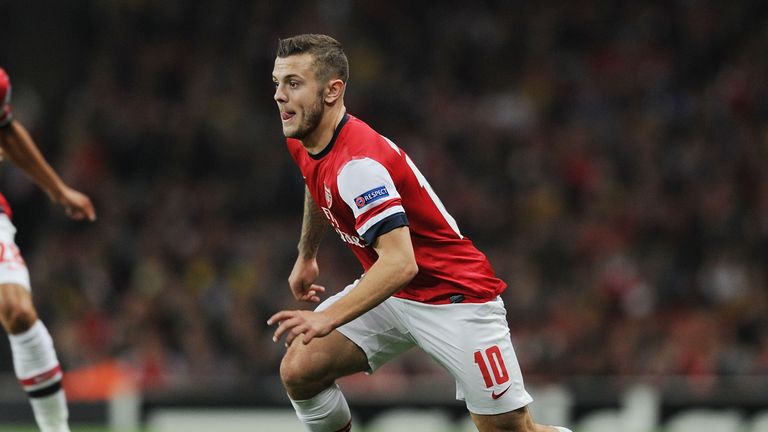 Wilshere was snapped with a cigarette outside a London nightclub following the Gunners' 2-0 Champions League victory over Napoli on Tuesday.
"Well, I disagree completely with that behaviour," Wenger, speaking at Friday's pre-match press conference, said.
"I need to have a chat with him about that. (What I say) I will leave between him and me.
"When you're a football player you're an example, and you don't do what damages your health.
"You can damage your health at home - you can smoke or drink at home - and nobody sees it, but when you're out socially, you damage your reputation as well."
Wilshere, who has made a slow start to the season after a long lay-off with an ankle injury, has been outshone in midfield by Aaron Ramsey and new boy Mesut Ozil so far this term.
But Wenger insists the England international remains central to his plans.
"Wilshere is a very important player here, my future plans have always been built around Jack," the Frenchman added.
"We had some setbacks with him - a lot - but he is a very important player in my squad."
Wilshere's representatives said the player was taking part in a "prank" where he agreed to hold the cigarette as part of a "dare", stressing he was "utterly committed to fitness and a healthy lifestyle".
The player himself later posted on Twitter: "But for the record.... I don't smoke!"
There have been many examples of top sportsmen who smoked, such as France international Michel Platini, who is now UEFA president, while Holland legend Johan Cruyff even regularly lit up on the sidelines when he was coach at Barcelona.
Wenger, however, accepts in England the culture makes such a position untenable.
"Yes of course things are different, in England especially," he said.
"You don't need to convince me because I must tell you, I travelled as a football player on coaches after games in France where you didn't see each other, there was so much smoke on the coach. Everybody smoked, but times have changed, and the healthy worry, the example, the role models from the football players request has changed as well.
"I must say as well, English society is very sensitive to smoking, much more than France, more than southern (European) countries, so it is a bit more shocking here than it is somewhere else."