Arsene Wenger finds it tough to see Robin van Persie in Manchester United shirt
Arsene Wenger admits it is difficult for him to see Robin van Persie in any shirt other than Arsenal's.
Last Updated: 08/11/13 8:35pm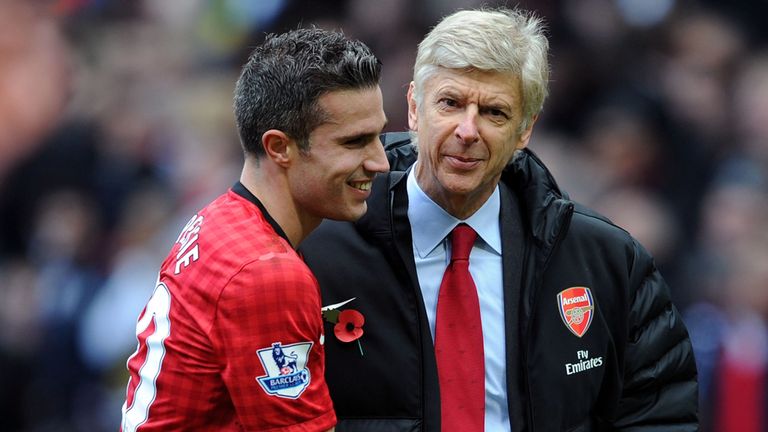 Wenger will come up against the Dutchman once again on Sunday when the Premier League leaders face Manchester United at Old Trafford.
Although it is more than a year since he sold Van Persie to Sir Alex Ferguson for £24million, Wenger says it does not sit well with him to see the striker in United's kit.
Van Persie's first season at Old Trafford ended with a first Premier League winners' medal, eight years after Wenger brought him to England from Feyenoord.
"Of course it's strange because for me he is an Arsenal man," Wenger said.
"I took him when he was a very, very young player. We have gone together through very difficult periods and he became a world-class player and for me he is an Arsenal player."
Wenger also revealed it was former United coach Rene Meulensteen who was vital in influencing van Persie to make the move north.
"Robin van Persie had been convinced by the Dutch coach who was at Manchester United, (so) that played a big part," Wenger said.
"It was more the fact that I had the conversations I had with Robin van Persie that convinced me, it is not the talk with Alex Ferguson that convinced me to sell Robin van Persie to Man United.
"It is the head-to-head talks I had with van Persie many, many times that convinced me that I had to sell him.
"I think in the end I had to decide 'do I do it or not?' knowing I will get huge criticism for doing it. But I just decided because at the end of the day I felt it was the best thing to do."
Wenger believes he will have a much better idea where his side stand in the Premier League pecking order after Sunday's clash
The Gunners go into the weekend five points clear at the top of the table, having won eight of their last nine league games, and Wenger says the game will allow him to make more of a judgement of their progress.
They have not enjoyed victory at Old Trafford since 2006 but he hopes to be able to end that run with a result that would cast United 11 points adrift as we approach a third of the way through the season.
"It is still one of the benchmarks of the season where you judge how strong you are," Wenger said. "People analyse everything, your behaviour, and draw conclusions after the game.
"It is still one of the big games where you can gain confidence and credit for good behaviour.
"We had periods where we did very well at Old Trafford but recently we have not done so well and this is a good opportunity to show we have improved. We can win there and that is our target."
Watch Manchester United take on Arsenal on Sunday on Sky Sports 1HD at 4.10pm as part of Super Sunday Hat-Trick.