Premier League: Arsenal's Aaron Ramsey thanks Cardiff fans for reception
Aaron Ramsey says there were moments during Arsenal's trip to Cardiff City on Saturday that he 'will never forget'.
Last Updated: 30/11/13 9:05pm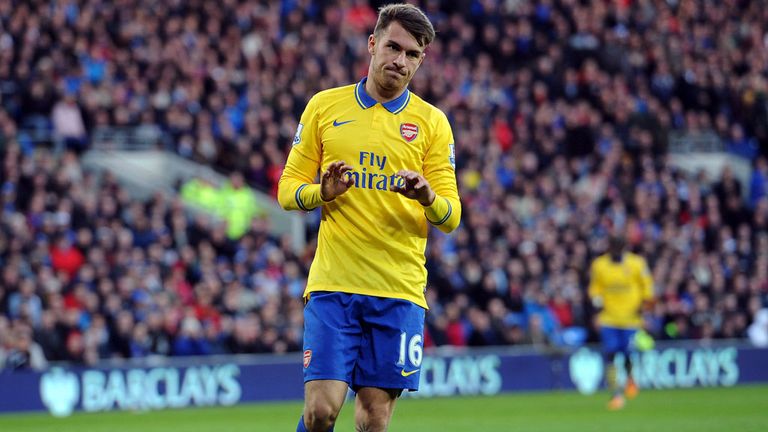 The Wales international was back where it all started over the weekend, with the Bluebirds having helped to launch his career.
It was to be a happy homecoming for the 22-year-old as he netted twice in a 3-0 win which stretched Arsenal's lead at the top of the Premier League table to seven points.
Ramsey opted against celebrating either of his efforts as a mark of respect to his former club and was delighted to see the home support honour him by applauding both goals.
He told Sky Sports: "It was one of those moments that I will never forget. It was a really nice feeling for me.
"Even though I didn't show that I was too happy with the goal, everybody else in the stadium showed their appreciation for it. I was delighted with the reception and the way they reacted to when I did score.
"It was a nice feeling for me personally, having a great reception like I got today.
"Hopefully I gave something back to them with the performance that I showed today - this is where it all started for me and they helped me on my journey to become the player that I am today. I hope they realise that and I gave them my respect as well by not celebrating my goals."
Ramsey has now netted 15 times in all competitions this season, with eight of those coming in the Premier League.
Asked if he can put a finger on what has sparked the upturn in fortune, he added: "It's just confidence.
"I think I rediscovered it halfway through last season and have just carried it on throughout this season. Hopefully it can continue."