Arsene Wenger has praised Olivier Giroud for his match-winning performance as the France striker's brace was enough to beat Middlesbrough in their FA Cup fifth-round meeting.
Giroud, who missed almost three months of the season after breaking his leg in August, reached double figures for the campaign by striking twice in two first-half minutes as the reigning FA Cup holders eased into the last eight.
The 28-year-old remains an important part of Wenger's side despite the summer acquistions of Danny Welbeck and Alexis Sanchez - who started either side of Giroud in a strong Arsenal side.
"We controlled the game from the first to the last minute," Wenger said. "They had one chance at the end from a header, but overall I'm pleased with the way we attacked.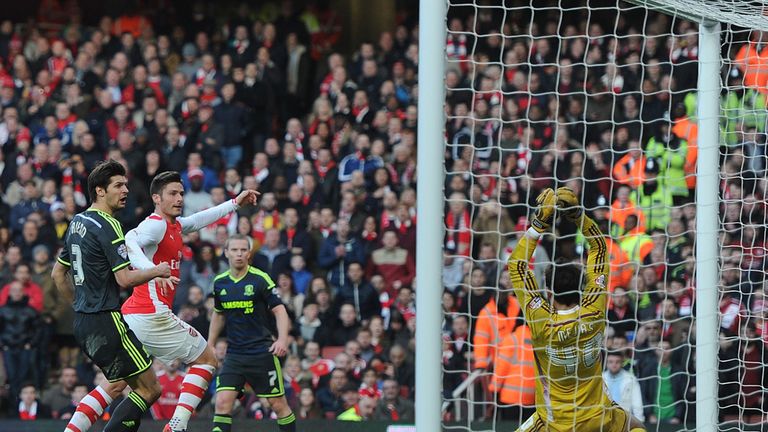 "I believe that he (Giroud) is a different player today than the guy who arrived here. He understands what top-level football demands, works with a great concentration in training and he has improved tremendously on his mobility."
Giroud put the game beyond doubt as he thrashed home Sanchez's corner with a well-taken first-time finish but it was his first strike, just two minutes earlier, which lit up the Emirates on what was a run-of-the-mill afternoon for the home side.
All 11 players touched the ball as Santi Cazorla, captain for the day, threaded a pass to Kieran Gibbs to cross low for Giroud to finish and Wenger was left purring at the accomplished move.
"The first goal is what we try to do in our game and our build-up," he said. "The second goal shows that the game belongs to the players as well."
Giroud's position as Arsenal's main striker had been under threat after the arrivals of Sanchez and, in particular, Welbeck but Wenger insists if the France international is named in his starting line-up he will always play through the middle.
"One of the reasons I bought him (Welbeck) is that he can play central striker and wide," Wenger added. "I believe he's doing extremely well and is contributing to the team very well. He can play central striker like he did for a long time but the most natural centre forward we have is Giroud.
"All the strikers we have can play in different positions. The only one who can only play centre forward is Giroud, so when Giroud plays the others have to move out wide."