Premier League Twitter followers around the world... where does your club rank?
By Ben Nagle
Last Updated: 22/04/15 9:04pm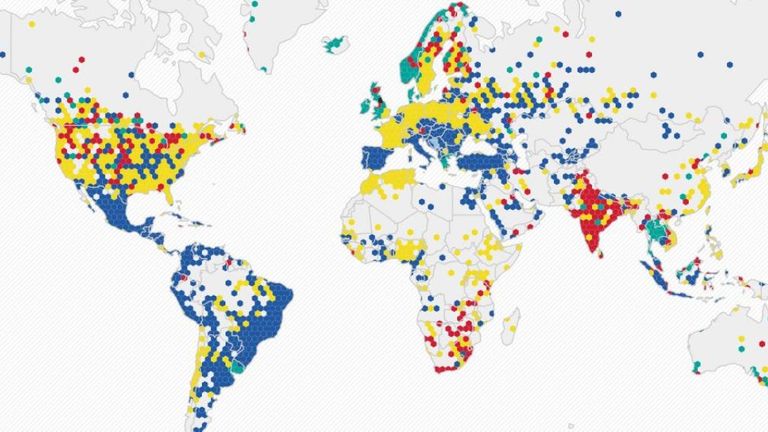 Liverpool might be off the pace when it comes to Premier League glory but they are the most popular football club in the United Kingdom, according to new research based on Twitter followers.
For the first time ever, the social media network have revealed a detailed map showing which teams are best represented around the globe, and it is Liverpool who come out on top in the UK.
Despite their fifth place in the Premier League, which is likely to see them miss out on Champions League football next season, the Reds hold 15.21 per cent of the UK's Twitter following, followed by Arsenal with 15.03 per cent and Manchester United with 14.6 per cent.
It is Arsenal that have the most pull further ashore, bringing in the biggest following throughout most of Europe, North America and north Africa.
Chelsea, despite topping the Premier League table, do not make the top three in the UK, but have a large following in South America, perhaps helped by their Brazilian representation in Ramires, Willian and Oscar.
The same logic applies to Spain, where the Blues are above and beyond their Premier League rivals with 25.14 per cent of followers. Cesar Azpilicueta, Cesc Fabregas and Diego Costa are but three of the Blues' Spanish stars, which is likely to have aided their strong position in the region.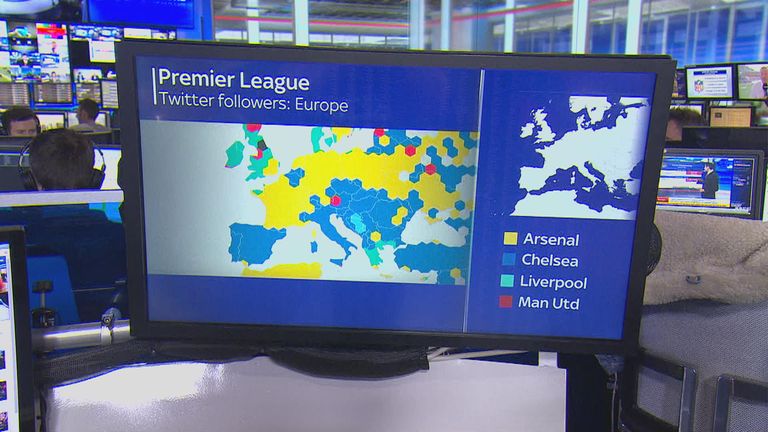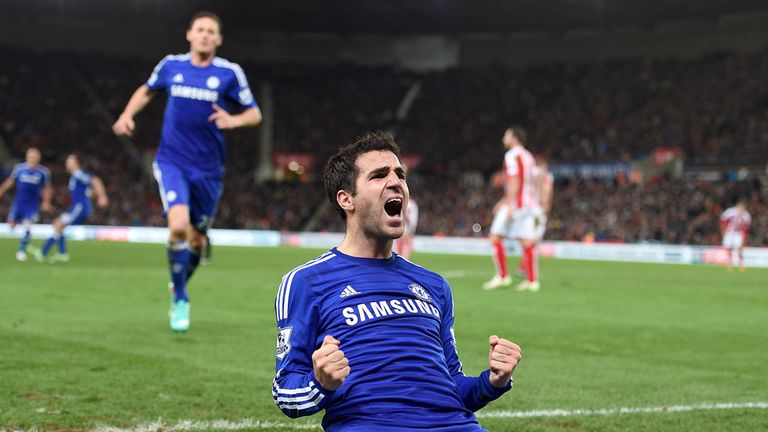 Perhaps surprisingly, Manchester United do not dominate in the majority of countries around the world. In India and the southern region of Africa, though, they do top the charts. Asia is a big market for the Premier League, and United frequently visit on pre-season tours.
Within the UK, Twitter's graphic allows fans to look in-depth at each region, and it is possible to see the top three clubs in each area.
This leads to surprising results, particularly in London, where Arsenal have more support than Chelsea and Tottenham in west and north London respectively.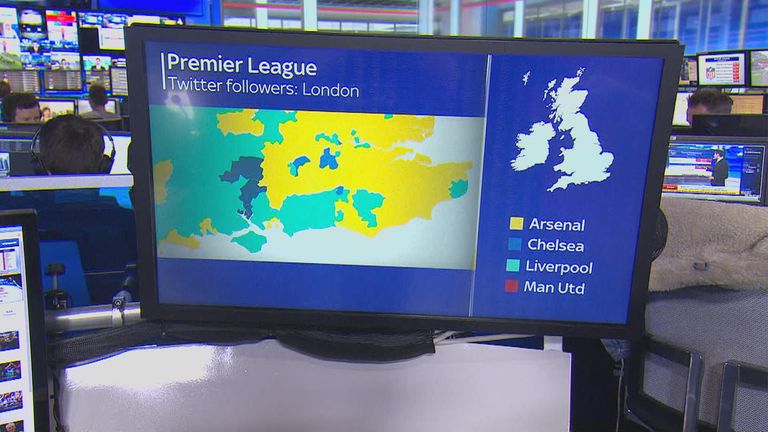 Outside of the capital, there is a lot of local support for clubs like Stoke, Leicester, Aston Villa, Hull, Sunderland and Newcastle, who dominate their regions.
Manchester, a famous two-club city, is red throughout, bar one City-dominated area in Gorton. The same applies to Liverpool, where the red half of the city dominates Everton, who in some cases (St Helens North and the Wirral) are third behind Manchester United.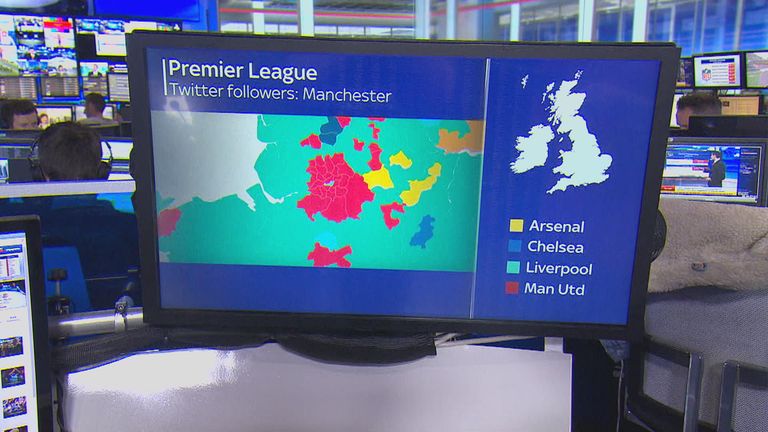 There are some unlikely leaders in countries around the world, perhaps best explained by players' nationalities. For example, over a quarter of the Premier League's supporters in Bosnia and Herzegovina follow the blue of Manchester City, who have Edin Dzeko among their ranks.
In Africa, Ivory Coast star Didier Drogba pulls 35.5 per cent of followers to Chelsea, while Luis Suarez's previous affiliation with Liverpool spikes the club's Uruguayan following. Surrounding countries Brazil and Argentina are dominated by Chelsea, but Liverpool hold 38.37 per cent of the Uruguayan support.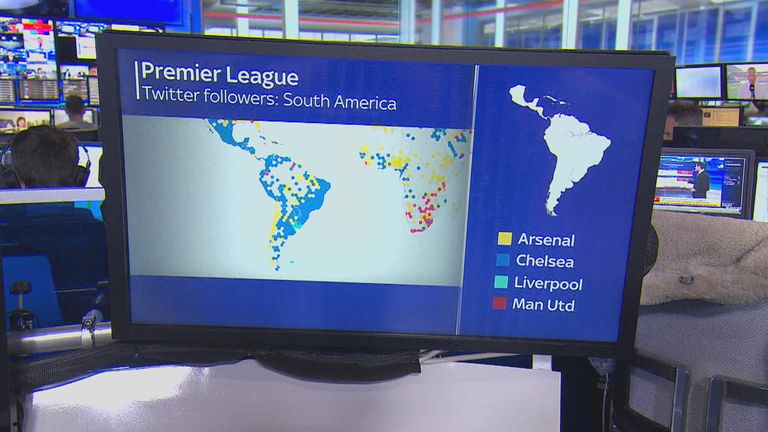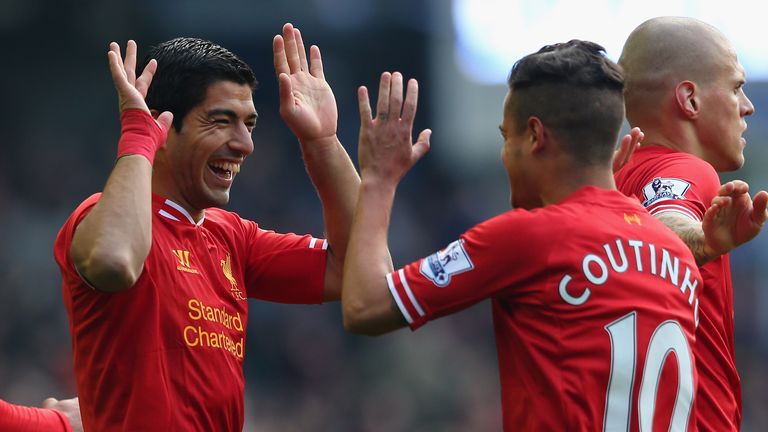 Top three clubs by Twitter followers in selected countries:
UK: 1 Liverpool, 2 Arsenal, 3 Man Utd
Ireland: 1 Liverpool, 2 Man Utd, 3 Arsenal
France: 1 Arsenal, 2 Chelsea, 3 Man City
Germany: 1 Arsenal, 2 Chelsea, 3 Man City
Spain: 1 Chelsea, 2 Arsenal, 3 Liverpool
Italy: 1 Chelsea, 2 Man City, 3 Arsenal
Netherlands: 1 Arsenal, 2 Man Utd, 3 Chelsea
USA: 1 Arsenal, 2 Chelsea, 3 Man Utd
Russia: 1 Chelsea, 2 Arsenal, 3 Man Utd
India: 1 Man Utd, 2 Arsenal, 3 Liverpool
Australia: 1 Liverpool, 2 Arsenal, 3 Man Utd
Brazil: 1 Chelsea, 2 Arsenal, 3 Man City