Arsene Wenger puts Francis Coquelin call down to Palace crowd as Arsenal get off mark
Last Updated: 17/08/15 11:12am
Arsene Wenger blamed the home crowd for his decision to substitute Francis Coquelin during Arsenal's 2-1 win at Crystal Palace.
Coquelin was replaced just after the hour shortly after avoiding a second booking for a foul on James McArthur, and Alan Pardew later claimed Lee Mason had lacked the "bravery" to send off the midfielder.
But Wenger, who was pleased with his players' response to the opening-day defeat against West Ham, felt his fellow Frenchman was in anger of becoming a victim of the Palace fans' mob mentality.
"I felt that he was not fortunate," Wenger said. "I would like to see all that again, but in the end the pressure created by the crowd was so big that I took him off after 60 minutes.
"That's not easy after 60 minutes when you are 2-1 up - to take off a player having quite a good game. It's a very sensitive decision."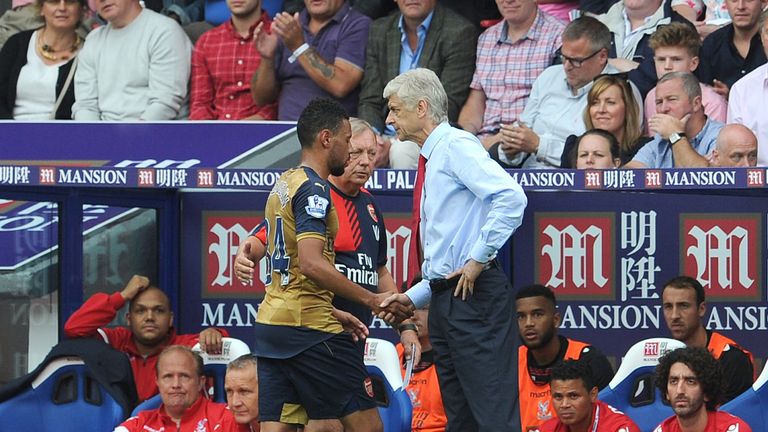 Arsenal held on to the lead without their enforcer, the decisive strike a Damien Delaney own goal as he failed to keep out Alexis Sanchez's header.
The Chilean missed a couple of early chances on his first start of the season, Wenger conceding a "sharper" Sanchez "might have had two or three".
But the manager said: "Match-fit or not, he has such a desire and such resources he always has a weight in the game."
And on the overall significance of the result and performance, both an improvement on what he called "a bit of a stroll" against West Ham, Wenger said: "Today we played Premier League football from the first to the last minute with ambition and full commitment.
"We have shown different aspects of our game that are needed at the top level. We had good fluency in the first half, and we responded well mentally when they came back to 1-1. In the end when we had to dig in we did that as well.
"I'm very pleased with the three points because two games, zero points is absolutely difficult. We knew before it was a very tricky game and we responded well."