Arsene Wenger has questioned the referee's decision to send off Olivier Giroud as Arsenal started their Champions League campaign with a disappointing defeat to Dinamo Zagreb.
The Gunners were already a goal down in Croatia after Alex Oxlade-Chamberlain's own goal, before Giroud picked up a second yellow card and was sent from the field five minutes before the interval.
The Frenchman was booked for dissent after 26 minutes and received a second yellow card just 14 minutes later for a foul on Ivo Pinto.
Speaking after Arsenal's 2-1 loss, Wenger said: "The first yellow card was Giroud's fault because he protested, even if there was no foul against him.
"After that he should have not protested to the referee. His second yellow card was completely unlucky to touch the guy. I do not understand the referee.
"I don't think he saw the guy. It was completely accidental. It happened and I think at that moment it was not a second yellow.
"It has to be a foul on purpose and it was not on purpose. The referee should have given several yellows tonight based on that.
"It's difficult because we had a lot of the ball and we had early chances. We were a bit unlucky tonight.
"I believe the first goal was offside and then afterwards the sending off was very harsh. We have to look at ourselves as well because the second goal killed our game.
"We are good enough to defend corners like that well. Apart from that we had a lot of the ball when it was 10 against 11.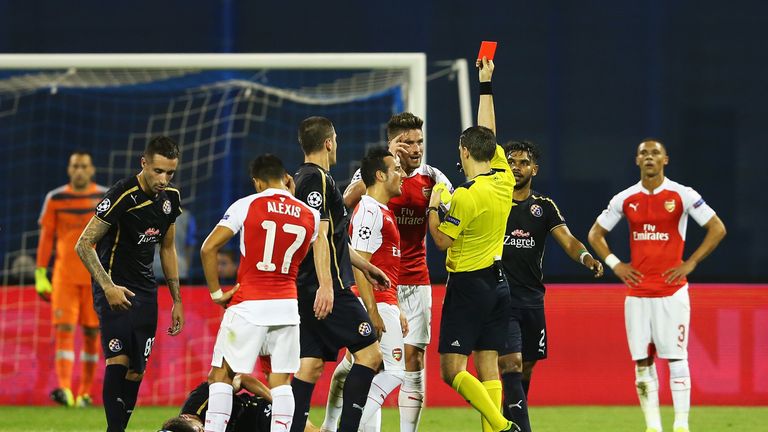 "They were committed, they defended well and sometimes I felt that they stopped us from gaining an advantage without being punished by the referee, especially on counter-attacks where we had to play 10 against 11 in one half. We were not at our best but neither was the referee tonight."
Having been drawn in the same group as Bayern Munich - who coasted to a 3-0 victory at Olympiakos - defeat for Arsenal could well have handed the Bundesliga champions the early initiative in the race for qualification for the knock-out phase.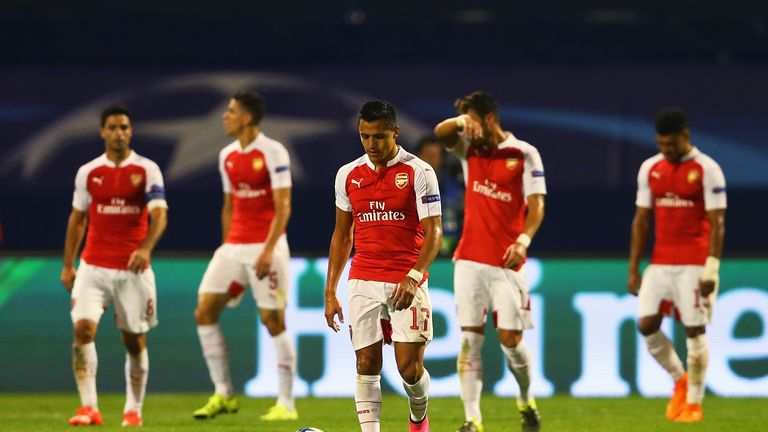 Despite this, Wenger backed his side's chances of qualifying on the back of their form at the Emirates Stadium and is confident the Gunners can progress.
"Mathematically we can qualify without any problem if we can produce our performances that we want at home," he added.
"We have had problems starting in every competition this season. We were slow starting the Premier League and now the Champions League. I'm confident that we can put that right in the next five games."