Roberto Martinez reprimanded Leighton Baines but the chemistry at Everton is an issue, writes Adam Bate.
By his own admission, it was a game at Goodison Park that accelerated Gary Neville's thoughts of retirement. In particular, it was the partnership between Leighton Baines and Steven Pienaar that did for him.
Overlaps and underlaps; the timing of the Everton pair's passes. Neville was left dizzy. "They have a brilliant understanding," he said. "They know exactly what the other is going to do."
Live Ford Football Special


Everyone at Everton recognised it. When Pienaar was brought back to the club following a stint at Tottenham, David Moyes was reluctant to pay more for the then 30-year-old South African midfielder than they'd sold him for. But he knew he had to.
Steve Brown, Everton's head of performance analysis at the time, admitted that they didn't need to check Pienaar's individual stats too closely - the synergy benefits of his partnership with Baines were so obvious.
It worked. In the 2012/13 season, Baines created more chances than any other Premier League player. Pienaar was seventh on the list. This was the left side that Roberto Martinez inherited that summer and he appreciated the gift he'd received.
"You get special partnerships in football," said Martinez. "I can imagine when Stevie is on the pitch, Leighton knows when to go and that extra second makes all the difference to defences. Leighton and Steven have as good a chemistry as you're going to find in football."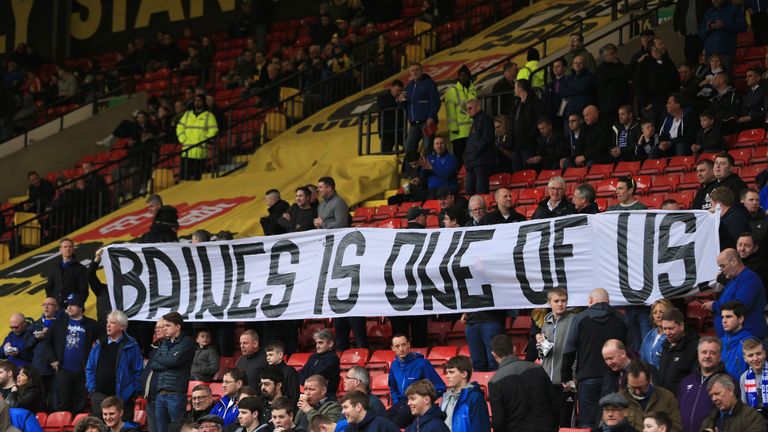 Chemistry. There's that word. The one that was the cause of such controversy for Baines, Martinez and the Everton supporters last week. It stemmed from an interview with the Liverpool Echo in which Baines spoke so honestly after a 1-0 defeat to Manchester United.
"I just don't feel as though the chemistry is quite there with the team on the pitch at the moment, and it hasn't been for a while," said Baines. "We are maybe leaning too heavily on individuals to come up with something.
"Look at the teams who are having success this year and you'd say they have chemistry. If I had to say one thing, I just don't know if it's there with us at the moment, for whatever reason." In truth, he was articulating what many Evertonians have been thinking for a while.
But Martinez was quick to respond. "Obviously he used the wrong words," he said. "They've been given the opportunity to attract a meaning that is not right and for that he apologised.
"What he intended to say is that when you're not getting the results, you lose confidence so a ball that could go in hits the crossbar and it goes out. At the other end, a half chance ends up in the back of the net."
That argument hasn't convinced too many Everton supporters, but is it true? Well, Martinez can indeed point to some significant statistics that would indicate his side have been unfortunate this season.
Unlucky Everton?
| | | | |
| --- | --- | --- | --- |
| Everton | 39 | 51 | 12 |
| Liverpool | 48 | 56 | 8 |
| Crystal Palace | 37 | 43 | 6 |
| West Ham | 52 | 58 | 6 |
| Sunderland | 27 | 32 | 5 |
Only Arsenal have hit the post or crossbar on more occasions than Everton. Opta data reveals that the team would be 12 points better off if shots that hit the woodwork had gone in - making them by far the unluckiest in the Premier League.
The statistics suggest that only the top three have created more clear-cut chances and it's no great surprise that Everton are the fifth highest scorers in the division. There are certainly some benefits to encouraging individuals to express themselves.
That's precisely what Martinez has done. Examine Everton's dribbling stats and the change in emphasis is clear. The team was averaging just 5.3 dribbles per game in Moyes' final season but that increased to 12.6 in Martinez's first year - a Premier League high.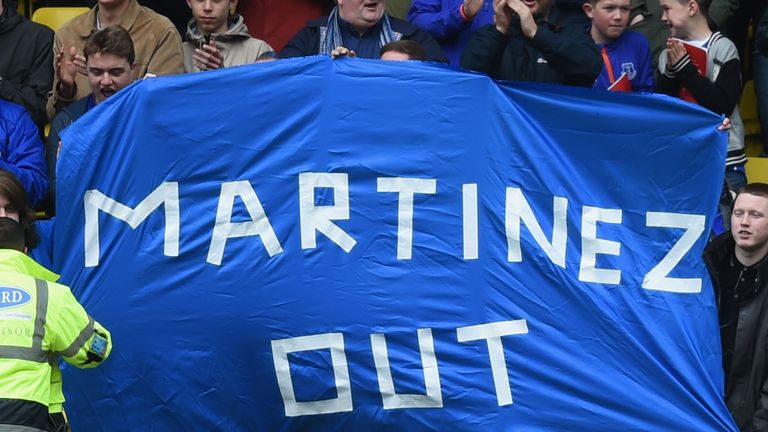 Such change was embraced at the time as a long-awaited sprinkling of flair. But while the number of dribbles per game still stands at 12 for the current campaign, the solid base provided by the likes of Sylvain Distin is now long gone.
The Baines and Pienaar partnership is a thing of the past. The selfless play of Leon Osman much missed. Instead, while the likes of Gerard Deulofeu, Ross Barkley, Kevin Mirallas and Aaron Lennon seek to entertain, defensively Everton have become far easier to play against.
It's the problems with the team's defensive shape. It's the lack of pressure on the ball. Disrupting the opposition feels like an afterthought. Only Norwich have made fewer interceptions. Leaders Leicester top the Premier League for this particular metric.
Instead, Martinez prefers to focus on what happens when Everton have the ball. But given that his side spend 47.8 per cent of their time without it, that's a problem. And, once again in stark contrast to Leicester, it's left him with a defence that does everything but defend.
For instance, the Toffees have the best passing accuracy in their own half of any Premier League team, but they cannot keep the ball out of the net. They've already conceded more goals than in six of the previous nine seasons - and there are still seven games remaining.
Individual errors have contributed. According to Opta, only eight defenders have made multiple mistakes leading to goals this season and both Phil Jagielka and John Stones are among them. These errors alone have cost Everton six points.
Everton goals conceded
2004/05 -- 46
2010/11 -- 45
2005/06 -- 49
2011/12 -- 40
2006/07 -- 36
2012/13 -- 40
2007/08 -- 33
2013/14 -- 39
2008/09 -- 37
2014/15 -- 50
2009/10 -- 49
2015/16 -- 43 (seven games left)
But it's the team's entire approach that's under scrutiny and has left Martinez having to explain the club's worst ever Premier League home record. That'd be a concern for any coach, but the real frustration for fans is that this is an all too familiar story for the Spaniard.
The fear is that the problems are not merely misfortune, but an inevitable by-product of his approach. The fear is that the balance is wrong and the trend is downwards. The fear, as an astute judge who knows Everton better than most has said, is that the chemistry is lacking.