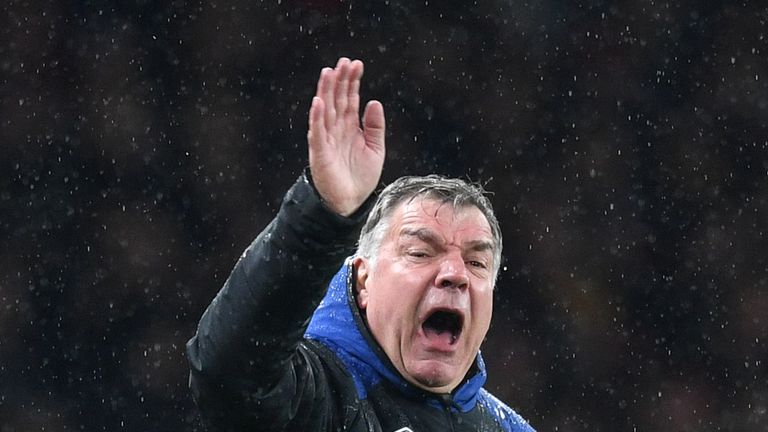 An angry Sam Allardyce fumed at a "pathetic" display from Everton as they were beaten 5-1 by Arsenal on Saturday.
Everton were outplayed in the first half at the Emirates and found themselves 4-0 down after 37 minutes.
They did improve after the break and pulled a goal back through substitute Dominic Calvert-Lewin, but Allardyce was not impressed.
"Any tactics and any system you pick is worthless if the players don't play to their best," he said.
"None of our first XI in the first half played anywhere near their best and that is why we were tumbling goals left, right and centre with our pathetic performance.
"None of it was any good. We got better in the second half but far too late...all the team played crap.
"I was angry. I'm still angry. I think accepting an instruction is part of a player's responsibility at the level required. We tried to give the most instruction in the time we had available.
"There were clear instructions today because there was a good performance by Swansea against Arsenal [on Tuesday] that gave them a good victory and we based our plan on that.
"Unfortunately, Swansea played at the top of their game and we played at the bottom of our game. If you play at the Emirates, you've got to play at your best and our 11 didn't play anywhere near our best, that's why we were tumbling goals in a pathetic performance."
Allardyce was asked whether Ademola Lookman, who scored on Saturday for RB Leipzig after joining on loan, could have had an impact.
"No, we've got £20m Theo Walcott and £30m Yannick Bolasie and if you'd put him out there he wouldn't have done any better than the rest because the whole team played crap," he responded.
Everton's goal came in the 64th minute when Calvert-Lewin nodded in from Cuco Martina's cross.
Calvert-Lewin was a replacement for Walcott, who struggled to make an impact on his return to the Emirates.
"Theo wanted to put on a good show but the pathetic performance we gave didn't give him the opportunity to do that," said Allardyce. "I had to change the system but it could have been anybody coming off - apart from the goalie."