Everton's away form is a major problem for Sam Allardyce
Last Updated: 27/02/18 1:49pm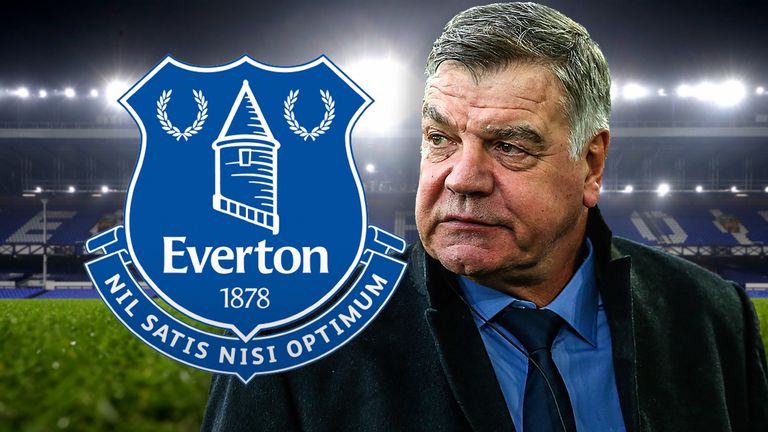 On the second anniversary of Farhad Moshiri taking control at Everton, Adam Bate examines the team's struggle for form under Sam Allardyce.
A glance at the Premier League form guide shows that over the past 10 games, Everton rank among the bottom three teams. Not ideal for Sam Allardyce when he has only been in charge for 14. Those early wins over Huddersfield, Newcastle and Swansea feel a long time ago now and there are those supporters already wondering how it has all come to this.
Allardyce was not Everton's first choice. Nor was he a unanimous or an inspired one. There was an air of grudging acceptance at Goodison Park that the club's hand was forced. They needed to stay in the Premier League. They needed to secure funding on the new stadium. With David Unsworth seemingly unable to steady the ship, the slide had to be stopped.
Former Everton midfielder Leon Osman summed up the mood when he said that the appointment of Allardyce did not excite him but it was probably required. And yet, it is tempting to think that the job was done before he had even taken a training session - his presence in the stands enough to spark a 4-0 win over West Ham in Unsworth's final game.
The fact that Everton have endured relegation form for the past two months but remain in the top half of the table highlights the point that the flurry of good results that greeted Allardyce's appointment was all it needed. Aside from an aberration at Arsenal, the team was tightened up. A handful of home wins over struggling sides soon alleviated the danger.
But this was supposed to be a season in which Everton aimed higher than that. Tuesday marks two years since Farhad Moshiri became the club's major shareholder and there is no denying that money has been spent, even if much of it was recouped by Romelu Lukaku's sale. That is why the sight of a side so lacking in ambition feels particularly jarring.
Allardyce's pragmatism has come at the cost of attacking ambition. The stalemate at West Brom on Boxing Day was the first time that Everton had registered back-to-back goalless draws in four years and it is away from home that the regression has been most noticeable. They have lost five in a row on their travels in all competitions since that Hawthorns result.
Looking back, Allardyce's first away game, the derby at Anfield, illustrated why he is likely to succeed in his short-term remit but could fail to find a long-term solution. Everton delivered a dogged display, recording their lowest possession in a game since Opta started collecting records but still snatched a draw with their only shot from inside the area - a penalty.
Everton's lack of goals is no mystery. Only Swansea have had fewer attempts this season, with the issue particularly apparent away from home, where they are also among the bottom three for clear chances created. While Theo Walcott's arrival has done much to address the lack of pace in the side, the lack of creativity remains a concern.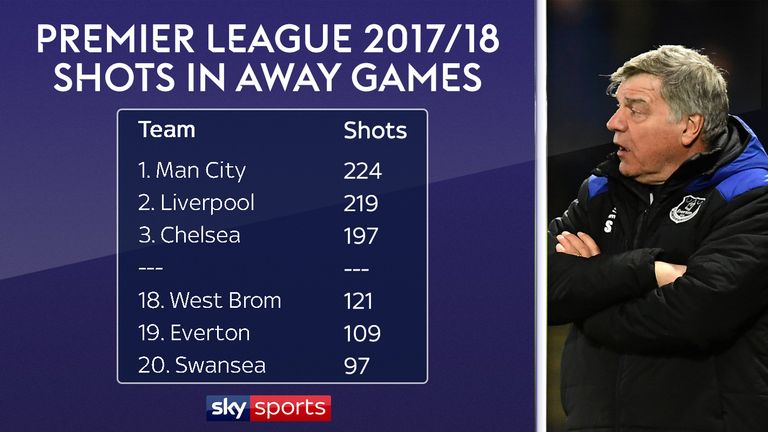 Whether Allardyce fully recognises the need for greater creativity is not clear. It was not obvious in his reaction to an insipid 1-0 defeat to Watford at Vicarage Road on Saturday. The team's paucity of ambition was glaring in a game that was there to be won. Instead, Allardyce praised the performance but blamed an "open goal" missed by Michael Keane.
"You squander your opportunities and you pay the price, it's as simple as that," he told reporters afterwards. "We lost the game 1-0. We should have come off with a 0-0. Our problem away from home is that we are not picking up the results to guarantee us safety. We did not have a finisher on the pitch to put the ball in the back of the net."
Of course, that man was supposed to be Cenk Tosun, the Turkey international bought from Besiktas in January for a fee of £27m. Even before the deal was done, Allardyce knew its importance. "That first player has to have a real impact at Everton Football Club to prove to everybody that we are going in the right direction with recruitment," he said.
"I put that money into that player but if that player doesn't deliver (people will say): 'Look at that player, look at the money he's wasted on him, oh he's bought him, he's rubbish, what a waste of money'. So I'm knackered then, the fans don't trust me, the board doesn't trust me and so my first signing is absolutely critical."
Perhaps it is too soon to dismiss Tosun as a flop but it is alarming that he has still played only 176 minutes of Premier League football and has been an unused substitute as many times as he has started. Allardyce admits the striker is "struggling with the pace" of the game and has openly questioned whether he can get into the positions needed to score.
Tosun is not alone in failing to make an impact at Everton. Indeed, the majority of the club's signings in recent times have been unable to impress - Morgan Schneiderlin's relationship with supporters disintegrating to the point where he was booed onto the pitch by his own fans in the most recent home game against Crystal Palace.
But Tosun is also a symbol of something else. Not just a purchase that puts greater scrutiny on Steve Walsh's role as director of football at the club, but one that adds weight to the notion that Allardyce could be exacerbating the problems at Everton rather than alleviating them. Is he really the man to take the club into a new era at a new stadium?
"The players have no excuse anymore for not getting out there and performing," said the Everton boss upon bringing the team back from their break in Dubai prior to the Watford defeat. But with a game against a Burnley side who remain winless in 2018 up next, there is a growing sense that it is Allardyce who is the one running out of excuses.