Everton boss Sam Allardyce defends approach with Cenk Tosun
By Gerard Brand
Last Updated: 10/03/18 7:12pm
Sam Allardyce has defended the way he eased Cenk Tosun into the Everton side after the striker scored his first Goodison Park goal.
Tosun scored for the second game in succession in the 2-0 win over Brighton, after a slow start to his Everton career following a big-money move from Besiktas in January.
Allardyce admitted he was in a lose-lose situation when Tosun arrived, opting to give him time to settle in rather than throw him into the side.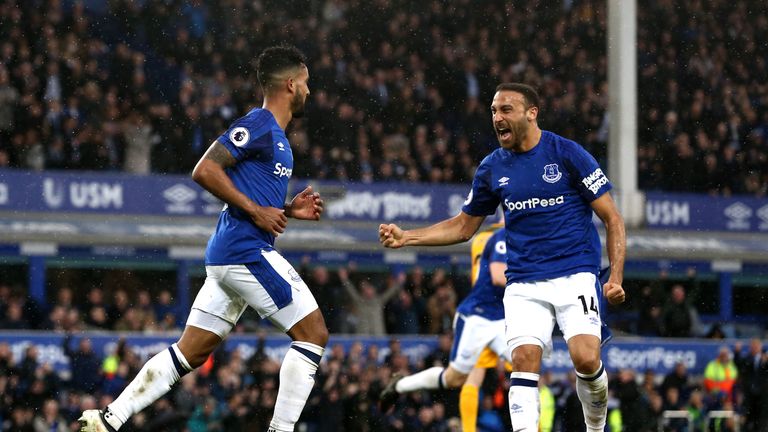 He told Sky Sports: "What a finish, hey? We've seen what he can do. It's about our lads getting more quality into the box for him. We had an awful lot today, time and time again we were in the final third.
"As soon as we deliver a bit of real quality, the two goals came about. He found himself a bit of space and finished it brilliantly.
"He's settled down. It was: 'Why did you buy him? Why are you not playing him?' The usual when you pay money for somebody. For me my job is not what about everybody else says, it's about what I think internally, when he's ready.
"He could have got a lot of criticism if I'd played him too soon, and they'd all have started saying: 'What a waste of money,' as happens across the football world, but we were patient with him and he worked really hard. Long may it continue."
Allardyce was delighted with his side's "stylish" approach to the win, and wants to take that philosophy into their next game, away at Stoke next weekend, despite finding points on the road hard to come by.
"We've had a lot of hard work to do when we play like this away from home, but today's quality again showed.
"It gives us a good platform again to start going forward. Because we've got Stoke away next, we're going to try and emulate this performance there.
"It's all about the players today and how well they performed under pressure to get a result, and they did it with style. I'm absolutely delighted it's our first clean sheet in ages!"