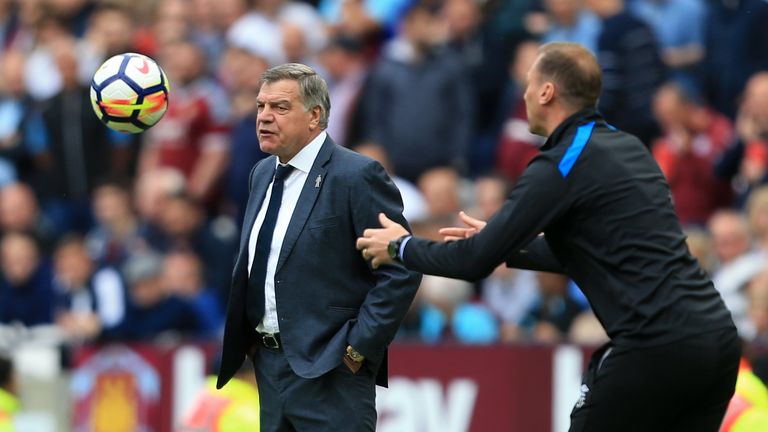 Sam Allardyce has rubbished claims of a falling out with Wayne Rooney but the Everton manager admits the future of the former England captain is 'out of his hands.'
According to Sky Sources, a deal had been struck between Rooney's representatives and DC United, while the manager of the MLS side Ben Olson insisted the move is not yet done.
Allardyce watched his side beaten 3-1 at West Ham on the final day of the Premier League season, with Manuel Lanzini scoring twice at the London Stadium.
Speaking after a disappointing end to the campaign, Allardyce was keen to clarify the reports of a bust-up between himself and Rooney.
He said: "I can update you on the fact that all the rumours, gossip, miscalculations and stories the media are writing between me and Wayne are absolute rubbish.
"They'll still continue to make it up that we've had a row, and that he's walked out on me, or that I've had a row with him and all that.
"I'll tell you now that me and Wayne have handled ourselves very maturely, very professionally, along this journey.
"Wherever the journey ends up at is not in my hands, it's in the board of directors' hands and Wayne's hands. I have just been the go-between and me and Wayne have dealt with that brilliantly up to now."
Allardyce lamented a combination of his side's poor finishing, Adrian's brilliance and 'outstanding' goals from Lanzini and Marko Arnautovic as Everton finished the season in eighth place despite the defeat.
Oumar Niasse's second-half strike was the only highlight of a disappointing overall display in the capital, and focus will now turn to Allardyce's own future at Goodison Park.
He added: "Whenever one of the board tells me what they want to do then I'll know. Whatever will be, will be.
"At the end of the day, all I can say is I've done what I came in to do, and the players have achieved more than what was expected from them, so the credit goes to them."