Everton manager Marco Silva is excited about the challenge he faces at Everton ahead of the new season.
Silva was appointed as Everton boss in May after he was sacked by Watford in January.
Since taking over at Goodison Park, he has been focusing on the task ahead as he looks to improve the squad before the Premier League transfer window closes on August 9 at 5pm.
"First of all I am excited because it is the next challenge," Silva told Sky Sports News. "It is the present and for me always in football if the most important is what we are doing now in the present.
"It is a big challenge, big club, I am really excited to be here and proud as well for me and my staff to be working here.
"What we want is to make our fans proud in what they are seeing every day. I know what they want, the expectations are really high, it is normal.
"At a big club like Everton that is normal. We must do everything we can to prepare well our squad. In terms of day by day, every day in work and after trying to attack the market at the right times as well to improve our squad.
"This will get ourselves more competitive. I know what our fans expect and we need to do everything to get ourselves back."
Everton finished eighth last season but fell short of European qualification seen by many fans as a benchmark for their season.
The Merseyside club had a terrible start to the season under Ronald Koeman, where they had won two of their nine league games under the Dutchman.
And when asked if he feels this is the club that could propel him to the top of the game, Silva stated this was "not the most important to him".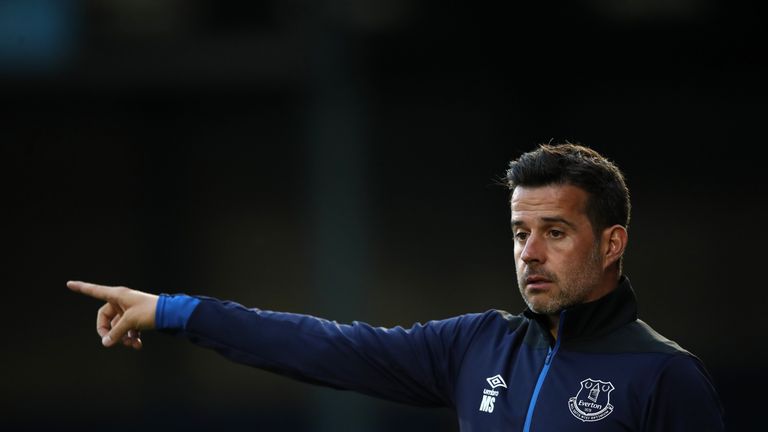 He added: "It is a pleasure to be here. What is most important to talk about is my players and my future at Everton.
"We need to put the club in the right position, to get our club better and better this is my expectation and the expectation of the owner as well.
"He wants to achieve something great at the club and it is my obligation to achieve that. It is important to support and we will support our chairman. We must support our board as well to all work together to get our club better."