Former Everton midfielder Leon Osman does not fear Richarlison will suffer a drop in form following the forward's impressive start at Goodison Park.
Richarlison joined Everton from Watford in the summer, with the £40m move seeing the Brazilian reunited with manager Marco Silva.
The forward had started brightly under Silva at Watford last season, but his performances dipped after the manager's departure.
Under Silva's guidance once more, Richarlison has opened the 2018-19 Premier League campaign with three goals in two games for Everton.
Asked on Sky Sports News if Everton fans expect Richarlison to continue firing, Osman replied: "That's the hope. I wouldn't say there is a fear he is going to drop off. You have to understand young players do have moments in a season.
"With the combination he has with Silva, the work they did at Watford and have started to do at Everton, you expect him to be working at these levels for a lot longer during the season.
"We've seen his moments of magic. His second goal against Wolves was fantastic and he's got that determination to be in the box, in that centre forward's position where goals are scored.
"If you've got a guy who can do the silky touches on the wing and help his team with regards to build-up, and also want to be in the penalty area to be on the end of crosses, you've found yourself a player.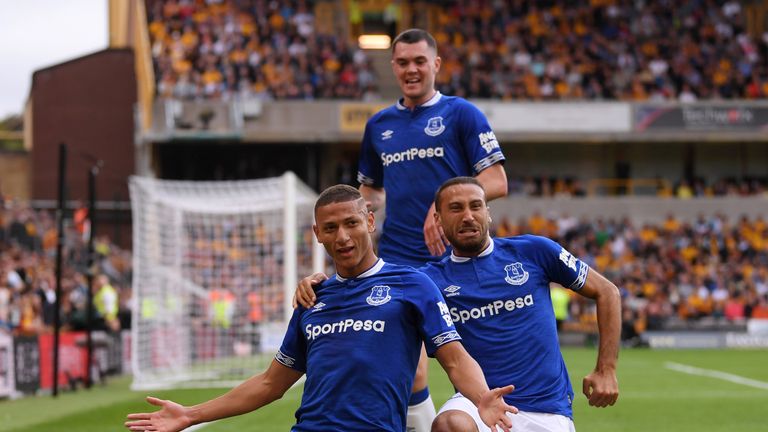 "If you've got a manager who believes in you, and is sending you out every week with the right message that will inspire to give your best and play in a relaxed manner, then you will see that throughout the whole season.
"When Silva moved on last season, Richarlison wasn't getting those confidence boosters he needed weekly, and we didn't see the same player.
"But Everton fans will be expecting, especially with a young player maybe not nine out of 10s every week, but certainly seven out of 10s every week."
After picking up four points from their first two league games, Everton head to Bournemouth on Saturday, who have won their two opening games.