Everton's set-piece problem proving costly under Marco Silva
Marco Silva is under pressure after a dismal run of form; Watch in-game clips from Everton vs Man City in Sky Sports app
Last Updated: 06/02/19 7:47pm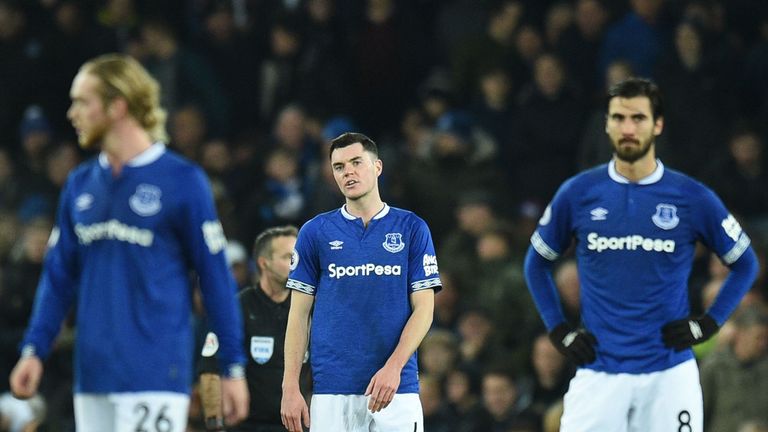 Everton have taken just 33 points from 25 Premier League games under Marco Silva, so what's going wrong? Matt Cheetham examines their set-piece problem.
Everton's first season under Marco Silva is drifting towards insignificance after six defeats in nine Premier League games either side of another premature cup exit. A recurring feature of this run has been Everton's vulnerability from set pieces - something Silva's previous sides have also struggled with.
Excluding penalties, no side has conceded more goals from dead-ball situations than Everton's 11 this season. Adding in cup competitions - where Millwall, Lincoln and Rotherham have combined for five set-piece goals against them - it's now an alarming total 16 conceded in 29 games, by Opta's definition.
More concerning is the fact that this is one of the few areas in which Everton fared well last season. Under 14 per cent of their goals were conceded from dead balls - the third-best ratio in the league. That percentage has now doubled under Silva. Only one side has shown a bigger drop from last season. From one goal in seven being conceded this way, it's become one goal in three.
Biggest differences in percentage of set piece goals conceded 2018/19
| Team | Change |
| --- | --- |
| Newcastle | Up by 22.7% |
| Everton | Up by 16.8% |
| Chelsea | Up by 12 % |
| Man City | Up by 10.2% |
From corners alone, Opta's Expected Goals metric shows that Everton are presenting opponents with the best quality of chance per delivery of any Premier League side this season.
Expected goals against (xGA) per corner 2018/19
| Team | Chance of conceding |
| --- | --- |
| Everton | 4.6% |
| West Ham | 4.6% |
| Man City | 4.4% |
| Newcastle | 4.1% |
The set-piece problems are nothing new to Silva, either. His brief time at Hull coincided with them conceding 10 goals in 18 games from set pieces - the most of any Premier League side in that period. At Watford, the total was 12 goals in 24 games, also among the most conceded during that period.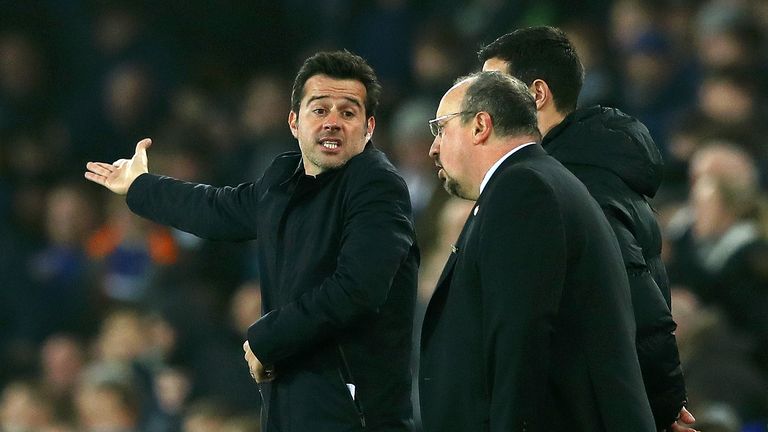 His side's 11 in 25 games at Everton this season now gives him a troubling total of 33 set-piece goals conceded in his 67 Premier League games. During his time as a manager in England, no club has conceded as regularly.
Most goals conceded from set pieces since Marco Silva appointed by Hull
| Team | Games | Total |
| --- | --- | --- |
| Teams under Silva | 67 | 33 |
| Watford | 67 | 30 |
| West Ham | 67 | 27 |
Over a season, this could perhaps be too small a sample size to get carried away with, but it is fair to say it has become far more than just a coincidence for Silva. Raul Jimenez's free header for Wolves last weekend was yet another example of an opponent exploiting his defensive set-up.
Most goals conceded per game from set pieces since Marco Silva appointed by Hull
| Team | Games | Total |
| --- | --- | --- |
| Teams under Silva | 67 | 0.49 |
| Brighton | 49 | 0.47 |
| Watford | 67 | 0.45 |
| West Ham | 67 | 0.40 |
Silva's players are clearly struggling to implement Silva's vision of zonal marking. Wolves was an example of defenders marking empty spaces, while other recent games have seen too many swarming to the ball, leaving attackers free for knock-downs. Goalkeeper Jordan Pickford has been reluctant to leave his line, keeping the pressure firmly on his defenders.
Silva's time at Hull and Watford were both accompanied by fast starts that drastically slowed, and it currently appears his Everton career is in danger of going the same way. He must find a way of showing he can adapt, and distance himself from previous managers who seemed unwilling to change their ways.
An obvious sign of progress would be to cure his side's set-piece malaise.