David Moyes says he is worried Luis Suarez will take a dive during the Merseyside derby
Everton boss David Moyes says he is worried about Liverpool's Luis Suarez diving during Sunday's Merseyside derby.
Last Updated: 27/10/12 1:09pm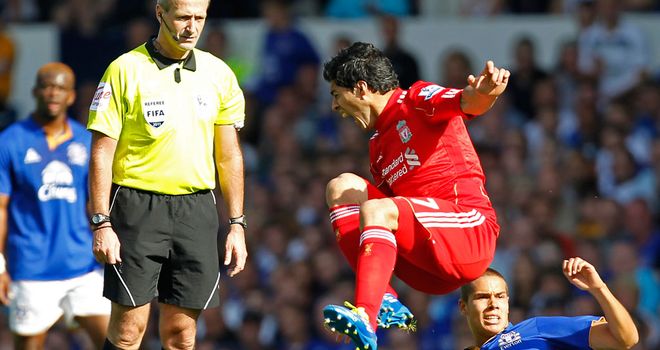 And Moyes says that fans may start deserting the game if players continue trying to earn cheap free-kicks and penalties.
Jack Rodwell was sent off for a tackle on Suarez during Liverpool's win at Goodison Park last term and, although the red card was rescinded after video replays showed there was no contact, Moyes remains outraged about the incident.
Looking towards Sunday's game, he said: "I've got concerns about Suarez, yes, because he's got history and these people are very good at it.
"Last year was a dive, and the referee made a really poor decision that ruined the game after 15 minutes.
"It will turn the public and fans off football if they think people are conning their way to results. When you're out to manufacture results, supporters don't like it.
"Supporters don't like the idea of people going to ground too easily. Everyone who has ever played football, everyone who's been involved, would hate that. You'd be saying, 'Get up!'
"People who play football find it very hard to go along with. Retrospective viewing of diving is nearly more important than some of the other technology they are thinking about."