Bolton chairman Ken Anderson responds to takeover talk and calls it 'pure media speculation'
Last Updated: 04/02/19 3:10pm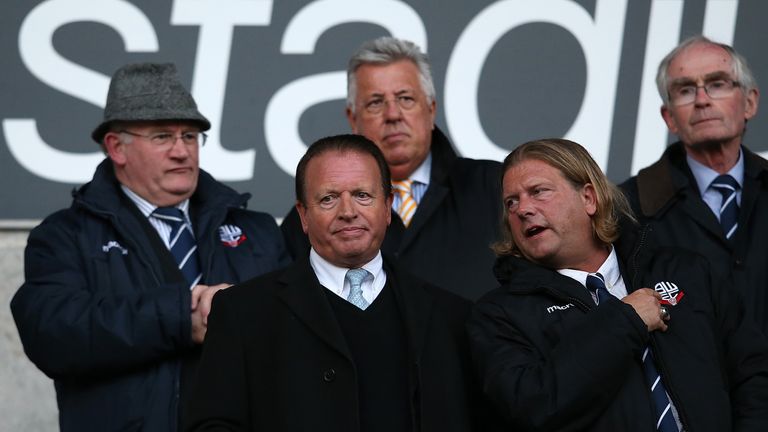 Bolton chairman Ken Anderson says "detailed discussions" about a takeover of the club are underway but said stories of an imminent sale are premature.
The Sky Bet Championship club has been up for sale for more than 12 months and, since then, a number of groups have emerged as potential buyers without a deal ever being finalised.
Further reports over the weekend linked an unspecified United Kingdom consortium to the club, hinting a deal could be done this week, but Anderson played that down on Monday.
In a statement on the club's website, Anderson wrote: "I have seen the comments both in the media and on social media which allude to the fact that I am about to sell my stake in the club to a UK consortium.
"While I'd rather not comment on media speculation of this nature I would suggest that you ignore these rumours and treat them as pure media speculation.
"Of course it is no secret that I am looking for investment but I receive many enquiries virtually every week, a great deal of which often come from time wasters and dreamers who are unable to offer any proof of funding and disappear as quickly as they arrive.
"In my experience, when people leak details of a deal they rarely occur which is probably because they weren't in a position to do a deal in the first place.
"For the record, I didn't have any meetings in London last week in connection with a sale of the club.
"My focus, along with the management and recruitment team, was solely on recruitment and fending off unwanted bids for our players. Despite media comments of fire sales, players demanding transfers and unrest amongst the players, not one player left in the January transfer window.
"I can confirm, however, that detailed discussions are taking place with an interested party but as I am sure that you will appreciate I am unable to give you details at this stage."