Jaap Stam's Reading aiming to pass their way into the Premier League
Last Updated: 23/02/17 3:59pm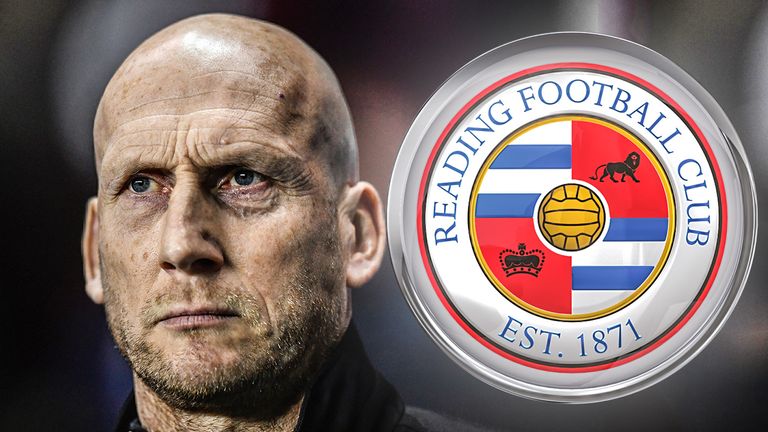 Reading are aiming to pass their way into the Premier League under Jaap Stam. Ahead of Saturday's clash with Brighton live on Sky Sports, we examine how the former Manchester United centre-back is putting his Dutch schooling to use at the Madejski Stadium...
Little was expected of Reading at the start of the season. Jaap Stam arrived with a distinguished reputation from his playing career, but his coaching experience was modest, and his appointment was seen as a gamble for a side who had spent the previous two years in the bottom half of the Championship.
Most pre-season predictions placed Reading somewhere in mid-table, with some observers scoffing when Stam raised the possibility of promotion at his unveiling in June. Reading's budget was modest in comparison to some of their Championship rivals. Their squad was light on star quality too.
Eight months on, however, and Stam's side are punching above their weight. Tuesday's late 1-0 defeat to David Wagner's Huddersfield ended a six-game unbeaten run, but Reading remain fourth in the Championship table, with a healthy eight-point cushion on seventh-placed Fulham.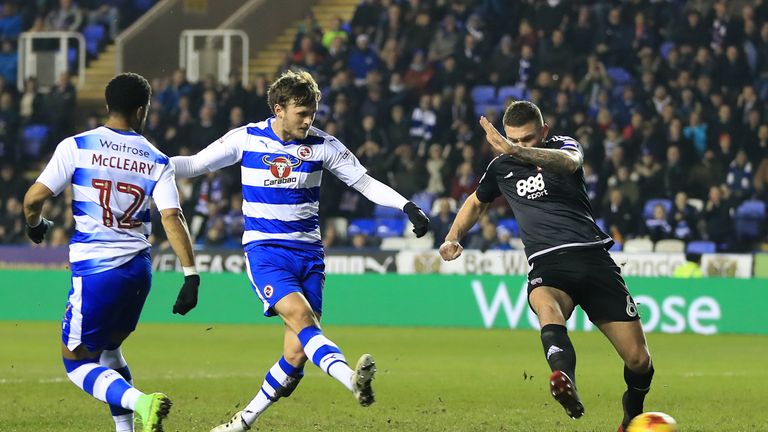 Reading's presence near the top of the table is eye-catching, but so too is the manner in which they have gone about it. Stam spent three years coaching at Ajax before taking over at Reading, and he has brought that ball-playing Dutch philosophy with him to Berkshire. Reading's rise up the Championship has been built on possession and control.
The stats highlight the transformation. Reading's average possession rate has leapt from 52 per cent last season to 58 per cent this year, while their pass success rate is up from 76 per cent to 81 per cent. It puts them second only to Slavisa Jokanovic's Fulham on both counts this season.
Possession stats - Championship 2016/17
| Team | Possession | Pass success rate |
| --- | --- | --- |
| Fulham | 58.4% | 83.0% |
| Reading | 58.1% | 81.0% |
| Huddersfield | 55.6% | 77.9% |
| Newcastle | 53.5% | 77.8% |
| Sheffield Wednesday | 51.7% | 77.2% |
Pep Guardiola's dedication to building from the back has grabbed headlines at Manchester City, but those methods have been quietly implemented at Reading too. Like City, Stam's side aim to dominate the ball in order to limit their opponents' scoring chances. There is an emphasis on retaining possession all over the pitch.
It's no coincidence, then, that Reading centre-backs Liam Moore and Paul McShane rank among the Championship's top players for short passes this season, and it's not just Stam's defenders who are instructed to find feet whenever possible.
Most short passes - Championship 2016/17
| Player | Team | Short passes |
| --- | --- | --- |
| Tom Cairney | Fulham | 2235 |
| Aaron Mooy | Huddersfield | 2046 |
| Kevin McDonald | Fulham | 1696 |
| Liam Moore | Reading | 1596 |
| Jonathan Hogg | Huddersfield | 1546 |
| Barry Bannan | Sheffield Wednesday | 1540 |
| Paul McShane | Reading | 1433 |
Ali Al-Habsi has also been a key component of the new style, making over 200 more short passes than any other Championship goalkeeper. His error for Marcus Rashford's second goal in Reading's FA Cup defeat to Manchester United was a reminder of the risks, but Stam's players are encouraged to stick to it.
Most short passes by goalkeepers - Championship 2016/17
| Player | Team | Short passes |
| --- | --- | --- |
| Ali Al Habsi | Reading | 645 |
| David Button | Fulham | 435 |
| Danny Ward | Huddersfield | 327 |
| Scott Carson | Derby | 299 |
| Daniel Bentley | Brentord | 290 |
"There are times where we are going to get it wrong and make mistakes," said skipper McShane in September. "Even Barcelona make mistakes, but as long as we are trying to do the right thing and execute the right thing I think the manager is OK with that."
Indeed, it has not always been easy for Stam's side to turn their dominance into results. His tenure started with just five wins from 13 Championship games, and fans booed their backward passing during a turgid 2-1 win over Ipswich in September. "They probably need to accept that we are going to be playing like this," came Stam's response.
The adaption was not straight-forward and there are still hiccups. Reading have registered over 70 per cent possession in six separate games over the course of the season but only won three of them. Against Leeds at Elland Road in December, Reading had a remarkable 77 per cent share of the ball but lost 2-0, with chants of "boring, boring Reading" ringing out from the home supporters.
"If you think that this is boring I think they need to have a look at their own team and how they play," said an angry Stam afterwards. "They can say 'we won' and of course at the end it's about the result - but if you need to play like that then I don't want to be a manager. That's not my type of playing, my type of tactics."
The comments showed the strength of Stam's principles, but implementing his vision has required patience. "Jaap has been fortunate in that he has a clear idea of how he wants his team to play, but he also has time and patience from the powers that be," says Sky Sports' Football League expert David Prutton. "When the methods weren't bearing instant fruit, he had a patient fanbase and patient owners."
He also had patient players. Summer signings Roy Beerens, Liam Moore, John Swift and Tyler Blackett have featured prominently and there were more new arrivals in the January transfer window, but Reading's squad is full of familiar faces who embraced Stam's methods from the start.
"He's got trust in his players and they have reacted to the way he wants to play," says Prutton. "What shows his ability as a coach is how the players who have been there for a couple of seasons have taken to it. It's easy for a manager to bring in guys who he knows can do certain things, but to evolve players yourself shows a real aptitude for training and getting your point across."
Instead of relying on star quality, Stam's side are all about teamwork, with most of their goals shared out between Yann Kermorgant, Garath McCleary, Swift and Beerens. "They don't have a Dwight Gayle or a Glenn Murray type player," says Prutton. "It shows that it's even more of a team effort."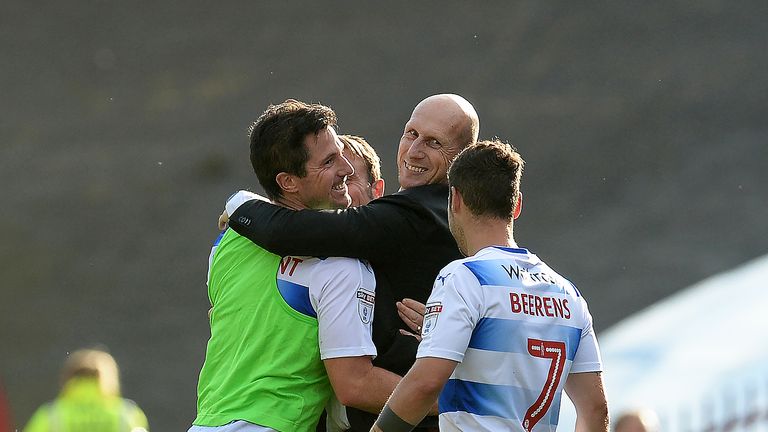 Stam is carving out a fine reputation as a manager, and despite Tuesday's setback, there is a growing sense of optimism that his unusual methods could take Reading up. "It's hard to think of the last team that passed its way out of the Championship," says Prutton. "As much as we lauded Bournemouth, they were more of a high-energy side who were dynamic from the wings. Reading do it differently.
"Out of all the play-off contenders, there is probably the least amount of attention on them," adds Prutton. "They have gone about the job quietly, but they have got as good a chance as anyone else." Saturday's trip to the Amex will test their credentials, but Stam's promotion dream no longer seems so fanciful.