Tottenham's Mauricio Pochettino delighted with impact of Tom Carroll
By Lyall Thomas
Last Updated: 26/12/15 7:17pm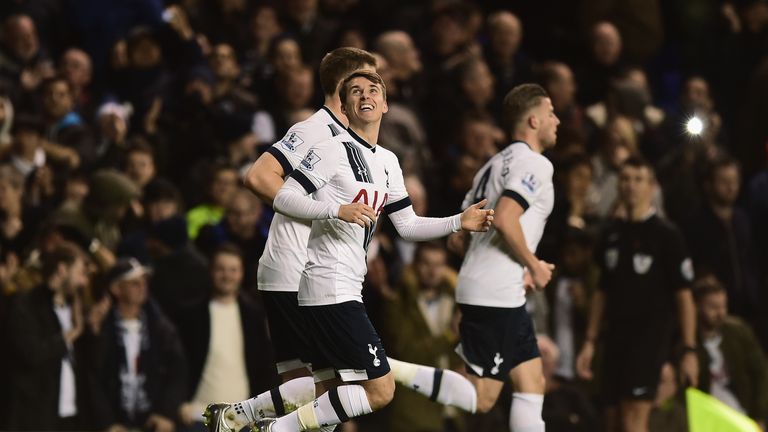 Mauricio Pochettino says he is delighted with the impact Tom Carroll has had on Tottenham's squad over the last few weeks.
The 23-year-old came off the bench and scored his first ever Premier League goal in Spurs' 3-0 win over Norwich on Boxing Day.
The former England U21 international has struggled to establish himself in Tottenham's first-team since graduating from the academy, but he has impressed in Spurs' last three Premier League games.
"This is what we want when players come on from the bench," Pochettino, who started Carroll in last weekend's win at Southampton, told Sky Sports.
"Tom made a real impact for the team and we are very pleased for him. He deserves this moment because he works hard in training. He deserved to play today.
"I was very pleased with the performance and we have to congratulate the players. It was a difficult game and we started with difficulty in the first 15 minutes, but the final result was very good and we deserved to score more."
Tottenham, who retained their place in the top-four ahead of the trip to Watford in two days' time, were recently beaten at home by Newcastle because of a complacent second-half performance after going in front.
Pochettino was increasingly animated on the touchline in the second half on Boxing Day and he admitted he wanted to make sure lightening did not strike twice in the same place.
"In football you cannot stop running and shouting because in the Premier League it is always difficult," he said.
"The energy was a little bit down in the second half and I was trying to make the players realised, and to push, push push for the third goal, to kill the game.
"The Christmas period is the most important period in Premier League. We need to try to win every game, to take points and play well ready to start the New Year with confidence and high in the table.
"We need to keep working hard and only focus on the next game in 48 hours."