Farewell to White Hart Lane: An end of an era for Tottenham Hotspur
By Greg Whelan
Last Updated: 14/05/17 10:20am
As Tottenham prepare to say farewell to their home of 118 years, Sky Sports reflects on the history of one of the game's iconic grounds.
"All the successes, all the glory nights," says Spurs legend Gary Mabbutt, "all those things have happened at White Hart Lane and that name is synonymous with the club."
It was in September 1899 that the site now known as White Hart Lane became Tottenham's home. A 4-1 win against Notts County in the inaugural game was watched by 5,000 spectators. By the 1950s however, more than ten times that number would regularly flock to the stadium on match days.
The Tottenham double-winning winger Cliff Jones recalls that, on arriving at the ground, the players could expect a hearty welcome.
"In Tottenham High Road there were always plenty of people," he says, "tapping on the windows, saying 'go on Cliff!' The atmosphere of the place, of White Hart Lane, would be something special on a match day."
It would become a popular venue for a wide variety of sports - from competitive basket racing among local market porters to boxing. Physical confrontations weren't always confined to the canvas.
In August 1966 a challenge by Leeds' midfielder Billy Bremner on Spurs' Dave Mackay prompted a furious reaction from the Tottenham captain that was famously captured by photographer Monte Fresco. Team-mate Alan Mullery was just yards from the incident.
"He grabbed hold of Bremner and lifted him off the floor," he says, "he was going to kill him! Bremner, he went white. I think Mackay would have 'done' him if the referee hadn't got that close."
The double-winning side of the 1960s brought 'The Glory Days' to White Hart Lane. The league title was won there in April 1961 with a 2-1 victory against Sheffield Wednesday. The following September, European football arrived for the first time with the visit of the Polish champions Gornik Zabrze.
"There were 65,000 people and it was absolutely rocking," says Jones. "We walked out with the Gornik side, they were looking round and they were really apprehensive. They couldn't believe it. I'd say they were a goal down before they kicked off."
Of the eight goals Spurs scored on that memorable night, Cliff Jones claimed three of them.
"It was a good hat-trick too," he recalls, "a perfect hat trick - left foot, right foot and a header. It doesn't get much better than that does it?"
Alan Mullery would also enjoy some special European nights at The Lane. In his final game for the club in May 1972, he scored the goal that beat Wolves in the UEFA Cup Final.
"You can't forget playing your last game for Tottenham in front of 60,000 people and scoring with a header," he says.
"I can see it now as if it was yesterday - being carried around the pitch. It's something I'll never forget. It'll stay with me forever."
Twelve years later The Lane hosted another night of European glory when Tottenham won the UEFA Cup for a second time. Gary Mabbutt remembers the penalty shoot-out success against Anderlecht sparking great scenes of celebration both inside and outside the stadium.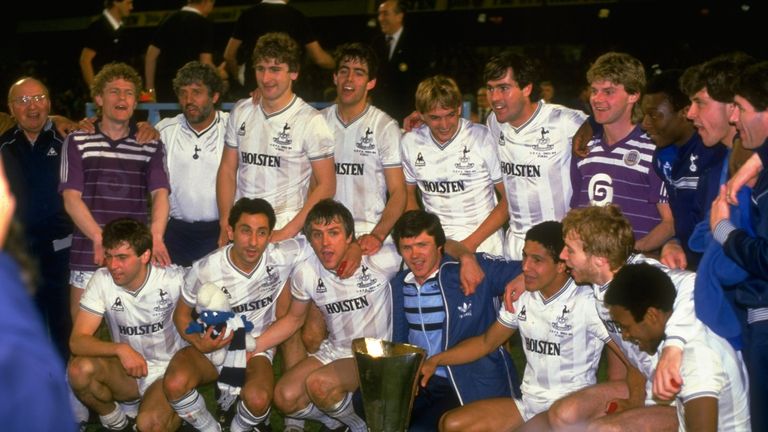 "We went out to a big building on the front of the High Road," he says, "with the UEFA Cup to show off to our fans. I'm not kidding, the whole of the High Road had to be shut. That was a special moment, standing on that balcony with the whole High Road just full of Spurs fans going wild."
Another memorable moment was the arrival at White Hart Lane, in July 1978, of two World Cup-winning Argentinian stars, Osvaldo Ardiles and Ricky Villa.
"We didn't speak any English so it was a difficult time," says Villa, "but I remember the people worried about us and took care of everything. The people gave us a great reception."
Ardiles adds: "Coming to play in a country which had never had any foreign players, it was like the start of a new adventure and this new adventure changed our lives completely."
Both retain fond memories of how it felt to play at White Hart Lane.
"The big difference for me was the atmosphere," says Villa, "the people were quite close to the pitch and when everybody said, 'Come On You Spurs' it was a nice, nice feeling."
Ardiles recalls: "We felt so, so much that every time we played there we were going to win, to beat the opposition, we were going to play a wonderful game. It was very, very special."
As Tottenham manager in the early 90s Ardiles brought another world-class talent to The Lane - the German striker Jurgen Klinsmann.
"There was such an energy in the stadium," he says, "as a player you just wanted to run forever. It was, for me, something that I'd never felt before in this kind of an intense way and that made it probably the most exciting year in my career."
Klinsmann's impact, on his home debut against Everton, was to score twice. He celebrated his first - a brilliant overhead volley - with what would become his trademark celebration.
"Before I came there was this 'divers' story in the media," he says, "and then I scored this bicycle goal against Everton and then the whole team ran over and we all did our dive. It made me feel at home."
In May 1986 - for one night only - White Hart Lane welcomed the biggest star of all, Diego Maradona, to play in Ardiles' testimonial game.
"It was a very, very special night, very beautiful," says Ardiles. "But, of course, from Tottenham's point of view to have Maradona, the best player in the world, wearing the Tottenham shirt for one night was very special."
The history of White Hart Lane is one of great players, great managers, spectacular goals and memorable goalscoring achievements. In November 2009, in a 9-1 win against Wigan, striker Jermain Defoe became the only player to score five at this ground in a Premier League match.
"I was quite emotional to be honest because all my family were watching," he says. "It was not until I got home and sat back I thought 'wow' I can't believe I've scored five goals in a Premier League game!
"Even to this day sometimes I still watch it. Someone posted it on Instagram the other day and I watched all the goals and it gave me the same buzz. I get goose bumps - it was a special day."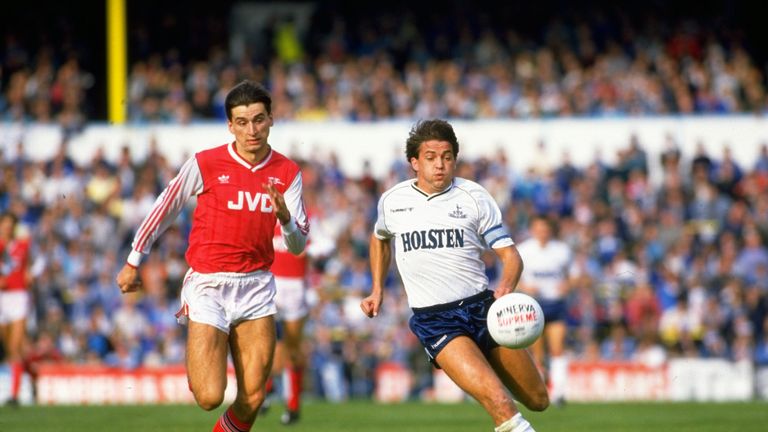 Some special days have been harder to celebrate. Gary Mabbutt's farewell game in May 1998 was one such occasion.
"That was a hugely emotional time for me," he says. "Going round the pitch with the crowd I was in tears. Saying goodbye to the White Hart Lane crowd after 16 years was very, very difficult."
On Sunday it will be Spurs' turn to say farewell. But they will do so with much to look forward to - not least the continuing progress of an exciting young team, a team which has revived the club's 'winning-with-style' tradition.
"It'll be a sad time but also one to rejoice as well," says Cliff Jones. "We're going into something new, something very big now and we're in a position, with the management that we have and the players, to make it something very positive and hopefully as successful with as many memories as we had at 'old' White Hart Lane."
Grab a Sky Sports Month Pass for £25pm for two months and capture an unmissable summer of sport on NOW TV. More live football than ever before, the British & Irish Lions tour and much, much more…