Fernando Llorente to Tottenham: Why the striker is a useful option
Last Updated: 01/09/17 10:04am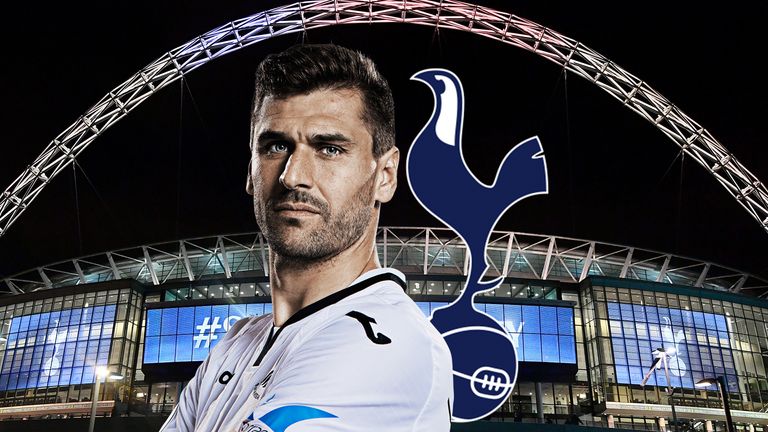 Tottenham have beaten Chelsea to the signing of Fernando Llorente from Swansea. The striker could prove a useful new weapon for Mauricio Pochettino, writes Adam Bate.
Paying £12m for a 32-year-old striker might be viewed as a gamble. Tottenham fans could be forgiven for fearing more final day folly after agreeing to pay Newcastle £30m for Moussa Sissoko on the last day of the transfer window 12 months ago. After all, Fernando Llorente offers little prospect of a profit on the deal. He is surely only a short-term fix.
So what is Mauricio Pochettino hoping that his new forward will offer this Spurs squad? Something different is the answer after Vincent Janssen's dismal failure to make an impact. The Dutch striker was seen as a good option, in demand after a stunning start to 2016 with AZ. He too was a presence, far younger than Llorente and much more mobile too.
On the face of it, Janssen had similar qualities to Harry Kane and could fill in with minimal disruption if Tottenham's main man were to suffer an injury. Instead, it did not work out that way. The time on the bench harmed Janssen's progress and a streaky player who had relied heavily upon momentum at his previous clubs could not adapt to his bit-part role.
Llorente could become the impact player that Janssen has failed to be. The Dutchman struggled with the stop-start nature of his involvement, netting only one penalty in his seven Premier League starts for the club. Just as disappointing as his efforts when named in the line-up was his inability to make an impact after coming off the bench.
Janssen made 20 substitute appearances in the Premier League last season but scored only one goal in those games - a last-minute effort in the 4-0 home win over Bournemouth in April. This was not the game-changer that Spurs required. Llorente's qualities and his track record suggest that he can offer a very different threat to anyone else in the Spurs squad.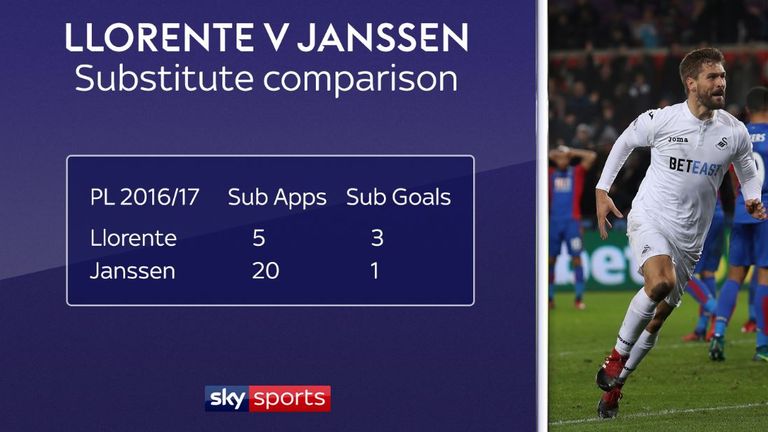 The 6ft 5in striker is the archetypal plan B. After coming off the bench against Crystal Palace in December, he inspired a dramatic late turnaround for Swansea to win 5-4 at the Liberty Stadium. In fact, he scored as many Premier League goals in stoppage time that day as Janssen managed all season. That's the sort of impact Pochettino is after.
Llorente will be no match for Kane but finding a world-class player to act as back-up was never a possibility. The Basque striker is an alternative, someone who gives his coach options. It why Chelsea were frustrated to lose out on Llorente - Antonio Conte knew the job that he could do from their successful season together at Juventus.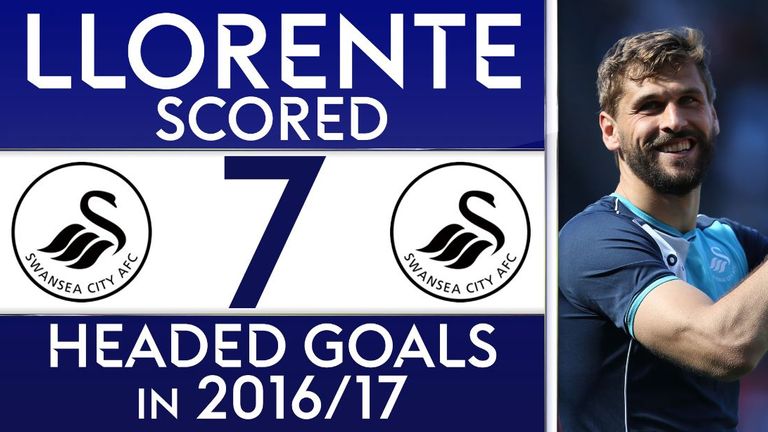 After a slow start, Llorente scored 16 goals that first year in Turin and was part of the record-breaking Juventus side that won Serie A by 17 points with a record tally. "We have changed our game for his characteristics," said Conte. Could Tottenham look to do the same late on in games? Getting more crosses into the box could be crucial.
Swansea ranked second for total completed crosses from open play last season and top for accuracy. Tottenham were in the bottom half for total completed crosses and in the bottom two for accuracy. That is not just about the delivery. A team's method of attack and the success of it is shaped by the target awaiting the service.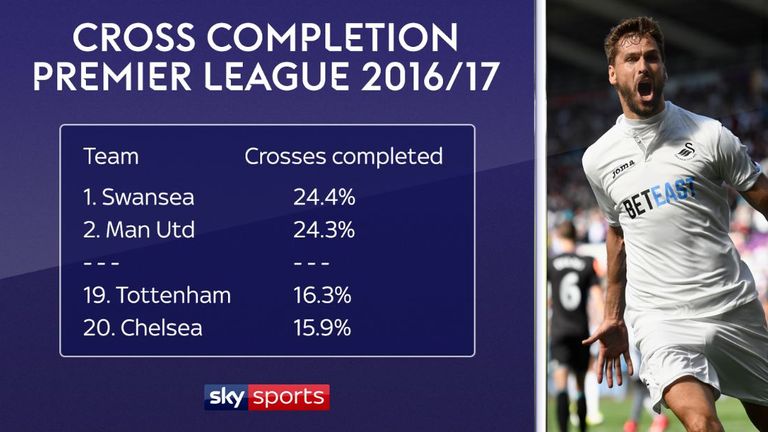 "When I'm on the field," said Llorente, during his time at Juventus, "the team sends more crosses in the area than usual. That is normal." It worked at Swansea too - nobody scored more headed goals than Llorente in the Premier League last season. If Tottenham put the ball into the box then expect their new striker to cause problems for opponents.
As a result, this could yet prove a potentially important acquisition for a club that has suffered from its small squad. Too often, Pochettino has looked to the bench and seen nobody able to alter the flow of a contest. Fernando Llorente's arrival changes that immediately. In today's market, £12m is a small price to pay to address that issue.
Watch the new signings back in Premier League action from September 9 as Man City host Liverpool live on Sky Sports Premier League at 12.30pm