Former Tottenham manager Tim Sherwood believes Harry Kane will leave the club if they fail to win a major trophy this season.
The England forward has scored more than 20 Premier League goals in each of his last three seasons and already has six in all competitions for club and country in this campaign.
But despite his impressive statistics, the 24-year-old has not won a major honour with Spurs and former player and coach, Sherwood, says that will need to change this season if they are to ward off interest from Europe's biggest clubs.
"There's only so much loyalty someone can show," he told The Debate on Sky Sports.
"Tottenham have been a great club for Harry and he's been paying them back tenfold. He's been outstanding over the last couple of seasons, he grew up a stone's throw from the ground and the kid loves the club.
"But that only lasts a certain amount of time. Then he starts seeing the pound signs and sees the likes of Barcelona, Real Madrid or - dare I say it - Manchester United - and then your head gets turned.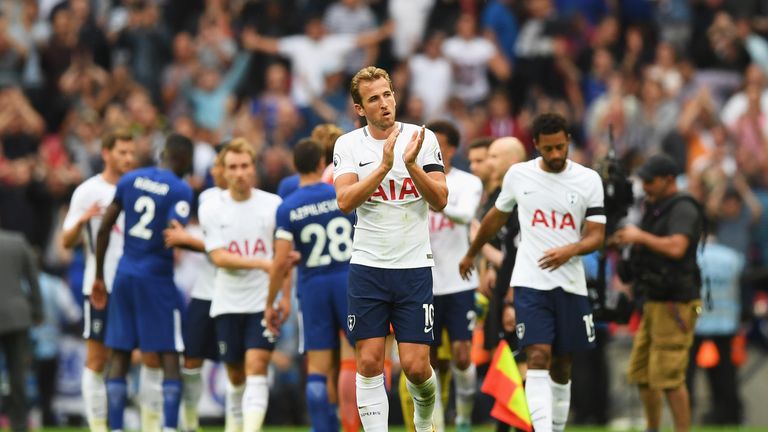 "The only way they can keep him is to win something this year. That something might not be the Carabao Cup, it might have to be the league or the FA Cup."
Last December, Kane signed a new deal with Tottenham reported to be worth £90,000 a week - plus up to £30,000 in bonuses - until the summer of 2022.
However, those wages are less than half of what is pocketed by some of the Premier League's top earners and former Arsenal striker Ian Wright, who was also on The Debate, believes money talks.
"What they don't want to do is get Kane into a position where he's got no choice but to kick on, simply because that's what he wants to do," he said.
"We've seen him do interviews where he says he wants to play in the Champions League regularly and be winning it, and win the Ballon d'Or. He's a very ambitious player.
"If Daniel Levy isn't going to throw that kind of money their way... and I don't want it to seem to be all about money but it does massively help.
"When you've got someone like Kane who has two Golden Boots in three years and he's still £120,000 to £150,000 behind somebody, that just doesn't add up.
"It doesn't make sense and if I was in his shoes, then I would be loyal to Spurs right now, but you cannot tell me that people are not in his ear.
"He's probably under pressure all the time simply because of what he is capable of earning right now."
Watch The Debate every night on Sky Sports Premier League.