Tottenham to review Davinson Sanchez' red card at Watford before deciding whether to appeal
By Lyall Thomas
Last Updated: 02/12/17 6:38pm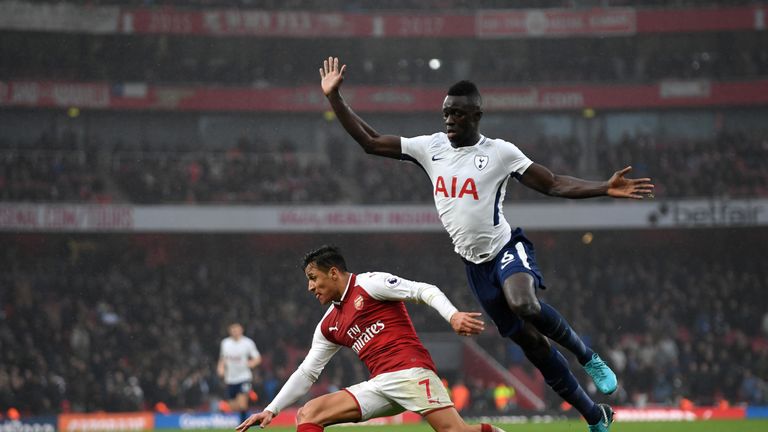 Tottenham will assess the footage of Davinson Sanchez' sending-off against Watford before deciding whether to appeal.
Centre-back Sanchez was shown a straight red card for serious foul play in the 52nd minute of the 1-1 draw at Vicarage Road, having put his arm forcefully across the face of Richarlison.
Spurs boss Mauricio Pochettino refused to discuss the referee's decision-making but confirmed they will review the footage in private.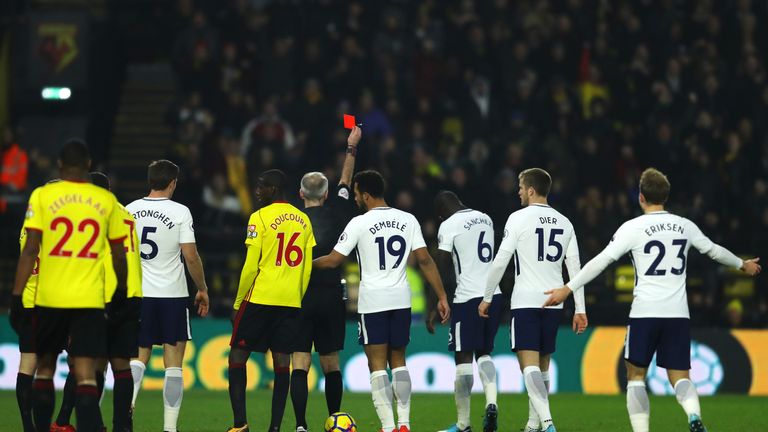 "I am not going to say anything about the referee's performance," he said. "I am not going to complain. It doesn't change anything and doesn't help anyone.
"I don't know if it was [a sending off] or not. You can judge better than me on video, but the players said it was not his intention.
"What happened, happened. Whether it was the right or wrong decision, we will have time to analyse in private and you can judge in public.
"I don't know [if we will appeal] because it was difficult to see if it was [a sending off] or not. Of course we are going to watch [the footage] now.
"It was in front of me. I think it wasn't intentional, but maybe he touched the face of the player with his arm, and then it's what the referee interprets."
Watford manager Marco Silva believes the incident was clear cut, however - but admitted it may not have been Sanchez' intention to connect with Richarlison's face.
"For me it looks clear," he said. "Maybe the defender didn't want to do it but he stopped Richarlison with his arm in his face.
"It's strong, the movement. Maybe he wanted to put in another part of the body and maybe if he puts it in another place in the body it's a yellow card."