Tottenham look like the "wind has gone out of their sails" and are facing potential problems next summer, said The Daily Telegraph's James Ducker on the Sunday Supplement.
Spurs' form has dipped in recent weeks and, following a 1-1 draw at Watford on Saturday, they have not won in four Premier League matches.
They have not been helped by the absence of injured defender Toby Alderweireld, while Dele Alli has struggled to show his best form this season.
Ducker also thinks they could be presented with problems next summer due to their strict wage structure, which sees top players potentially paid less than they could get elsewhere.
"I think it is an issue," he said. "They are paid so much less than you would get at Manchester United, Man City, Chelsea and Arsenal that I think they will have a collective problem at the club next summer.
"I watch them now and they look like a team almost playing like last season is as good as it got. They had a terrific run for the last three months of last season and it just wasn't enough to haul back Chelsea.
"It's like the wind has gone out of their sails, and they think 'we gave it a really good go and just fell short and can we get back to that standard?'."
Alli is one player whose future at Spurs has been reported as uncertain, with Real Madrid previously said to be interested in his services.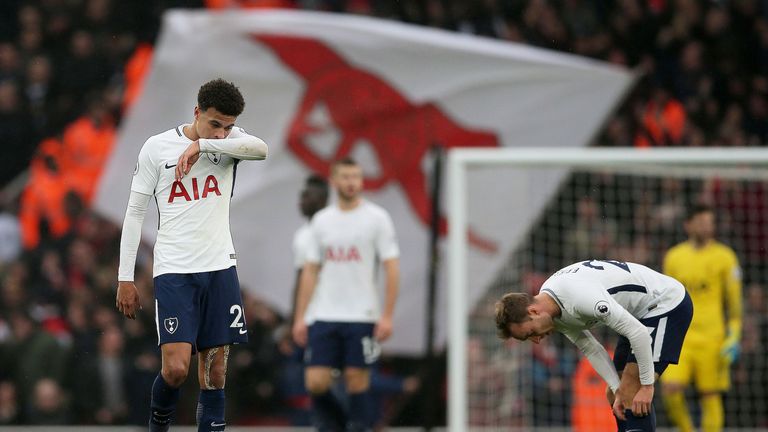 And Jonathan Northcroft of The Sunday Times thinks there is an issue with Alli, whose displays have been below-par this season.
"I think there's a problem there," he said. "I think Alli, or Mauricio Pochettino, has to seriously look at what type of footballer he wants to be, because at the moment he is running around trying flicks and to poach goals and Spurs have got Harry Kane to score goals.
"They need more from Dele Alli and he needs to be refocused."
Ducker even thinks Alli could be dropped by England for the World Cup if his form does not improve.
"There is a long way to go until the World Cup and I am sure he will recover his form because he is very talented, but if it progresses there will be an argument about should he be in the England team," he said. "I watch him now and he looks like he might benefit from a game out."
The Daily Mirror's Andy Dunn added: "On a basic level in terms of the team we have known the squad is not as deep as some of the other squads in the big six, and without a doubt they have missed Alderweireld. I was at the Leicester game in midweek and defensively they looked surprisingly vulnerable. They never looked comfortable.
"If you are looking for deeper reasons you look for that Danny Rose interview about not being paid what he's worth…I am not saying it's affected them all but it did give a window into the underlying effect that will affect Alli, Rose and Kane eventually, which is they are not being paid what they could get elsewhere.
"Does that have a psychological effect when you go out and play? I am not sure it does, but that is one thing."