Mauricio Pochettino says Tottenham need to use the January window to prepare transfer deals ahead of next summer.
The 45-year-old says Spurs will need to do their business as early as possible to avoid competition from Premier League rivals Manchester City, Manchester United, Liverpool, and Chelsea.
England midfielder Dele Alli agreed to join Tottenham from MK Dons at the end of the January transfer window in 2015 and Pochettino is keen to secure similar pre-contract agreements next month.
"We need to sign players in January and bring them in six months before," Pochettino said.
"If not, we're going to compete in the same period as [Manchester] City, [Manchester] United, Liverpool and Chelsea. We're going to struggle to bring in the players we want.
"In January it's so difficult to find the right profile of the player to add in this transfer window to help you achieve what you want.
"Dele is a very good example that you need to anticipate and today we are at a club that needs to anticipate. We cannot be reactive because if we are, we are going to lose."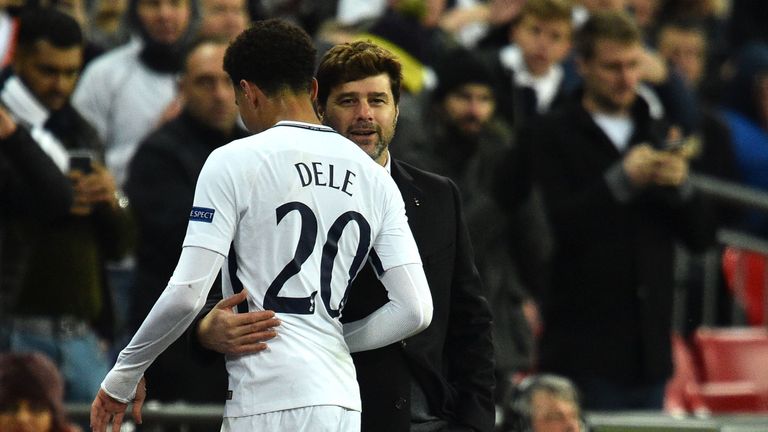 Tottenham broke their transfer record in late August in signing Davinson Sanchez for £40m, while Serge Aurier and Fernando Llorente both completed their moves on transfer deadline day.
Pochettino believes those deals were done too late and denied the players a period to adapt to their new club.
"This season is a very good example. I think we signed good players but it was so late, with no pre-season and then they have to play," he said.
"You need six or seven months for the players to fit, adapt themselves to the team, the dynamics, everything. And that is always against us.
"We were talking about how important it is to identify our targets and have them at the club in July when we start pre-season.
"If not, it's so difficult for them to affect and help the team. And then during the season, you're going to pay."
Pochettino confirmed Spurs are targeting English players as the club's 17-man Champions League foreign quota is already full and Erik Lamela is yet to be added to the squad for the knockout stages of the competition.
"We are so focused to bring more English players through the academy," he said. "Or, if we don't have the profile of player, try to take advantage of the English market and add an English player."