Heung-Min Son sat down with Thierry Henry ahead of Tottenham's trip to Liverpool on Nissan Super Sunday, live on Sky Sports Premier League.
"You're always happy, you're always smiling! Where do you get that from?"
The beaming South Korean is evidently enjoying life at Tottenham, and when Henry posed the above question, Son's reply was simple.
"This was my dream, and this is still my dream. I'm living in my dream, but I can't believe it! I'm just happy to be here in England and playing in the Premier League," said Son.
"I love football, and I love work. This makes my life happy, to make my life a dream. When I'm on the pitch, I just want to relax my body and not get too tense.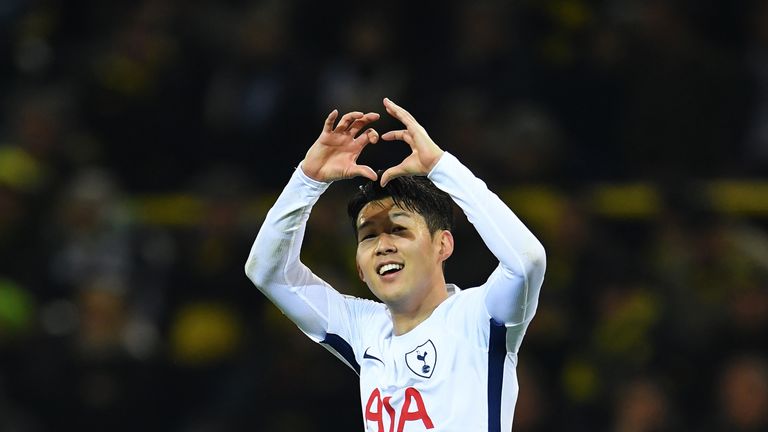 I'm living in my dream, but I can't believe it! I love football, and I love work. This makes my life happy.
Heung-Min Son tells Thierry Henry
"For 90 minutes, on this day, you will never get this [again]. I just want to enjoy it a lot and not think about a lot of things. This is the most important thing, right now - to enjoy it."
Son has followed up an impressive 2016-17 campaign - where he scored 14 goals and provided nine assists - with equally impressive numbers this season, scoring eight and assisting four in 24 league games.
However, Son still believes he can put more goals and assists on the table.
"Of course [I can do more]," Son added. "But sometimes I just pass the ball and I have good team-mates, and they can score. Sometimes it's not an unbelievable assist, I just pass to 'H' [Harry Kane] and he can score from everywhere."
The 25-year-old put in a man-of-the-match display as Spurs overwhelmed Everton 4-0 in January, and he will be hoping for a similar outcome when they travel to the red side of Merseyside on Sunday.
Tottenham have a miserable record at Anfield, with just two wins in 25 Premier League games, having not won there since 2011.
But with a Champions League spot to fight for, and fresh from a 2-0 win over Manchester United at Wembley, Son says it's "time to win" at Liverpool.
"I think it's going to be very hard. Last season we had a problem and lost the game at Anfield. I've been twice there, first time we drew, second time we lost, so I think it's time to win.
"Of course it's going to be a difficult game, but if we play like we did against Manchester United, and if we work hard, we press, we don't stop, I think we have a great opportunity to win this game."
Catch Heung-min Son in action as Spurs travel to Liverpool on Nissan Super Sunday, live from 4.15pm on Sky Sports Premier League