Tottenham refuse to lie down under Mauricio Pochettino, says Christian Eriksen
By Michael Kelleher
Last Updated: 14/02/18 1:12pm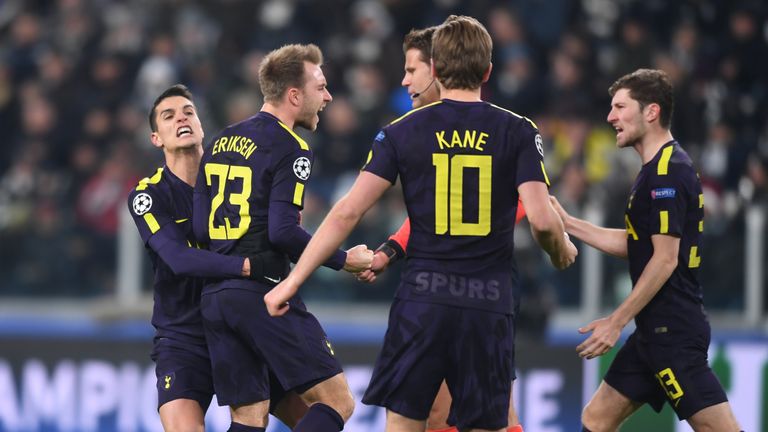 Tottenham showcased just how far they have come under Mauricio Pochettino against Juventus on Tuesday night, says Christian Eriksen.
Spurs' chances of progressing to the Champions League quarter-finals appeared bleak when they went 2-0 down inside nine minutes in Turin against the Serie A leaders.
But Harry Kane pulled one back before half-time and Eriksen levelled 15 minutes from time to put Spurs in a promising position ahead of the return leg at Wembley on March 7.
Eriksen admits past Spurs sides may have capitulated in a hostile environment against such imposing odds, but says Pochettino has instilled greater belief and resolve into this group of players.
"Of course we are building on every season compared to when I arrived here four or five years ago now," Eriksen said.
"The games against the top teams when you are 2-0 down after nine minutes you lose 6-0. That's the thing we've changed with the manager coming in, with the players we have here.
"Everyone has grown up and they are not going to lie down if they are 2-0 down anyway.
"Tottenham, compared to what it was when I came to what it is now, is completely different. That's up to the manager, up to the players and the quality we have in the squad really."
Tuesday night's result added to Pochettino's growing reputation in Europe, following victories over Real Madrid and Borussia Dortmund already in this year's competition.
But Eriksen insists Spurs' players are not concerned about the future of their manager.
"No, the players are happy with him, the club is very happy with him," Eriksen said.
"Of course, it's his decision but I think what he's building here he would like to be part of it. I think that's what he showed when he signed the new deal, a long-term deal.
"Of course there will be interest from other clubs because he's doing really well but hopefully he'll stay. We don't really think about that."