After being called a "genius" by Mauricio Pochettino, Tottenham's Mousa Dembele tells Sky Sports' Johnny Phillips how he feels about praise of his recent displays, his role in the team, how Spurs are striving for perfection, and why it would be disappointing if they didn't win a trophy...
It is not always possible to speak to the man of the moment in this industry. When a footballer is at the top of his profession and getting rave reviews, clubs can be reluctant to expose their star to more media attention. But Spurs have no such worries when it comes to Mousa Dembele. He is one of the most laid-back characters anyone could wish to meet.
Dembele's team-mates have been extolling his virtues for years. And speaking at his press conference on Friday afternoon, Spurs manager Mauricio Pochettino described him "as one of the most unbelievable talents in the history of football."
He also reiterated what he has said previously; that he thinks Dembele is "a genius." Throughout this last week, many column inches have been devoted to a player who is at the very peak of his powers. But praise does not go to his head.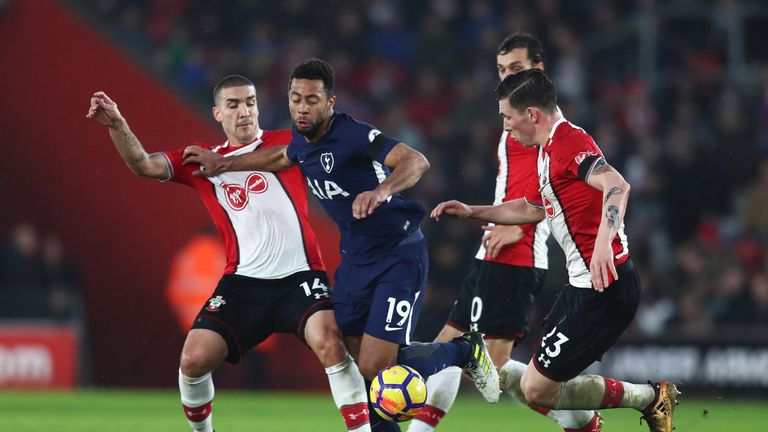 "Everybody wants to be appreciated and if it's the manager who says this then it's good," says Dembele. "But the most important thing for me is not to focus on what is said but to stay focused on what we are going to do. I think as a team we are playing very well which makes it easier for me to do what I have to do."
Dembele is no great creator or scorer of goals. But in possession, he is perhaps the most trustworthy player in the Spurs team. Sitting down in the spacious press room at the club's Enfield training base ahead of Sunday's lunchtime kick-off against Crystal Palace, live on Sky Sports, the Belgian international is happy to reflect on the role he provides in the team.
"I like to have the ball as much as possible. I want to take on players but I like to pass as well. It depends on the game and the way we have to play, how I have to adapt my game. Sometimes there's more space so it's better to dribble and take on players but sometimes if it's crowded you need to keep it simple and use a different tactic to break the line.
"It's always hard to break the line when there are so many players in front of you. We have a lot of creative players in our team. It's very difficult to play against our style of team as there is always a simple pass to another creative player."


It is one thing to have a simple option available, but another to take it. Dembele's awareness is one of his great virtues. Making the right choices is something that has come his way naturally.
"I'm an intuitive player, I react on the moment," he adds. "Obviously I have had a long career with experience but I react to the situation in front of me."
According to those who have followed his career closely, Dembele's path took a significant upturn at Fulham when his manager at the time, Martin Jol, converted him from more of a utility forward - often moving around from central positions out to the wing - to a conventional central midfielder.
Now working for Pochettino, he credits his current manager with changing the attitude of the Spurs squad. "He has changed the mentality of the club and the way everyone thinks; how to strive for perfection," Dembele explains. "The way we train every day you can see we want to achieve something.
It will be disappointing if we don't win anything because we have put so much work into this
"You can see that on the pitch as well. If we are focused and ready mentally we can be good against any team. It will be disappointing if we don't win anything because we have put so much work into this. Obviously, if we can win something the satisfaction will be huge."
The Spurs boss has gone so far as to say if he had been able to work with Dembele as an 18 or 19-year-old then he could have been one of the very best players in the world. Pochettino readily compares him to Maradona and Ronaldinho. The player himself, now 30, is not too worried about what might have been.
"It's difficult to say. I don't like to think of the past too much. I feel good now. I don't try to think of how old I am. I just enjoy it and try to get the best out of myself. The age doesn't matter because I feel good."
There is no suggestion that time is running out, but Dembele will be conscious of the fact that a trophy must be won soon to provide the fulfilment his Spurs career deserves. With the Champions' League and FA Cup to play for, the season is alive. Others are happy to talk about their targets, but Dembele prefers a short-term outlook.
"We are a positive-minded group. Personally I don't try to focus that far ahead. If you think about the Champions' League then the next game is Juventus at home. I don't like to think too far ahead of that. Everybody is different, some players need to look ahead for motivation.
"It takes energy if I try to think too much about everything and try to sort out everything in my head so I like to keep it to the next game. We'll see where we end up and I hope, before I know it, we have a trophy."
Tottenham's best form has coincided with Dembele's return to the team. He has managed five consecutive Premier League appearances for the first time in a year. If Spurs are to achieve something tangible from a fine season, they will need their midfield "genius" to remain in the team.
Watch Crystal Palace v Tottenham live on Sky Sports Premier League from 11.30am on Sunday