Mauricio Pochettino says there is no player better than Dele Alli in his age group. We check the stats...
"When you compare him, Dele Alli, a 21-year-old, with all the players in the world, I think he is the best in his age. In his form, assists, everything. For me Dele Alli, in his age, is the best - that's it."
It was an unequivocal statement of support from Mauricio Pochettino. Dele Alli has been criticised for his form this season after struggling to match the high standards he set himself in his first two seasons at Tottenham. But, speaking after last week's 4-1 Premier League win over Bournemouth, the Spurs manager gave his full backing to his player.
Pochettino certainly makes a good point: it's easy to forget just how young Alli is. He does not turn 22 until April 11. It is reasonable to suggest that much of the criticism which comes his way does not take into account the inconsistencies normally expected of a young player's performance levels.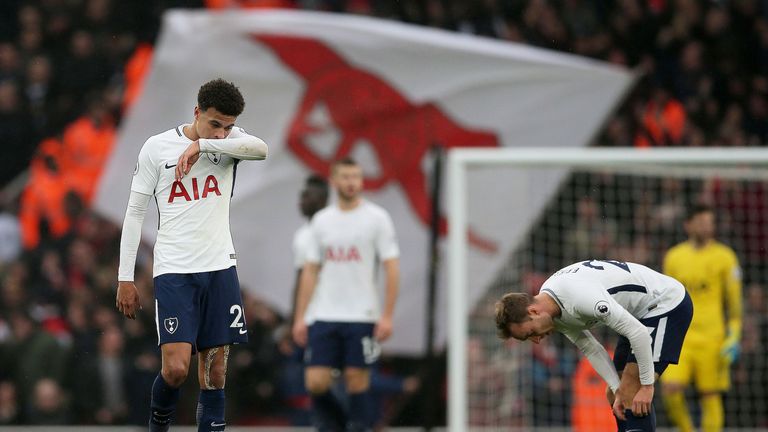 Perhaps that is because we have been familiar with the MK Dons prodigy for so long. It was over four and a half years ago that, as an 18-year-old, Alli bossed the midfield in MK Dons' 4-0 League Cup win over Manchester United. Since then he has been a regular for Tottenham for the past three seasons, racking up 99 Premier League appearances.
In that time he has scored 34 Premier League goals and recorded 25 assists. Only five players - all out-and-out strikers - have scored more before turning 22 in the history of the Premier League. Just three players - Cesc Fabregas, Wayne Rooney and Ryan Giggs - made more assists.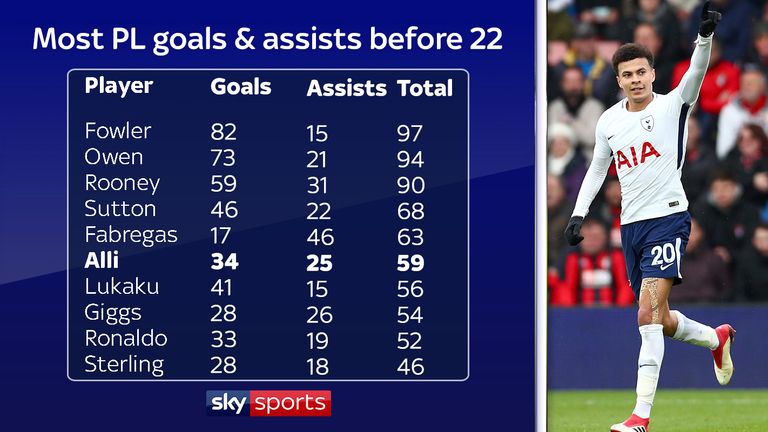 There is no question, then, that Alli is one of the most exciting - and high performing - young attackers we have seen in this country for some time.
But how about Pochettino's suggestion he is the best in the world in his age group?
That is harder to define, with different positions and the challenges of different leagues clouding the picture. But among attackers, again, the numbers all fall in Alli's favour - compellingly so.
Across Europe's top five leagues since Alli's Premier League debut in August 2015, no player under the age of 22 has as many goals and assists combined.
In fact, his total of 59 direct goal involvements (34 goals and 25 assists) is 11 better than any other young player.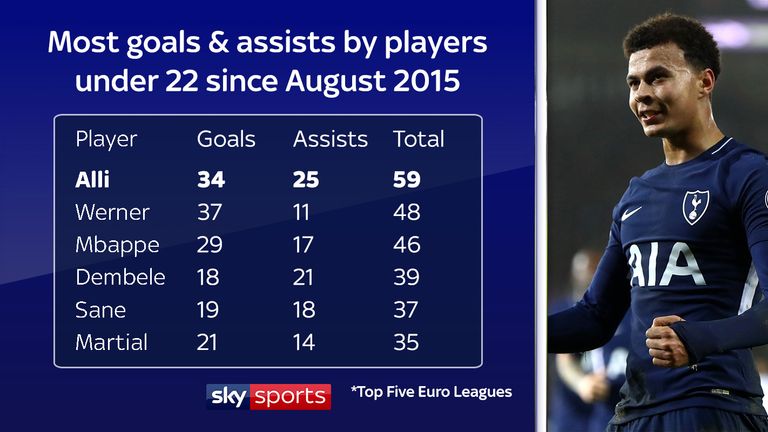 He tops the table for assists, ahead of Barcelona's £97m signing Ousmane Dembele, and is second only to Germany revelation Timo Werner when it comes to goals. (Werner is now 22, so only his stats from before his last birthday are included).
Even this season - amid Alli's supposed struggles for form - he is a prominent figure among the young elite.
Of players aged 21 or under, in 2017/18, only 19-year-old Kylian Mbappe, on loan at Paris Saint-Germain from Monaco, has been directly involved in more goals. He's scored 13 and set up eight more for the Ligue 1 leaders - a total of 21, compared to Alli's 15.
Maxi Gomez, the 21-year-old striker at Celta Vigo also has a combined tally of 15 goals and assists to his name, while Leon Bailey, 20, of Bayer Leverkusen and Malcom, 21, playing at Bordeaux, have each either scored or assisted 14 goals this term. Interestingly, both Gomez and Malcom have been linked with a move to Tottenham.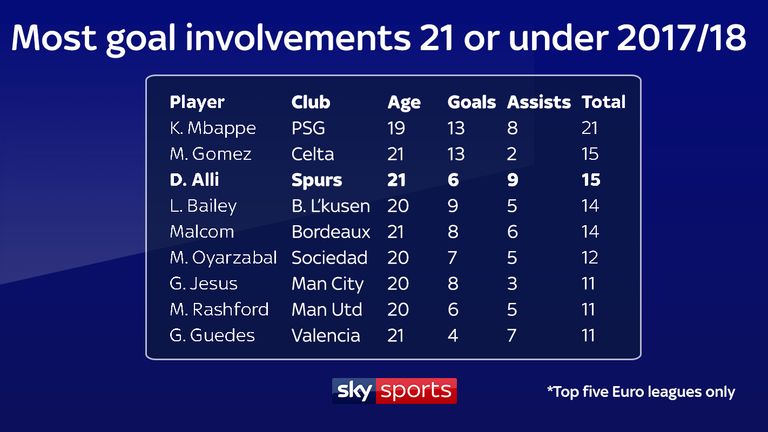 When it comes to chance creation, only Malcom has forged more openings for his team-mates this season than Alli. Although, like the Bordeaux man, Mbappe, Bailey and his Leverkusen team-mate, Julian Brandt, 21, have done so at a more frequent rate than Alli.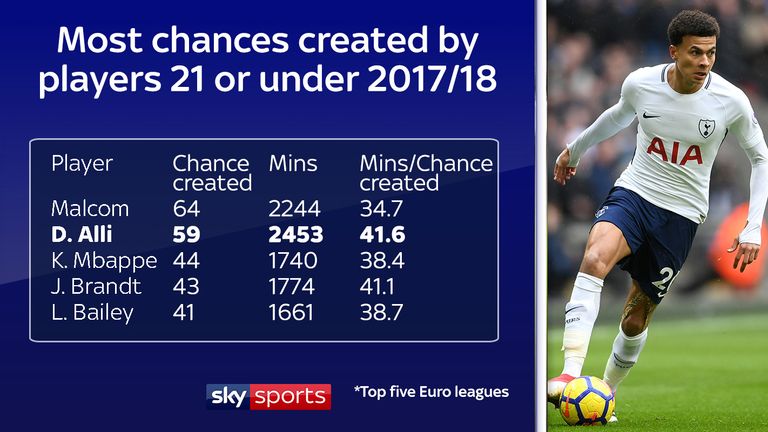 If this is considered to be a season in which Alli has not quite hit the heights of the past couple of campaigns, then it is significant he still ranks among the very top performing young players in Europe. Factoring in his output since the summer of 2015, few compare.
Those numbers offer an interesting perspective on Alli's levels at Tottenham. His strike at Bournemouth may have ended a dry spell in front of goal - but, as Pochettino points out, it is only by setting the benchmark so high for himself that he is drawing criticism.