Harry Kane's form: Should England be worried about Tottenham ace ahead of the World Cup?
Last Updated: 09/05/18 1:40pm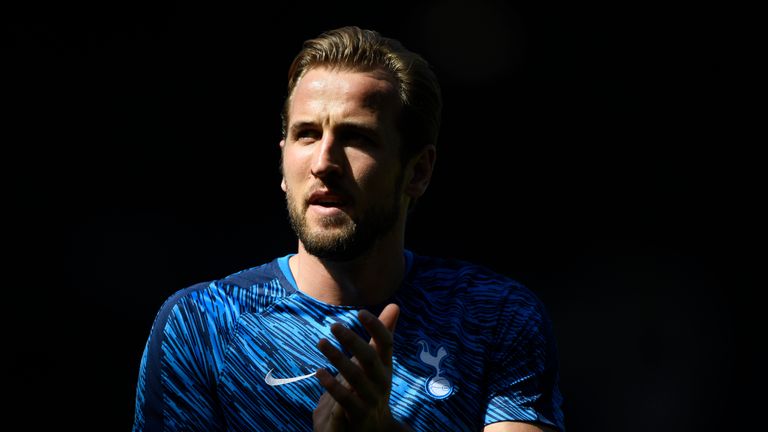 Harry Kane is the main man for Tottenham and England but there are signs of a dip in form since his return from injury. Adam Bate takes a look at the stats that will be making Gareth Southgate nervous.
It feels like sacrilege to suggest it, particularly given that he has scored three goals in his last five Premier League games, but Harry Kane is below his best. He would not welcome such scrutiny. Recent social media storms have fuelled the idea that he is being picked on. But anyone who has seen Tottenham's recent games could not help but wonder about his form.
Watford at home and West Brom away were the sort of fixtures to get fantasy football owners salivating and Golden Boot rival Mohamed Salah nervously checking his phone. But while Kane found the net against Watford, albeit after an uncharacteristic slip in the build-up, his performance at West Brom was indicative of how his levels have dipped.
There were heavy touches and signs of sluggishness. Ben Foster saved well from Kane just before the half-hour mark, but more alarming was the misplaced pass to Dele Alli soon after and the striker's wastefulness in a three-on-two situation during the second half. Kane was just not himself.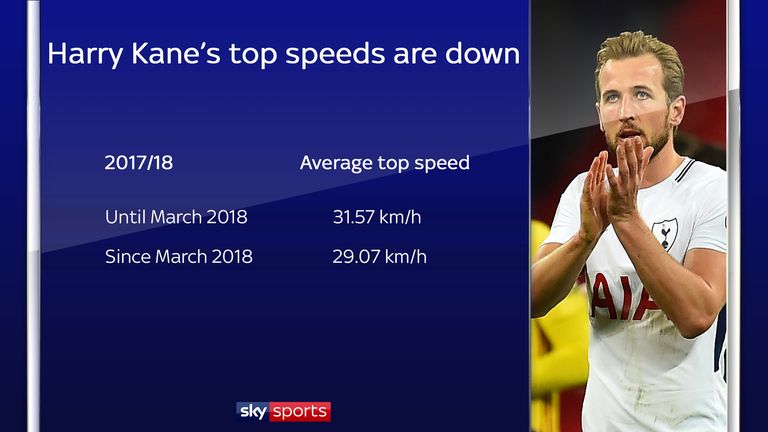 Kane insisted after the Watford win last week that he was "feeling sharp" but the statistics support the eye test, suggesting his fitness levels are not what they were. They back up the view Kane's ankle injury, which he suffered at Bournemouth on 11 March and kept him out of Spurs' starting line-up until 7 April at Stoke, took its toll.
His two lowest top speeds of the season came in the recent games against Brighton and Watford, while he has not hit 32 kilometres per hour in a game since February, something he did 10 times up to that point.
Indeed, his average top speed in Premier League starts since March has been 29.07km/hr, down from 31.57km/hr in matches prior to that. The current numbers are unusual given the consistency of his top speeds before that and, while some will put more stock in those statistics than others, it does suggest that he is playing a little within himself.
The significance of this lack of sharpness is that his decline in speed has gone hand in hand with a decline in the number of shots that Kane is managing to get away. The extra yard can be crucial - the difference between getting on the end of a chance and seeing it intercepted. This can be hard to spot but it is right there in the shooting stats since March too.
Kane's shot volume is extraordinary. He has had 178 attempts this season, 38 more than Mohamed Salah. Nobody else has hit 100 yet and it is a big part of his success. It is not just that Kane is a good finisher, it is the number of shots that he takes. He can be selfish but this is encouraged by Mauricio Pochettino. The manager wants him to take this responsibility.
There are only nine players who have had eight shots in a Premier League game this season. They are familiar names: Alexis Sanchez, Sergio Aguero and Eden Hazard. But nobody other than Kane has hit the eight shots in a game mark more than twice. Kane has done it in seven different matches. At his best, he is simply irrepressible.
But his best has not been on offer for some time. The last of those seven matches was the win over Manchester United in January and the other six were all before Christmas. Kane's recent shot numbers are down. In the home defeat to Manchester City last month he did not have a single shot on goal, the first time that this had happened in over a year.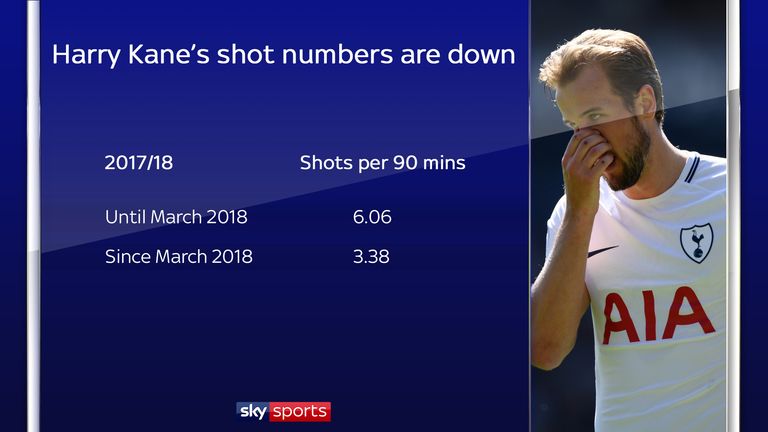 A game against Manchester City is perhaps the toughest test that Kane is likely to face as a Tottenham player, but there have been easier matches too in this recent run and his numbers are still down. Kane has gone from averaging a frankly amazing 6.06 shots per 90 minutes prior to March, to registering a more modest 3.38 shots per 90 since then.
It is still impressive. It still puts him among the top dozen strikers in the Premier League this season. And, of course, it has still been enough for him to score against Stoke, Brighton and Watford. Perhaps that in itself is remarkable. Kane is a quality forward even when he is not at the peak of his powers. But it's still worth noting he is not at the peak of his powers.
With Tottenham on the brink of securing a top-four finish, it may not matter too much for his club but it will surely be an issue for his country. Kane will be expected to carry England's attack at the World Cup in Russia. He deserves the opportunity to do that fully fit and full of confidence. There is work to do over the next month to ensure that is the case.
Comment below to get involved in the debate, but please adhere to ourHouse Rules. If you wish to report any comment, simply click on the down arrow next to the offending comment and click 'Report'.