Mauricio Pochettino demands more from Tottenham after Watford loss
Spurs boss unhappy after the Hornets came from a goal down in the Premier League on Super Sunday
By Gerard Brand at Vicarage Road
Last Updated: 02/09/18 7:15pm
An unhappy Mauricio Pochettino has demanded more from Tottenham after they threw away a lead in their 2-1 defeat by Watford on Super Sunday.
After going ahead through an Abdoulaye Doucoure own goal following a dull first half, quickfire headers from Troy Deeney and Craig Cathcart ended Spurs' 100 per cent start to the season, and maintained Watford's.
Pochettino did not hold back in criticising his side for their relaxed approach to the first half and after taking the lead, and says if they want to be title contenders, they must show it.
He told Sky Sports: "I think if you want to win, show you are contenders, you cannot say we are going to play for 45 minutes and 0-0 and just win it in the second half.
"We need to do more, show more aggressiveness, because we have the quality. We score and go in front, and then in two set-pieces we concede two goals. If you want to be a contender, to be at the top, you cannot concede this type of action.
"I think it is important to clarify the point, first half we were so relaxed, we dominated the game, but we were not aggressive enough. A lot of unforced mistakes. You need to show more strength, be more aggressive in your defending. You need to show you want to win."
Spurs had won their opening three Premier League games, and although they were not at their best against Manchester United last week on Monday Night Football, came away with a famous 3-0 win.
Pochettino, however, says there is a chasm between the perception of his side's performances and the reality, something he admits he has failed to get across to his players fully.
He added on Sky Sports: "We were talking a lot in the three previous games, I told you and everyone I wasn't happy. Of course when you lose, you must learn and improve. But my disappointment is, when you win and maybe don't deserve to win, why do you not learn? That is what is so disappointing.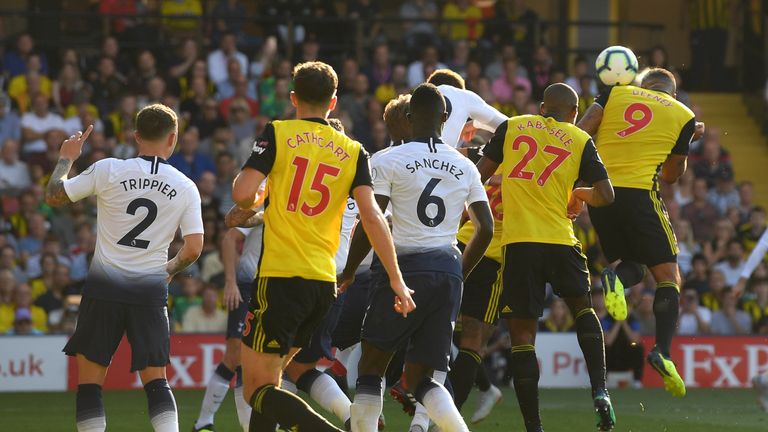 "During the week I was trying to explain to the players that we were not great, the perception and reality was totally different."
In the post-match press conference, Pochettino re-iterated his stance, but added that the defeat can be a wake-up call for his players.
"It is so painful," he said. "Today it is of course so painful to concede two goals like this, so painful that the first half looks like a friendly game.
"I think it is a very good wake-up call for everyone, to listen more about the reality and not the perception. Today it is good to compare those. If you want to be a contender, today you should win and win easy.
"I think it is good to pay today, to feel the pain, I am sure it is going to help us in the future to be better. I am of course very disappointed, and I think you hear my message."