Neil Warnock was critical of Harry Kane over his role in Joe Ralls' sending off, suggesting that the Tottenham striker had tried to get the Cardiff midfielder dismissed.
Cardiff's hopes of salvaging something from Wembley were hit when Ralls was sent off just before the hour mark for a cynical lunge on Lucas Moura by the halfway line.
The challenge outraged Spurs' players and Kane was booked by Mike Dean for grabbing hold of Ralls after he had committed the foul.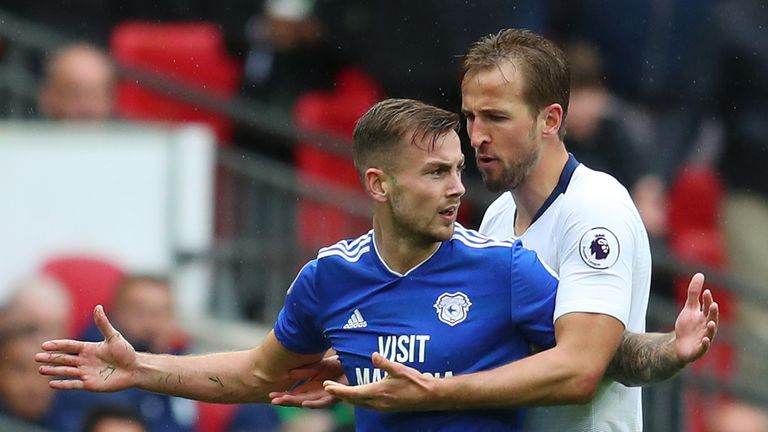 Warnock was adamant that Ralls was only deserving of a yellow card and claimed that Spurs' players, along with the linesman and fourth official, had influenced Dean's decision to send Ralls off.
Speaking to the media post-match, Warnock said: "I don't think he (Kane) needs to do that. He plays for England, I love him. I don't think you should try to get other pros sent off, just because he's had a poor game and Spurs were having a poor game."
Even after Cardiff had been reduced to 10 men, they had a great chance to equalise when Sean Morrison forced a fine save from Hugo Lloris, however, they were largely camped inside their own half for the final half an hour.
Warnock was apoplectic on the touchline after Ralls had been dismissed and claimed post-match that a Danny Rose foul on Bruno Manga was more dangerous than Ralls' on Lucas.
"I thought Mike Dean, an experienced referee, was going to give a yellow card from the start," he said. "But he left it - there were on or two busy people around today, the linesman and the fourth official - and I'm sure one of those influenced them. I think when he looks tonight he would have given a yellow card nine times out of 10 if it was left to him. I think he was wrong.
"Danny Rose topping Manga just before half-time was far more dangerous. [Ralls] hasn't got any studs on him, he's pulled him down on the halfway line. Come on, I don't think that's a red card.
"When 20 players surround you, all wearing a white shirt, all big-name players, I think it influences them [the referees] at times and I'd be interested to see if he reports that.
"I think Mike when he sees it, he'll be disappointed really. A third of the refs would probably give it, two thirds would probably give a yellow card. At that stage with half an hour to go, on the halfway line… it wasn't a dangerous tackle, he hasn't endangered the life of a player so I don't know why it's a red card."
Cardiff's defeat, coupled with Huddersfield's draw away to Burnley, means that Warnock's side have slipped to the foot of the table but he insisted he was proud of the effort put in by his players.
"We could have folded. Five or six minutes down and we were down to a top side but we showed a lot of guts and played some good stuff when we had 11 men. Even with the 10 we defended well, we were brave and we were always a threat on the break and that's what we've got to be."