Mauricio Pochettino happy to see Spurs win 'emotional' derby against West Ham
Last Updated: 20/10/18 6:34pm
Mauricio Pochettino labeled Hugo Lloris 'one of the best goalkeepers in the world' following the Frenchman's impressive display in Spurs' narrow 1-0 win over West Ham at the London Stadium.
Lloris made four saves - all from Marko Arnautovic - to ensure that Spurs won their fourth Premier League game in a row and prevented their opponents from scoring for the third successive match.
The Frenchman came in for criticism for his mistake against Barcelona in the Champions League a few weeks ago but Pochettino re-affirmed his belief that Lloris is a world-class goalkeeper.
"There's nothing to say about him, he's one of the best goalkeepers in the world. He was superb but after four-and-a-half years we know how he can perform and I think Hugo is one of the best," Pochettino said.
It was another generally uninspiring performance from Spurs, but the result lifted them back into the top four and ensured that they have now won seven of their nine league games.
Erik Lamela, making his first Premier League start of the season, was the match-winner, glancing Moussa Sissoko's cross into the bottom corner for his fifth goal in seven games in all competitions.
Pochettino admitted that it was a tough game but felt that his side deserved to be further in front from their first-half showing.
"I am so pleased because I think there was a period in the game where it was so difficult and it was a tough game. We were very competitive and West Ham were very competitive.
"In the first half we were much better and I think we deserved to have one or two more goals but when it's 1-0 and they push you in the second half, it's tough.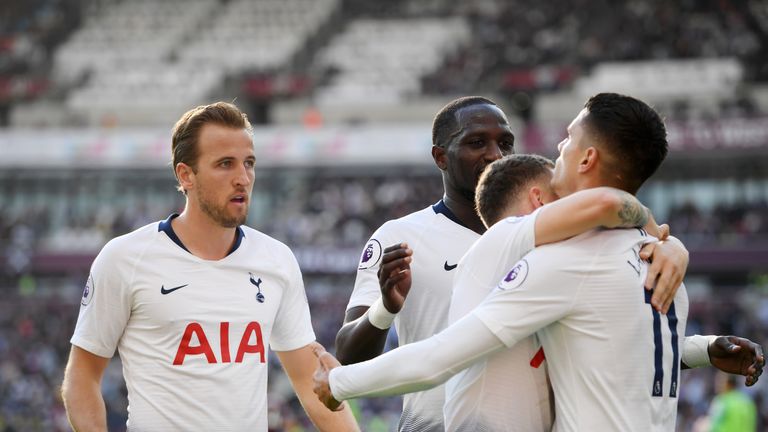 "I am so happy because the three points were so important to us and it was a derby, a very emotional derby so that's why I congratulate the players and our fans, of course."
Speaking about Lamela, Pochettino said: "It's so important to have depth in the squad and if we want to be competitive in all competitions we need players who can help the team."
The fixtures are coming thick and fast for Spurs now with games against PSV, Manchester City and West Ham all to come before the end of the month.
Wednesday's contest against PSV in Eindhoven is of particular importance to Spurs considering they lost their first two Champions League games against Inter and Barcelona, and Pochettino admitted it is a "must-win".
"It was fantastic to start this busy period with a victory and of course is a must-win game against PSV so we need to prepare for this game if we are going to be alive in the competition."