Tottenham agree Wembley Stadium season-long option
Spurs aim to provide stadium update in early December
By Zinny Boswell
Last Updated: 11/11/18 3:13pm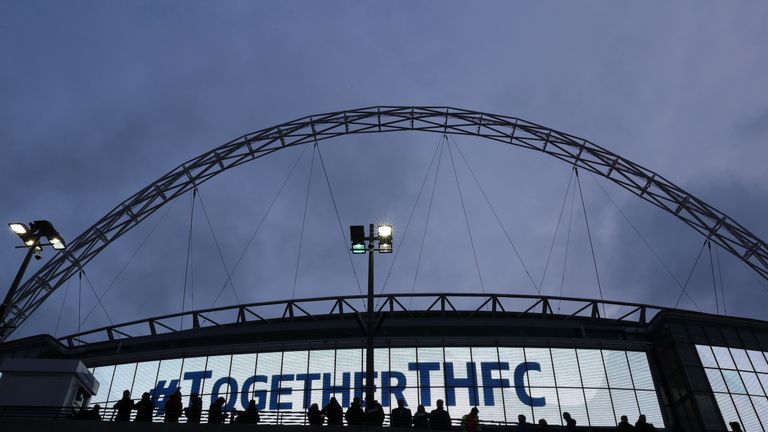 Tottenham have agreed a "contingency" plan to play the rest of this season's home games at Wembley if their new stadium continues to face delays.
Spurs' remaining Premier League fixtures after the Chelsea game on November 24 will be capped at 51,000 unless they are otherwise advised due to local council restrictions.
Brent Council had already granted special dispensation for Wembley to increase the number of events at full capacity to cater for Tottenham's prolonged temporary relocation.
Wembley, however, will submit a further planning application to the local council to increase the capacity to 62,000 with additional limited exceptions of 90,000.
A club statement confirmed they had reached an agreement to "host any additional home games at Wembley Stadium" as a "contingency measure" while they "await certainty on the exact opening date" of their new stadium.
The FA also added a statement which said they have an "agreement in place" with Tottenham for the north London club to play the remainder of this season's home games at Wembley while they wait for their stadium to be ready.
English football's governing body also said if planning permission is approved for an increase to 62,000, with limited games at 90,000, "it would come into effect from late January".
Tottenham are hoping to provide supporters with an update on "stadium progress" in early December.
In October, Spurs confirmed their new stadium would not be ready until 2019 and that they would continue to play their home games at Wembley up to and including their game against Wolves on December 29.
Tottenham's new stadium was scheduled to be ready from September 15, however, the failure of "critical safety systems" has delayed the process.