Unai Emery vs Mauricio Pochettino: When they met in Spain
Unai Emery's Arsenal face Mauricio Pochettino's Spurs on Sunday
Last Updated: 01/12/18 8:00am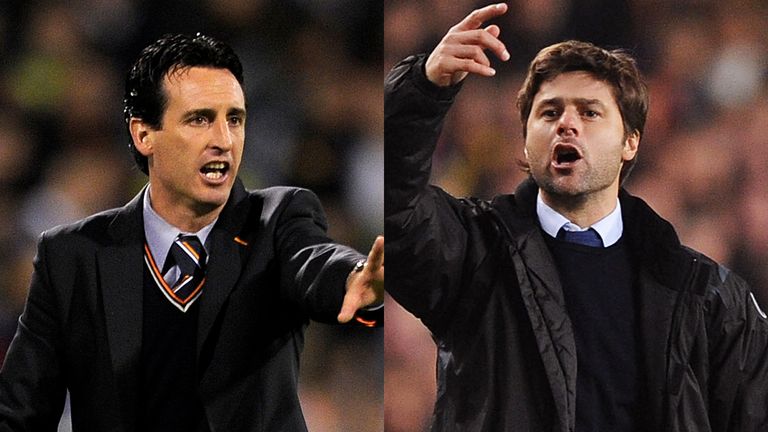 Find out the story of Unai Emery and Mauricio Pochettino's history together in Spain...
The most recent game between teams coached by Unai Emery and Mauricio Pochettino came in the summer of last year when Paris Saint-Germain were beaten 4-2 by Tottenham in an International Champions Cup tie in Florida, but there is a competitive history too.
Emery's Valencia took on Pochettino's Espanyol seven times in four seasons from 2009 to 2012 and, despite the Argentinian winning the first and last meetings between the sides, it was the Spaniard who had the better of it. Emery was the victor in four of the other five games.
There was a mutual respect. So much so, in fact, that when Emery departed Valencia in the summer of 2012, he endorsed Pochettino for the role of replacing him.
"I told the president that, for me, my ideal successor would be Mauricio Pochettino, who was at Espanyol," he told Marca recently. "Because I analysed all the teams. Later, Poch called me to thank me. And I did it without knowing him, but I knew his Espanyol well."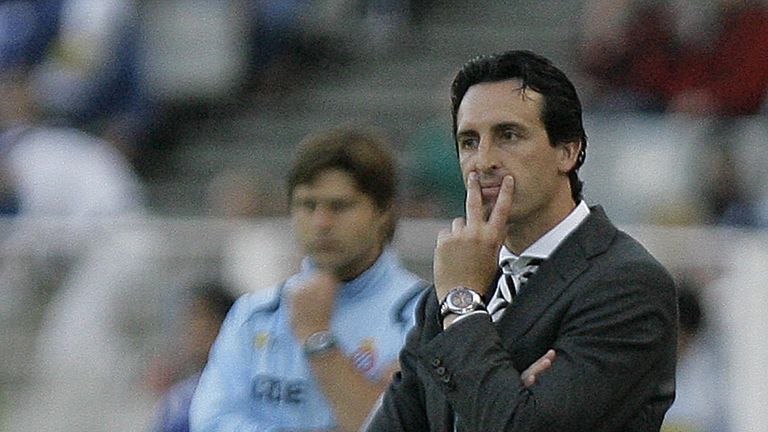 The relationship between the two has only strengthened since then, which adds an unusual dynamic to the traditionally hostile atmosphere between Arsenal and Tottenham on Sunday.
Speaking before another recent London derby against Manuel Pellegrini's West Ham, Pochettino acknowledged this feeling. "I am excited to face Arsenal and Unai Emery who is a very good friend of us, to challenge and to face all the coaching staff," he said.
"It is a little bit ironic that our worst enemies are West Ham and Arsenal but I love Manuel and Unai and we have a very good relationship. OK, during 90 minutes we are going to fight, but then before and after I think we are going to enjoy."
Here, we pick out some of the more eventful matches between the two men's teams…
Espanyol 3-0 Valencia - May 2009
Valencia were chasing a Champions League place at the time but despite possessing formidable attacking talent in the shape of Juan Mata, David Silva, David Villa and Fernando Morientes, Emery's team suffered a heavy defeat to Espanyol in Barcelona.
Pochettino had inherited a dire situation at the club but he picked up a memorable first win against Pep Guardiola's Barca in the Camp Nou and this victory marked his fourth in a row.
Espanyol went on to make it seven wins from eight to earn Pochettino a top-half finish, but Valencia were not so fortunate. Although Emery's side bounced back with a win over Real Madrid, they followed up by losing their next two and missing out on the top four.
Espanyol 0-2 Valencia - May 2010
It was a different story in Pochettino's first full season in charge at Espanyol with Emery completing the double over his rival manager thanks to two goals from towering centre-forward Nikola Zigic late on in the campaign.
In some respects it had been a difficult season for Valencia with disappointing cup exits and financial problems off the field, but the result all but secured the third spot they had held since before Christmas. It was their best finish in four seasons.
Despite the defeat, Espanyol finished on the up too. Their subsequent win over Osasuna was enough to earn Pochettino another mid-table finish by lifting them up to 11th in La Liga - the highest they had been placed during the entire second half of the season.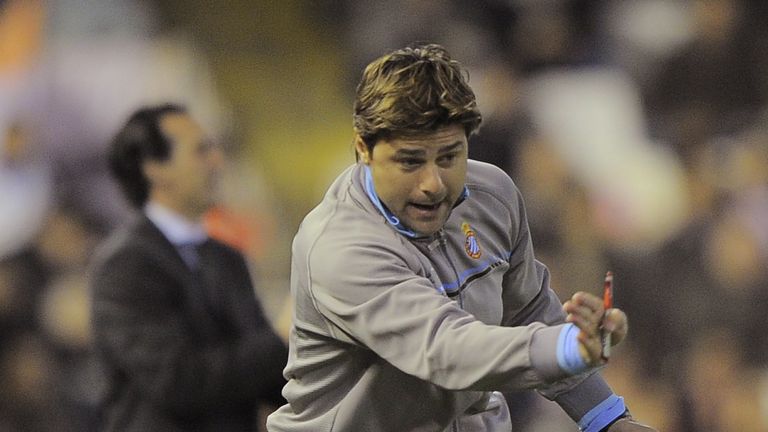 Valencia 2-1 Espanyol - December 2011
Pochettino maintained that form into the following campaign, one in which they would finish in eighth. They were so impressive that before their January 2011 game, Emery said: "Espanyol are very well structured and are a very difficult opponent, who are now a direct rival."
Valencia still won that match 2-1 and it was the same score between the teams when they met in December of the same year in the following season. Goals by Roberto Soldado and Tino Costa were enough for Valencia to maintain their grip on third spot.
Once again, Emery had words of praise for Pochettino's side. "We lacked quality," he admitted. "Though they didn't have many opportunities, they controlled the game."
Espanyol 4-0 Valencia - April 2012
In the most recent competitive meeting between the two men, it was Pochettino who got the victory - an emphatic one at that - as his Espanyol side put four past Emery's Valencia.
Espanyol had been as high as sixth the previous month but they had gone five games without a win before this confidence-boosting result. Unfortunately, it did not last as Pochettino's team would fail to win the next five too as they sunk to 14th.
It would prove to be Pochettino's final full season in charge and Emery's time at Valencia was also drawing to a close. He bowed out at Mestalla with another third-place finish. But who will come out on top when they meet in the Premier League for the first time?