Gary Neville on Unai Emery, N'Golo Kante and Merseyside tussle
Watch Derby Day - Chelsea vs Fulham, Arsenal vs Tottenham and Liverpool vs Everton - Sky Sports Premier League from 11am on Super Sunday
Last Updated: 02/12/18 12:04pm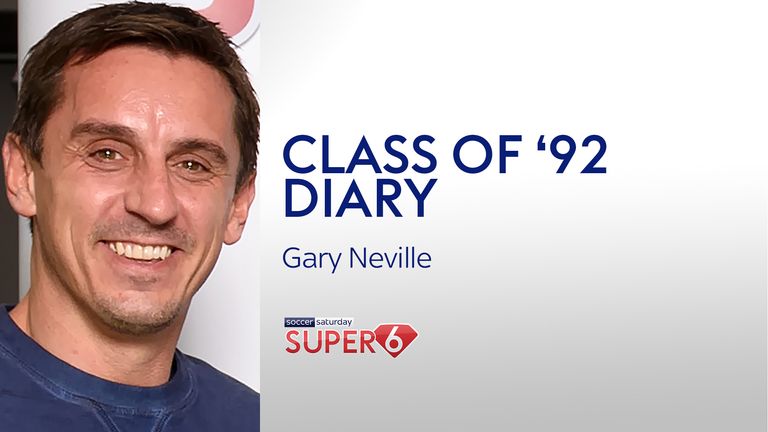 In the second part to his Super 6 Class of 92 diary, Gary Neville looks ahead to a huge Derby Day on Super Sunday.
Emery's first north London derby...
It's a big test for Unai Emery. He obviously had those games against Manchester City and Chelsea early in the season. They've got Manchester United on Wednesday, so those games in three days will tell you a lot more about where Arsenal are at. There is a real progression - I love Emery as a coach - and he will be looking at these games with a real positive mindset and thinking it's where his team is at now.
Two games against two opponents in the top eight who are basically not Manchester City and Liverpool, the top teams in the league, but basically will test their resolve, tell Emery where they are at and it's good for Arsenal to test themselves and show how far they have developed since those early season games.
Tottenham will be the favourites, they are the better team at this moment and this is a game where, ultimately, Emery will know what impact this will have on their squad. He will need a couple of transfer windows to really be able to get them challenging again, so even if Arsenal lose it's not the end of the world because he's only been in the job four or five months.
What it will do is tell him about his team, squad and the development of the players he's got and also about the players he can trust in the future. The next three or four days will tell him a lot, he'll learn about them, how they cope in the big matches.
West London derby and N'Golo Kante best position...
I saw it a few weeks ago, there's signs N'Golo Kante does not quite understand or know the position he has to play, it didn't quite suit him. It's no surprise to me it's flaring up now. Now it's a case of the player accepting it, developing his game there and what his attitude is towards playing, but Kante's got a great attitude so my view is he will persist.
He's being asked to do different things and it's more of a struggle for him, but there's no reason to say he can't get better and bring value in that position and improve like players do over their career.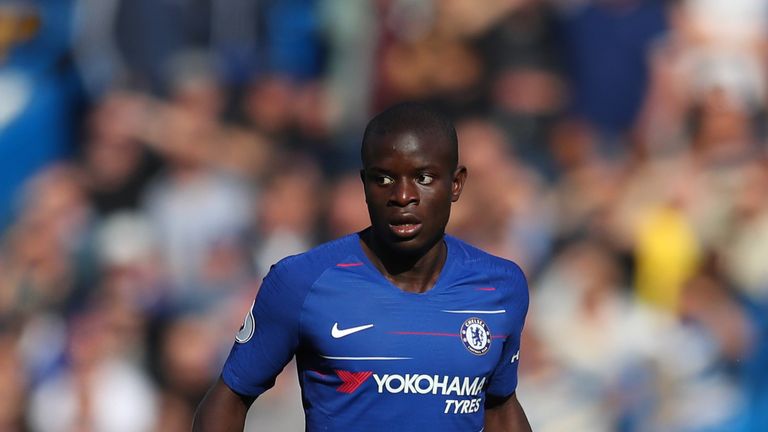 I think it will be an interesting match. In terms of Chelsea, I didn't think they were title challengers, even a few weeks ago, they were unbeaten for a long time but I felt they weren't the real deal, not like Conte in his first season or Mourinho in his second in his latter spell at the club. They are going to have a good season, the football is good and I think now they'll settle into a position to challenge for the top four and I think that's where they'll end up at best.
Can Liverpool bounce back?
I watched the game in midweek, and the speed of PSG was fantastic at times. I didn't think Liverpool were at their best, they haven't been all season in respect of what they can do.
But I think Liverpool are the challengers for the title. They always do well in this game, Everton struggle and the questions are always about Everton and not Liverpool for me. The questions for the Reds are the wider ones around whether they can challenge for the league title, can they push Manchester City, can they hang on to their coat tails, can they live with them and the incessant amount of points and pressure they put on you? It's unbelievable what City are doing.
Liverpool are doing really well to be where they are and I said it at the start of the season - and was criticised for it - Liverpool's focus should be solely on the league, Liverpool Football Club needs to win the Premier League and they've got the squad that is as close at this stage as I've seen before to what I believe is a real challenger.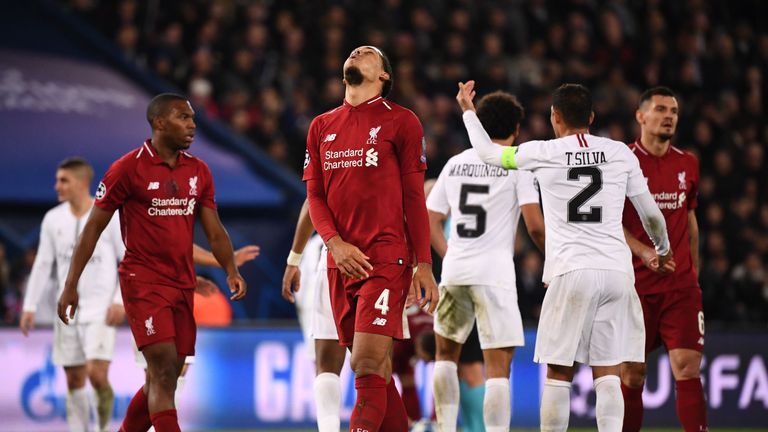 This game on Sunday has been a home banker over the years and I don't see it changing this weekend, the atmosphere will be fantastic and I think Liverpool will perform.
They'll be without the suspended Jordan Henderson, but with Gini Wijnaldum, James Milner, Naby Keita and Fabinho, I don't think there's a great deal between them, ultimately if one is missing I don't think they suffer, not like if Mo Salah, Sadio Mane or Roberto Firmino are out when you do see a drop, they are all of an equal ability and you don't see a drop when one is missing as the others can ably fill in for them.
Everton's reasons to be cheerful...
I like this Everton side under Marco Silva. It's been a tough job to transition an ageing team that has got old together - Leighton Baines, Phil Jagielka, Tim Howard - that team that was there over a period of years, the focal point. They have now over the last few years transitioned away from that and now got a lot of legs, energy and youth.
Everton fans have a lot to look forward to - the style and manager's good, the coaching team is good and the players they've got are a lot more useful, energetic and appropriate to tackle what is the modern Premier League. It just felt like an old, slow team and that's now changed with the introduction of the centre-backs, centre midfielders and Richarlison up front, it's just a lot better I think and would feel a lot more enthused if I was an Everton fan.
They should go to Anfield on Sunday and have a real go because nobody expects anything from them. What I always see from them in these games is a lack of belief and the worst thing that could happen to them is this younger, new team goes out and lacks belief. Don't carry the weight from before, just go out as a new team and show a level of belief, that is why you are a football player.
My belief is they have no reason to live in the past, think about the past results and failures, the low confidence, now is time for that team and Silva to tell them to go and play, take the ball. I don't think it's a case of tackling where you have to show courage, it's showing courage on the ball and taking it at Anfield.
Gary Neville's Class of 92 Super 6 predictions:
Crystal Palace 2-1 Burnley
Huddersfield 1-0 Brighton
Leicester 1-1 Watford
Man City 4-0 Bournemouth
Newcastle 1-2 West Ham
Derby 2-1 Swansea
Get your Super 6 selections in HERE!
Watch Derby Day - Chelsea vs Fulham, Arsenal vs Tottenham and Liverpool vs Everton - Sky Sports Premier League from 11am on Super Sunday