Mauricio Pochettino admits Spurs suffered from 'stress and fatigue' in West Ham defeat
Spurs' 100 per cent record at their new stadium ended on Saturday
By Gerard Brand
Last Updated: 28/04/19 9:08am
Mauricio Pochettino admits Tottenham suffered from "stress and fatigue" as they were beaten 1-0 by West Ham just days before their Champions League semi-final.
Michail Antonio's goal ended Spurs' 100 per cent record at their new stadium, as Pochettino made four changes before the semi-final first leg with Ajax on Tuesday.
He rested Jan Vertonghen and left Fernando Llorente on the bench, but the Argentine blamed his side's lack of freshness for the performance.
Pochettino said: "When the stress and fatigue arrived that is our reality. We are a very competitive team when we are with full energy, we are so focused.
"The stress and the fatigue arrived, we are competing with circumstances that are not the best.
He added: "It is so difficult to beat the opponent in the Premier League, and especially when they are in a different circumstance, different reality.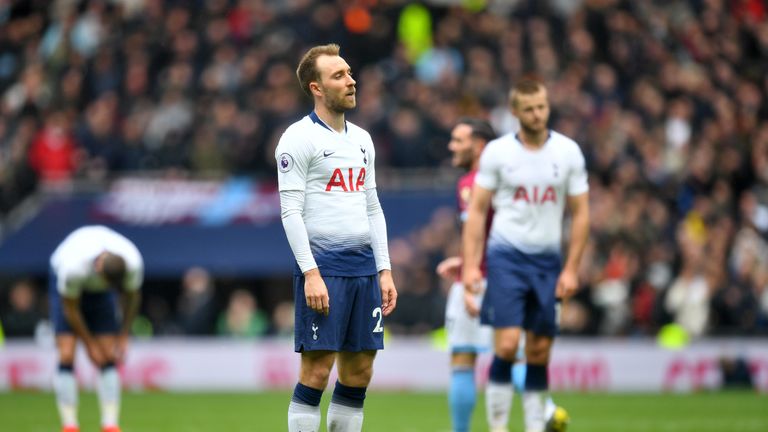 "Of course they were fresh, we were tired, and of course now it is about moving on. Of course, it is going to be tough, we have two games and I wish, I hope we are in the top four.
"Of course it was tough, we knew it would be tough, it's a derby. They arrive in a very good, fresh condition to compete, and for us the circumstance was very different."
Tottenham remain third in the Premier League, but are just four points above fifth-place Arsenal, who have a game in hand.
Spurs tired?
Saturday's defeat by West Ham was Spurs' 53rd game of the season; it was the Hammers' 41st
Though Pochettino admits the side felt disappointed by the defeat, he is keen to move on and says mentality will be vital ahead of Tuesday's home tie.
"Nothing to say, only to move on. I am very disappointed, we all feel disappointed. The first half was good, second half wasn't. One for us, one for them, but they score in the second half.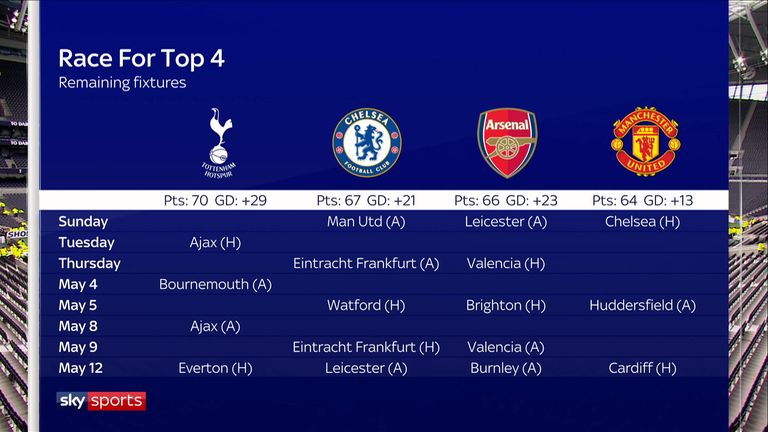 "Always it is tough to prepare our game, a semi-final against a good team like Ajax, arriving in that condition, of course it is going to be difficult but the mentality is most important, we need to forget now and move on to Tuesday.
"It is no good for us, but of course with all of the circumstances, sometimes this can happen."
What next in the top-four race?
When is a race not a race? While Liverpool and Manchester City refuse to blink, the four teams below them continue to sleepwalk their way towards the climax of this Premier League season. Adam Bate takes a closer look at the race no-one wants to win.
What's next?
Spurs now host Ajax on Tuesday in their Champions League semi-final first leg, before going to Bournemouth on Saturday, live on Sky Sports Premier League from 11.30am; Kick-off is at 12.30pm.