Mauricio Pochettino says Tottenham respect referee's decisions after two red cards
Tottenham lost 1-0 at Bournemouth in the Premier League with Heung-Min Son and Juan Foyth sent off
Last Updated: 04/05/19 5:19pm
Mauricio Pochettino said Tottenham respect the decisions of referee Craig Pawson after Heung-Min Son and Juan Foyth were sent off against Bournemouth.
Son was dismissed just before the break after pushing over Jefferson Lerma and Foyth was then giving his marching orders two minutes after coming on as a half-time substitute following a crunching tackle on Jack Simpson.
Eric Dier could also have been sent off in the first half, but Pochettino would not be drawn on the incidents and does not believe the 1-0 defeat will affect his side ahead of Wednesday's Champions League semi-final second leg against Ajax.
He told Sky Sports: "There's not too much to talk about. It's time to move on and prepare for the next game on Wednesday. Everyone saw what happened on the pitch.
"In the first 40 minutes, we were playing so well, I think we created a lot of big chances. We didn't score and sometimes football is like this, it's cruel and then we conceded in the last minute.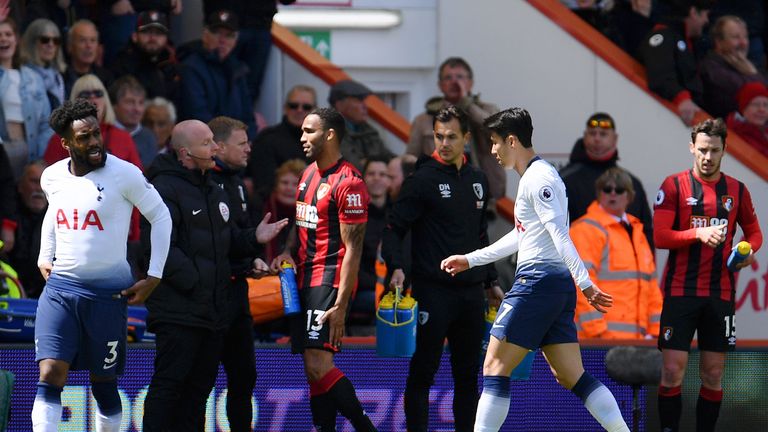 "There were two red cards, which is very difficult for the team. We fought and made the effort but there is nothing to say other than we're disappointed.
"We respect the decision of the referee [for Son's sending off] and we move on. Now, my opinion is not too important but my honest opinion is that it is about accepting the decision of the referee. You know you cannot change what happened before now.
"Again, I didn't see it [Foyth's red card], but they need to respect the game and the decision of the referee. I can say absolutely nothing but respect that.
"The effort was massive and with nine players, I thought we defended well. I think we made a very good game, but it was not enough because in the very last minute, we conceded.
"I don't believe there is going to be a big impact [for the Ajax game]. Now we go into recovery and try to be ready for Wednesday. We are third, we are competing for the top four, we are in the semi-finals of the Champions League. I am going to feel proud about the season and what will happen, will happen."
The pundits' view
Jamie Redknapp and Bournemouth captain Simon Francis joined Kelly Cates for the Vitality Stadium game, and said Son's behaviour was out of character.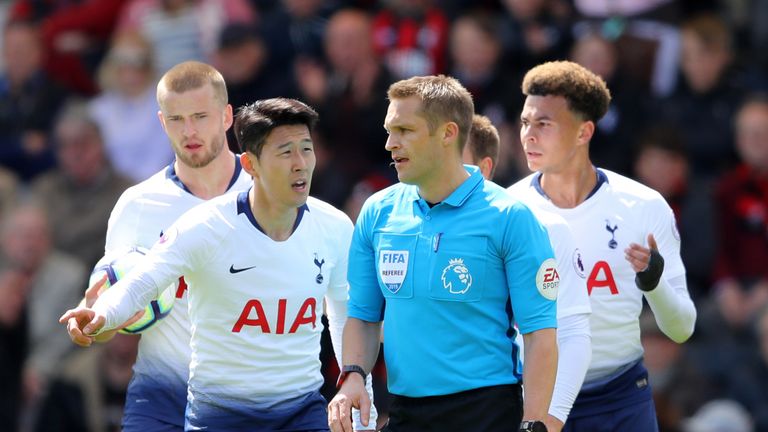 Redknapp told Sky Sports: "The first one I'm uneasy with. I do think it's a red card in the current climate because you can never really push people. I don't like the way Lerma goes down if I'm totally honest, but I think it's a red card.
"It's a moment of madness from him. It's not a typical Son action, it's not what he does but it is a red card in my opinion. I don't like to see it, I must admit, because it is just frustration for what he's done.
"Over the years, we have spoken about Tottenham being too soft so you can't have it all ways. Dier probably could've been sent off for his actions in the first half and he could have given away a penalty. It boils over sometimes, but that's football."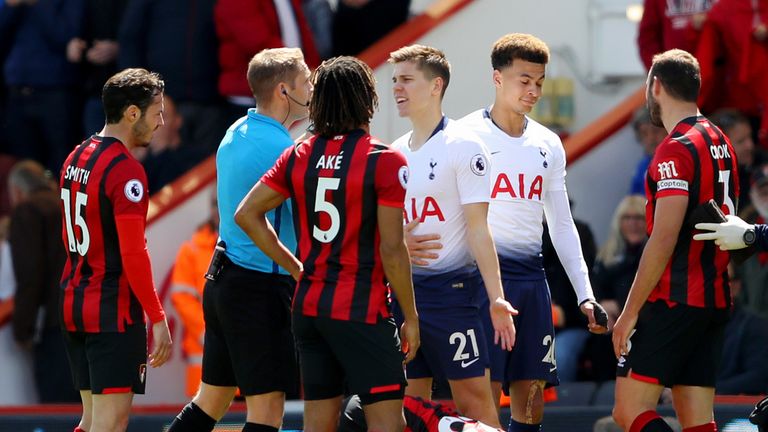 Francis added: "I'm really surprised because it doesn't seem like his character. You never see him get too angry or stressed in a game. It's so innocuous, I can't see what Jefferson may have done to him there but he has done something to wind him up and Son's reacted, but it did give us an advantage."
The pair were clearer on their views of Foyth's dismissal, with Francis relieved that his team-mate Simpson did not pick up a nasty injury.
He said: "It's a hard one to watch back. It doesn't get any better, that's for sure. It's knee high on Jack Simpson and I think if his leg is planted, it could be a lot worse. Two minutes after coming on, he overruns the ball and when you're lunging like that, I'm glad to see Jack came off without an injury because it's a bad challenge."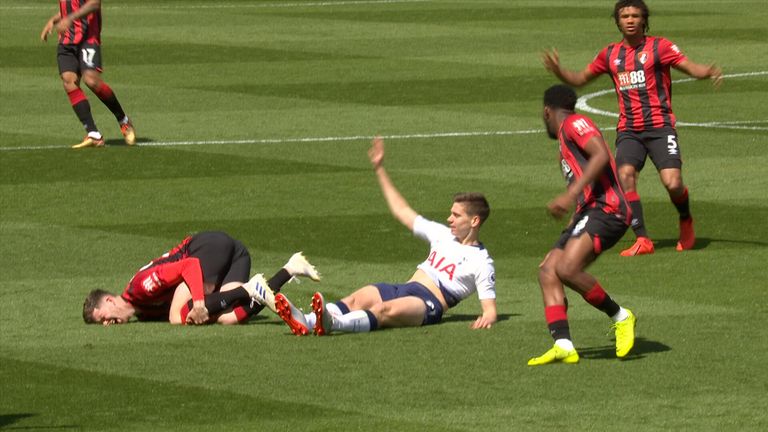 Redknapp added: "It was reckless and out of control, I think that's what the referees would say about that one. Never once when he picks that ball up does he ever really have it under control.
"He's sliding in, but in his defence, he's looking down, he's not really looking at his leg. It looks horrendous, don't get me wrong, but it's one of those where the ball is running away and it's desperation, he's tried to slide in and his foot is really high.
"It's definitely a red card, you can't deny that, but it is one of those that is not nice to see."