Mauricio Pochettino worked wonders to reach the Champions League final but this still felt like a missed opportunity, writes Adam Bate.
When the Spurs go marching in. That was the chant from the Tottenham supporters in Madrid at the full-time whistle and why shouldn't they be proud of how far this team has come under Mauricio Pochettino? Champions League finalists for the first time in the club's history. But still there will be that nagging feeling that this final was their big chance.
Tottenham had more possession than Liverpool and completed more than twice as many passes. They had more shots from inside the box and more shots from outside the box. Liverpool goalkeeper Alisson Becker made eight saves to Hugo Lloris' one. And yet, Tottenham lost 2-0. The first team in nine years not to score in the Champions League final.
The clear-cut opening never came, the moment where it seemed certain that Spurs would level things up after Moussa Sissoko was adjudged to have handballed it in the box after just 23 seconds. They pushed hard late on as Pochettino threw on more attacking players but were never able to build up the sort of momentum that made an equaliser inevitable.
It is a pity for the supporters after such a stunning campaign that they were denied that one final twist - the sort that they have come to expect from this Tottenham team. It made for a strangely subdued end to a remarkable run in this Champions League and it would, of course, be a huge shame if this is allowed to overshadow all that came before it.
Tottenham really should not have been here and not just because of their outrageous journey to the final. In the era of the super clubs, with transfer spending at unprecedented levels, Spurs have defied the odds time and again just to qualify. Only Chelsea have added their name to the trophy this century. It takes big money and yet Spurs just haven't spent it.
They looked long gone in the group stage, all but out after three games had yielded just one point. It took a late goal in the Nou Camp against a weakened Barcelona side just to make it through to the knockout stages and then came the VAR redemption against Manchester City in the quarter-final even before the 96th minute goal that capped an astonishing comeback in Amsterdam.
When a team comes through experiences like that, it is only natural to think that a special ending is in store - even if the odds were still against them. Liverpool had finished 26 points ahead in the Premier League and had finished the season in far better form. The head-to-head records now show that Pochettino's Spurs have won one game in 12 against Liverpool.
Hope came in the form of a full-strength squad with Harry Kane and Harry Winks recalled to the starting line-up after six weeks out. Pochettino had spoken in the build-up of being thrilled to have everyone available and opted for the team that beat Manchester City at the Tottenham Hotspur Stadium in the quarter-final first leg. In defeat, perhaps it is inevitable that this decision will come under scrutiny.
Kane averages four shots per 90 minutes this season but it was not until stoppage time that he fired off an effort in Madrid. He had only 11 touches in the first half. The striker's selection meant that Lucas Moura, Tottenham's hero in this tournament after his hat-trick against Ajax, had to wait until midway through the second half to get on the pitch.
In truth, Kane's performance was far from a disaster. He looked as fit as anyone else, found some space in deeper areas and played some intelligent passes. "You want to create a drama, but it's not a drama," said Pochettino afterwards. "It's just a decision. He finished the game fresh. I promise, my decision involved a lot of analysis. I don't regret my decision."
Pochettino's in-game management is widely regarded as impressive and if Spurs had managed to find the goal that they hinted at for much of the second half then who knows where it may have taken them. Unfortunately for the masses of Tottenham supporters who made the trip to the Spanish capital, this was just one miracle too many for this team.
That, of course, is how Pochettino has framed this whole experience - eager to point out just how unlikely this accomplishment has been given the circumstances. He has taken a team that has not signed a single player in the last two transfer windows into a Champions League final. Take a step back and it is beyond expectations. Miracle is about right.
"Winning the Champions League? It should be fantastic, no? Close the five-year chapter and go home," he had said before the semi-final second leg. "To win the Champions League with Tottenham in these circumstances this season, maybe I need to think about maybe doing something different in the future. Because to repeat the miracle, you know…"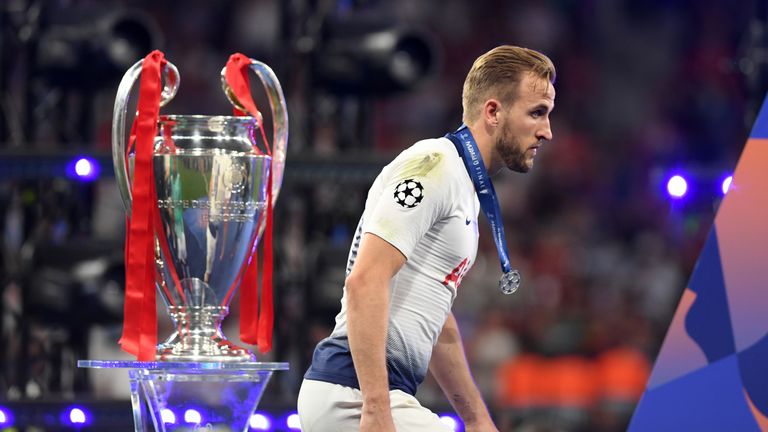 That is the crux of the issue for Spurs now. There are so many reasons to be optimistic about what is happening at Tottenham. New signings will surely come, the commercial income is up and the new stadium will be a boon to this football club. But making it back to the biggest game in European football? That is a stretch because it's not all in their favour.
Time waits for no one and how long will the key players be sticking around? Christian Eriksen's contract situation puts his future in doubt and while Spurs supporters dare not entertain the notion of Pochettino or Kane walking away, perhaps this was the moment. As cruel as it might seem, perhaps this was the best opportunity that this team will ever have.
We will be back. That was the message from the club on social media. Winks spoke of continuing to build and that's plausible if key players remain and money is spent well. But that is what rivals Arsenal thought in 2006 after losing a Champions League final on the eve of their first full season in their new stadium. It was there for Spurs. Sadly, it was a chance missed.
If reading on skysports.com, comment below to get involved in the debate, but please adhere to our House Rules. If you wish to report any comment, simply click on the down arrow next to the offending comment and click 'Report'.