Tottenham sign Brazil midfielder Paulinho from Corinthians
Tottenham confirm the signing of Brazil midfielder Paulinho from Corinthians.
Last Updated: 07/07/13 7:15am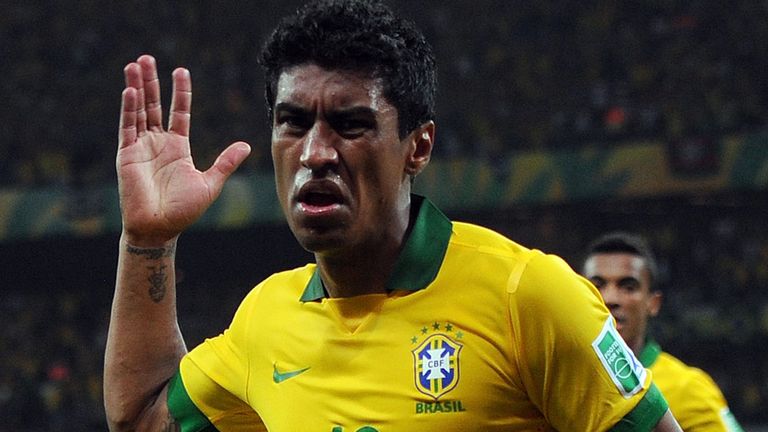 Paulinho has become Andre Villas-Boas' first summer recruit as he looks to reshape his squad ahead of a push for a top-four place in the Premier League next season.
The player revealed during the Confederations Cup tournament in his native country that a bid from Spurs to seal his signature had been lodged and that north London was his most likely destination.
Inter Milan and Real Madrid were also believed to be interested in a move for the former Bragantino midfielder, who scored twice during the tournament, following on from his equalising goal in Brazil's 2-2 draw with England last month.
Paulinho said: "It's a huge pleasure for my career to be at a club as big as Tottenham. I know it will be a huge challenge but I think I can help all my colleagues to succeed and give a lot of happiness to the supporters.
"The training centre is amazing and I'm very impressed about the conditions Tottenham offers to the players. I will focus on my job and use the facility as much as possible.
"We used to watch the Premier League in Brazil - including Tottenham - and this club has big players. I just want to help them to succeed here. It's nice to have another Brazilian in the squad and I'm excited to meet with Sandro and all the players."
Paulinho confirmed earlier this week that he had no regrets about his decision to move to White Hart Lane, telling ESPN Brasil: "They (Tottenham) made an offer to my agent and to Corinthians, I sat down, analysed the proposal and chose Tottenham. We think it was the best path, the best option.
"I am moving from one big club to Tottenham, another club in a big league. I am sure I will perform my job to the best of my ability. I don't regret and I won't regret [this decision]."
His compatriot, and new team-mate Sandro, is confident that Paulinho has the ability to make an impact in the Premier League.
Sandro told Globo Esporte: "I think he has what it takes to do well here.
"This is a club with a great structure. It has been fighting for the top positions in the last few years and playing in European competitions.
"Paulinho will certainly help us become even stronger.
"I can only say 'welcome to Tottenham, Paulinho'. I am very happy, I will try to do the same thing Gomes did when I arrived. He was very important when I came and helped me adapt. If Paulinho needs me, I will help. I welcome him."
Paulinho has been likened to Frank Lampard, and he acknowledged he is happy to take on board any comparisons with the veteran Chelsea and England midfielder.
"This comparison is a responsibility that I will take," said Paulinho. "I will not run away from it.
"Lampard is a great player, not only for Chelsea but in world football.
"I intend to follow in his footsteps as he is a very professional guy. David Luiz always speaks of him on international duty.
"I've always looked at what Lampard does and to me he is a huge phenomenon. The way he hits the ball, what positions he takes up, he really is incredible."