Premier League: Tottenham Hotspur sack Andre Villas-Boas
Tottenham have sacked head coach Andre Villas-Boas after less than 18 months in charge.
Last Updated: 17/12/13 1:27pm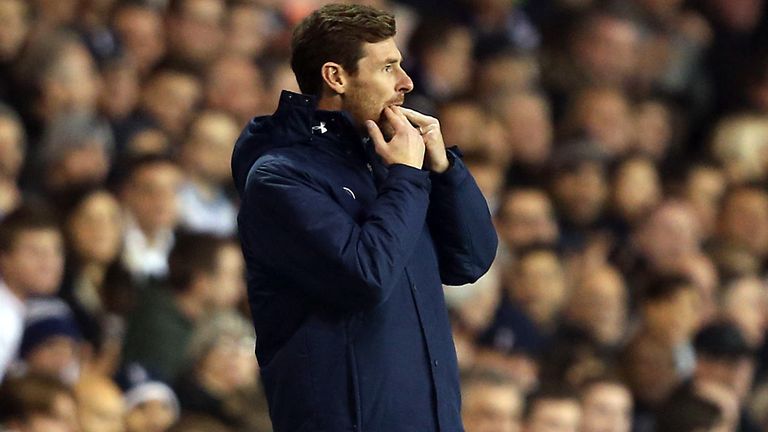 The Premier League defeat to the Reds appeared to have been the final straw for the White Hart Lane board, coming just three weeks after the 6-0 thumping by Manchester City at the Etihad Stadium.
A Spurs statement said: "The club can announce that agreement has been reached with head coach, Andre Villas-Boas, for the termination of his services.
"The decision was by mutual consent and in the interests of all parties."
The club later revealed technical co-ordinator Tim Sherwood and Spurs U21 coaching team of Chris Ramsey and Les Ferdinand would take charge of the first team ahead of the Capital One Cup quarter-final visit of West Ham on Wednesday night.
Steffen Freund and Tony Parks stay on as part of the coaching staff but Villas-Boas's backroom team of Jose Mario Rocha, Luis Martins and Daniel Sousa have left.
Early candidates which headed the Sky Bet betting to replace Villas-Boas were former England boss Fabio Capello, now in charge of Russia, Spurs' current director of football and Capello's assistant at the Football Association, Franco Baldini, former England supremo and Spurs boss Glenn Hoddle and Swansea manager Michael Laudrup.
Another contender, Dutchman Guus Hiddink, was immediately ruled out of the running by his agent as he is taking over as Holland coach after the World Cup.
Cees van Nieuwenhuizen said: "I would be surprised if (Hiddink) went to Spurs. I could hardly imagine that happening.
"He has just signed a contract with Holland and he has also turned down offers from other countries recently to coach them at the World Cup so I wouldn't take any talk of Guus going to Tottenham seriously."
Villas-Boas endured a shorter turbulent time at London rivals Chelsea, moving to Stamford Bridge from an extremely successful stint Porto in June 2011 before being sacked in March 2012 by Blues owner Roman Abramovich.
He was soon lured back to the Premier League in July of that year and managed to guide Tottenham to their first win at Old Trafford since 1989, beating Sir Alex Ferguson's Manchester United 3-2 in September.
Spurs went on to accumulate 72 league points in the Portuguese's only full season in charge, the largest haul not to qualify for the Champions League in Premier League history.
The 36-year-old then revealed in the summer that he had turned down offers from Paris St Germain and Real Madrid to remain at Tottenham before star asset Gareth Bale was sold to the Spanish giants in a deal worth a reported world-record 100million euros.
Tottenham used the Bale money to strengthen their squad with the acquisition of, among others, Spain forward Roberto Soldado, playmakers Christian Eriksen of Denmark and Argentina's Erik Lamela, and midfielder Paulinho of 2014 World Cup hosts Brazil.
However, after an encouraging start to the new season, a 3-0 home defeat to a striker-less West Ham raised first questions over Tottenham's strengths before they continued to struggle to score league goals.
Last week, a convincing 4-1 victory over Anzhi Makhachkala saw Spurs advance in the Europa League and appeared to ease concerns over their attacking potency but Sunday's north London humiliation precipitated the club's decision to finally part company with Villas-Boas.
Speaking after Sunday's humiliation by Liverpool, which followed a 6-0 drubbing by Manchester City last month, Villas-Boas had insisted that he would not quit.
The 36-year-old said: "The call to make that decision is not mine, because obviously I won't resign and I'm not a quitter.
"The only thing I can do is work hard with the players to get them back on track.
"This is a top-four squad but in our Premier League form we are not there."
Spurs are currently seventh in the table, two points ahead of Manchester United, and won their Europa League group with a 100 per cent record, scoring 15 goals and conceding just two in six games.
Villas-Boas also had a good record overall as Tottenham manager, averaging 1.83 points per league match, the highest of all Spurs bosses in the Premier League era.
A bright start in the Premier League was not maintained however and it appears the manner of the defeats by City and Liverpool proved too much for Spurs chairman Daniel Levy and the board.
Sky Sports pundit, and former Spurs midfielder, Jamie Redknapp says Villas-Boas has paid the price for his role in dismantling one of the best teams the club have ever had.
"After the job he did at Chelsea he was incredibly lucky to get that job in the first place," said Redknapp, who is the son of former Tottenham boss Harry.
"He had a nightmare at Chelsea and then they went and won the Champions League without him, but he finds himself as the manager of Tottenham with a squad of Modric, Bale and players like that.
"Last year he did well with the previous manager's team, but now he's had his chance to do it, it hasn't worked out for him.
"When you get beat 5-0 at home it's a bit of a tell-tale sign. It's not something Tottenham fans are accustomed to and I feel sorry to a certain extent for the fans.
"Having seen the team that was built - you look at Gareth Bale on the wing - and you've ended up with players who aren't in the same league."
Another Sky Sports pundit, Jamie Carragher, had some sympathy for Villas-Boas following the thrashing by Liverpool and questioned who has been responsible for all the players that were brought in over the summer.
Carragher said on Super Sunday: "Something's just not right, I don't think it's a bad run of form here, I think there's something not quite right with this team the way it's been put together.
"The system that they're playing is certainly not suiting Soldado. You look at a player like Lamela, brought in to replace Bale, he's no Bale but £30million from Roma and we've not seen him.
"There's so many players in similar positions, wide players or number 10s, there's five or six of them and he keeps trying different ones each week and whoever he puts in there just doesn't seem to work.
"You're starting to talk about buying new players but they've just spent £100million and signed ten new players so I don't think their owner or Daniel Levy in January is going to say 'do we need players?'
"I think they're going to be seriously looking at his (Villas-Boas) position and how they're set up but unfortunately for AVB, I do feel for him because I'm not sure he's signed all those players."