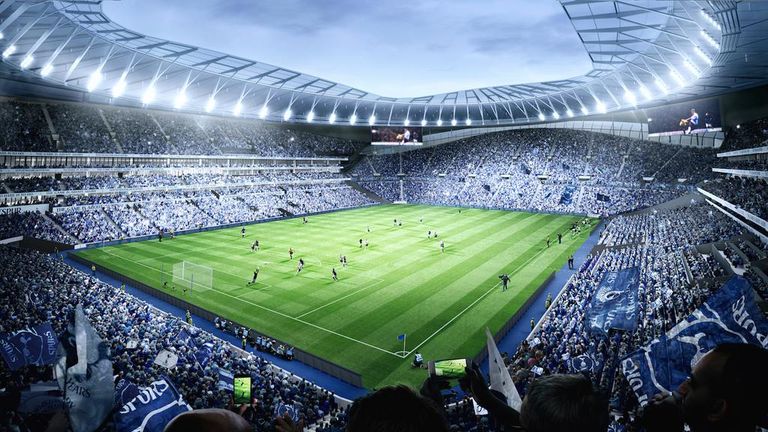 Tottenham have revealed a dramatic new design for their proposed new stadium, with the 61,000 capacity set to exceed that at Arsenal's Emirates.
Chairman Daniel Levy also confirmed the club are in talks about moving to Wembley Stadium for a season while their new ground is built.
Chelsea are reported to be favourites to be granted tenancy at the national stadium as they seek a temporary home, but Levy expects the FA to "do the right thing" and "find a way to accommodate both clubs".
MK Dons are believed to be one of Spurs' other options for their year away from north London. 
The original stadium development project was granted planning permission by Haringey council in 2011, but during the prolonged period of the Compulsory Purchase Orders, Spurs used the time to make significant improvements. 
Among them is a huge 17,000-seat single-tier stand - the largest of its kind in the country - with supporters closer to the pitch than at any other comparable-sized stadium.
There will also be dedicated facilities for NFL, with whom the club have signed a 10-year partnership to host two American Football games a year.
The new stadium is expected to open in the summer of 2018, with the club spending the 2017/18 season away from White Hart Lane.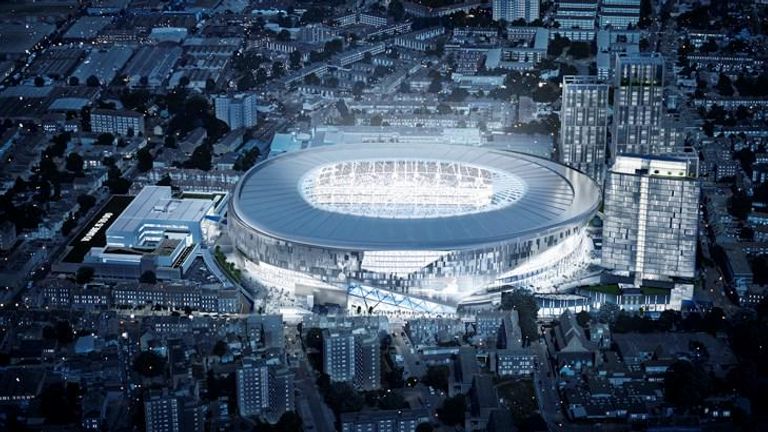 Also included in the design is a 180-room hotel, a 'Sky Walk' on top of the stadium and a new building to host extreme sports including the tallest indoor climbing wall in the world.
"What we're trying to create here is a vibrant community. We're trying to create a leisure hub," Levy told Sky Sports News HQ.  
"It's not just about the soccer or the NFL. It's the other activities we are including in our plans, the extreme sports facility which we think will be a major tourist attraction.  
"The idea that you will be able to walk all the way up to the top of the roof we think will be something that will be quite thrilling. So it will create jobs.
"In 10-15 years, what you see Tottenham is today will be completely transformed. With the cooperation of the government, Mayor and local authority, you will see massive investment coming into this area; transport improvement, lots of new houses and most importantly lots of new jobs."