For many dropping from the Championship down to League One would seem like a backwards step. For Adam Armstrong, however, it was a chance to get going again.
The Newcastle loanee spent the first half of this campaign at Bolton in the second tier. There were plenty of appearances but not a lot of goals as he was deployed out of position.
Since dropping down to Rovers, who are chasing promotion in League One, seven goals have followed in 12 appearances, as well as a Player of the Month award in February.
"I thought Blackburn was the right choice for me," he told Sky Sports. "It didn't work out the way I wanted at Bolton and I had other options, but my agent spoke to Tony [Mowbray] and things got across the line. I'm happy to be here to help push for promotion and I'm looking forward to the last few games of the season.
"I felt like I had to be back playing up front, in and around the striker and making runs in behind. I didn't really get to do that at Bolton and I'm thriving off it now.
"There weren't any major issues at Bolton and I still played quite a few games. But I was playing more on the left wing and it was more as a defensive winger than an attacking winger. I forgot what it was like to run in behind a defence because we were playing so deep at times.
"I just felt like I had to take a step back to go forward, which is what I've done. Now I'm enjoying my football again and scoring goals."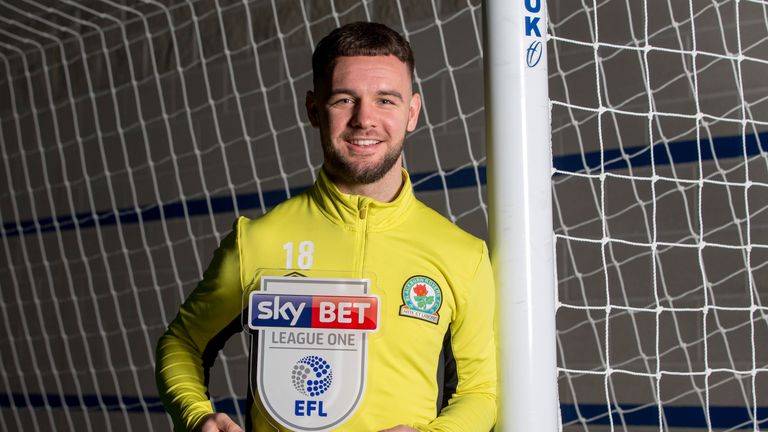 Armstrong initially burst onto the scene as a teenager at Coventry during the 2015/16 campaign, notching up 20 league goals in a side also managed by Mowbray. It's obvious from speaking to the striker, now 21, that he cites the manager as a huge influence on his career.
"For me he's a really good man manager, he speaks to his players all the time and lets us know what's going on and you can also go to him with any problems," said Armstrong.
"On the training pitch he's very intense and, like I said, it seems to be working. He gets his thoughts across well and we all understand what he wants. Everyone is working hard for him and the fans.
"Obviously I know him from Coventry but I've come here and I'm playing games and doing well and that's the main thing. A lot of people forget I'm still only 21, so the amount of games I've already played is massive for me going forward in my career.
"I'm an attacking player and I like to be in a system where I can make runs in behind a defence. I wouldn't say you've got a position anymore, though. If you're an attacking player you should be able to play anywhere across the forward line, and I'm doing that now. I've got the chance to run around the strikers and No 10s."


While his head is in Blackburn, his heart lies back in the north east and Newcastle. Armstong is yet to score for his boyhood club but it hasn't been easy for him to make an impact there considering his handful of appearances so far have come spread over four seasons. He still plans to return this summer and see what happens.
"Obviously they're concentrating on the Premier League which is a massive thing so hopefully they can stay up," he said. "I keep in contact with the Under-23s coach now and then but I'm focused more on getting my head down and doing well for Blackburn.
"It's been hard to get to a game this season but I've got a lot of good friends there and I always check the results because I'm still a massive fan. The plan is to go back in the summer and assess the situation because I've still got two years left on my contract. "
Unsurprisingly the lad born a few miles from St James' Park grew up idolising Alan Shearer, but it's another England striker who has played more of a direct role in his career.
"I grew up watching Alan Shearer, who is probably my hero from childhood, but I've always looked up to Wayne Rooney," he said. "I've had a few chats with him and he's helped me out a lot.
"When I see him he just tells me to keep working hard, keep making runs like I'm doing and then things will work out for me. It's great of him to do."
Don't miss the Sky Bet League One clash between Blackburn and Bradford on Thursday, live on Sky Sports Football and Main Event from 7.30pm