Former Aston Villa owner Sir Doug Ellis dies aged 94
"There's no question that Sir Doug dedicated his life to Aston Villa," club say
Last Updated: 11/10/18 4:23pm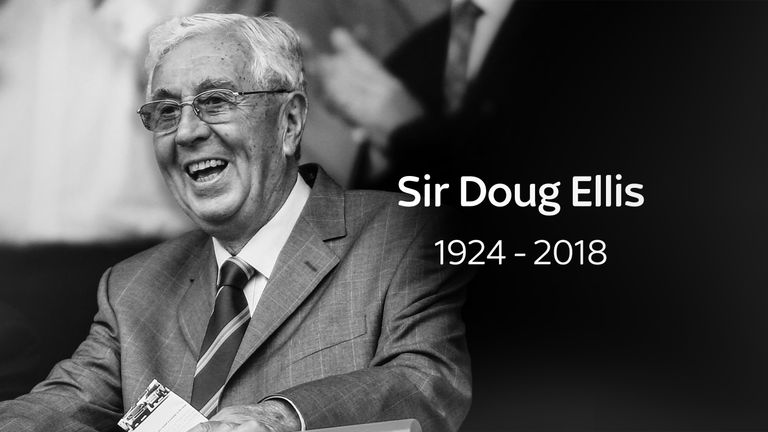 Former Aston Villa owner Sir Doug Ellis has died at the age of 94.
The club confirmed Ellis passed away on Thursday morning, adding "there's no question that Sir Doug dedicated his life to Aston Villa".
He had two spells as Villa chairman, having held the position from 1968 to 1975, before returning to the role in 1982 after the club's European Cup triumph that year.
Villa went on to win the League Cup in the 1993-94 and 95-96 seasons and were runners-up in the first Premier League campaign in 1992-93.
He stayed until 2006 when he sold the club to American businessman Randy Lerner.
Ellis had relinquished control of Villa two years earlier aged 80 while suffering from prostate cancer, appointing Bruce Langham as chief executive.
Ellis, who made his fortune in the holiday travel business, became a life president of the club.
Knighted in 2012 for charitable services, Ellis is survived by second wife Heidi and his three sons.
Graham Taylor, Ron Atkinson and Martin O'Neill were among the managers who worked under Ellis.
I was always taught to speak as you find. To me you were Fantastic
R.I.P. Sir Doug
"El Presidente"

— Brian Little (@brianlittle912) October 11, 2018
Brian Little was Villa's manager when they won at Wembley in 1996 and led the tributes on social media.
"I was always taught to speak as you find," he said on Twitter. "To me you were fantastic. R.I.P Sir Doug. El Presidente."
No matter what people thought of Doug he played a massive part in our football club. He loved his football club and still attended until his last days. The man was Villa through and through and was always gracious with myself. RIP Sir Doug. 🙏🏾

— Ian Taylor (@IanTaylor7) October 11, 2018
Ellis allowed Stan Collymore to sign for his boyhood club, paying Liverpool £7m for his services in 1997.
"Extremely sad to hear Doug Ellis has passed away today," he tweeted.
"Made it possible to fulfil my dream of playing for Villa, something I'll be eternally grateful to him for.
"Rest in Peace, chairman, sincere gratitude from me and mine."
A minute's silence will take place at Villa Park next Saturday before the club's match with Swansea City and the players will also wear black armbands.