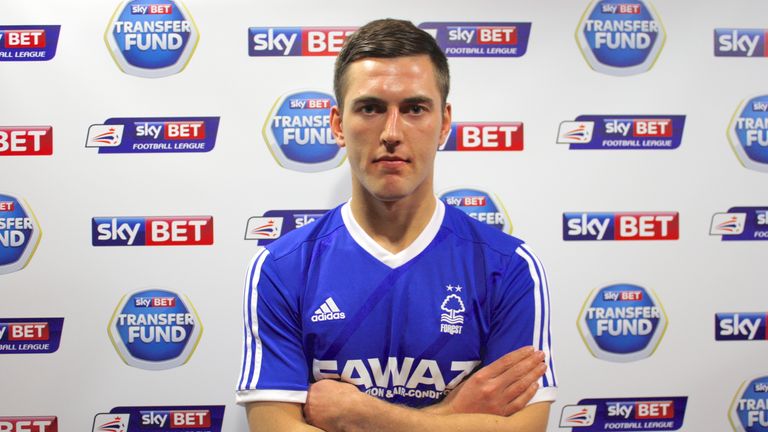 Nottingham Forest have made their second signing with the Sky Bet Transfer Fund – Aston Villa's Gary Gardner, on loan until the end of the season.
Gardner is well known to Forest boss Stuart Pearce – he made five appearances under him for England U21s.
The 22-year-old has already been out on loan this season, making 20 appearances for Brighton, scoring two goals.
Transfer Fund
The Sky Bet Transfer Fund is now open again, so fans have another chance to win £5,000 for themselves and £250,000 for their club to spend on transfers in the summer. Find out more here.
He went straight into the Forest squad for Saturday's game with Sheffield Wednesday, where he spent a brief spell on loan last season.
Forest's first signing with the £250,000 Transfer Fund was Todd Kane, who arrived on loan from Chelsea on Thursday.
Pearce said: "We are delighted Gary has agreed to join us until the end of the  season. His ability and character will be essential between now and the end ofthe season."
Gardner will be available for Saturday's home clash with Sheffield Wednesday, where he had a brief loan spell last season.
He said: "It's a great club and I'm relishing the opportunity. I can't wait to get going and help the club in their pursuit of promotion."
Fan Shaun Lander was selected at random from over 70,000 fans in a draw at Wembley on December 16.
Landscape gardener Shaun, who also won £5,000 for himself, said: "As a Nottingham Forest fan I'm delighted that the club has been able to add a second player to the squad using the Sky Bet Transfer Fund.
 "Hopefully both Todd and Gary can make the difference for Stuart between now and the end of the season."