Tom Cleverley credits Tim Sherwood for turning around Villa's fortunes
Last Updated: 20/04/15 2:14pm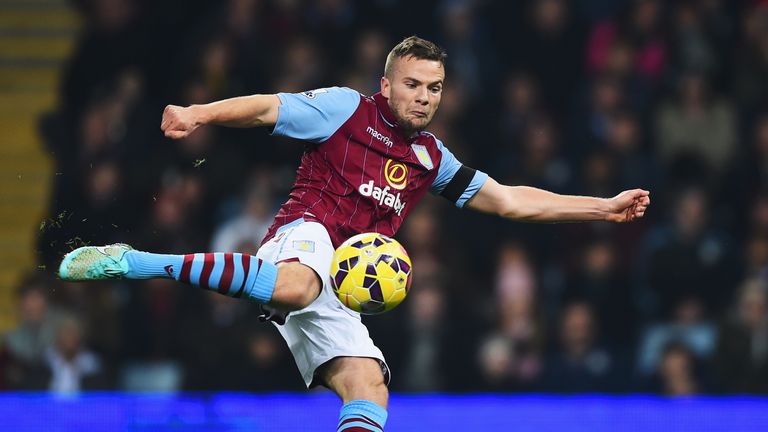 Tom Cleverley says Aston Villa have been transformed by Tim Sherwood's attacking mentality.
Sherwood has produced a series of impressive results since he took over from Paul Lambert two months ago, and his side reached the FA Cup final on Sunday thanks to a 2-1 win over Liverpool at Wembley.
Their attention now turns back to the Premier League, where they sit four points outside the relegation zone with five games remaining.
Cleverley feels, regardless of the competition, it is Sherwood's more attacking game plan that has turned their fortunes around.
"He has brought an attacking style of football. At times we gamble, and it is a case of entertaining the fans and that's what was needed to bring back to the football club," Cleverley said.
"Along with some fantastic defensive displays, we are good to watch and it's a great team to play in.
"I'm playing with four fantastic midfielders here so it's an absolute pleasure to play with them every week and I'm really enjoying my football."
Villa's Premier League future will have been decided by the time they face Arsenal in the FA Cup final on May 30 and Cleverley is already looking forward to a second day out at Wembley.
"I think the FA Cup final is a one-off day. Hull nearly managed to do it against them last year and we'll be going into the match in full confidence," he added, speaking to TheFA.com.
"When we have played Arsenal this year we have been in bad spells, but hopefully come Saturday, May 30, we will be right on form.
"It hasn't sunk in yet that we will be playing for a major trophy in a massive final - it's a hugely proud moment."