Newcastle's Jonjo Shelvey accuses critics of 'chatting rubbish'
By Stephen Turner
Last Updated: 29/09/17 11:19am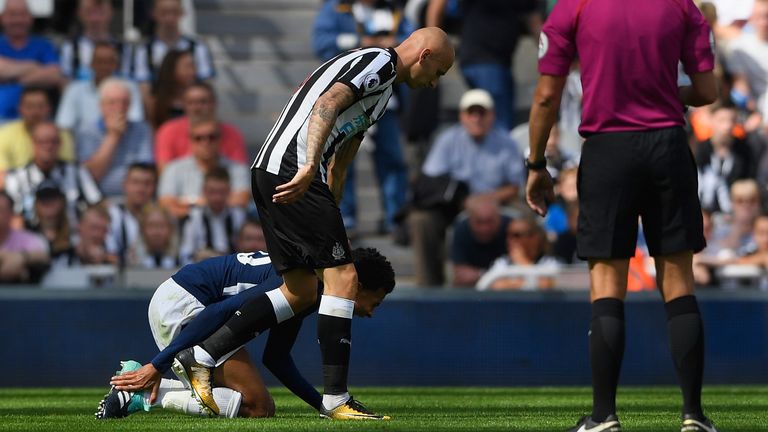 Newcastle midfielder Jonjo Shelvey says he has no need to apologise to critics 'chatting a load of rubbish' about his on-field behaviour.
The England international is yet to start a game since a red card against Tottenham on the Premier League opening day landed him with a three-match ban.
Shelvey stamped on Dele Alli with the game goalless and later apologised to his team-mates after Spurs took advantage of their extra man to win 2-0.
But seven weeks on, and with the visit of his old club Liverpool on the horizon, Shelvey is still smarting at some of the reaction to the incident.
"You can learn from anything, but I couldn't tell to this day what I was doing and couldn't put my finger on it," said Shelvey, who has sought help to deal with his temper. "It was just a moment of madness, an error that I've apologised for.
"The only people I will apologise to is my team-mates, manager and the fans - nobody else outside of this football club.
"It's nothing to do with them, they can print or say what they want. I know the people I let down and myself, but more importantly I let my team-mates down.
"You just get people chatting a load of rubbish about you, to be honest. You don't listen to them."
Shelvey spent three seasons at Liverpool, where he was signed by current Newcastle boss Rafa Benitez, before opting to join Swansea in the summer of 2013.
"I had the choice whether to leave or stay," he said. "I was at the age where I wanted to play more and more games, and I ended up moving to Swansea from Liverpool.
"It was a massive club and in hindsight it was a big call to move from Liverpool, but I felt it was the right one at the time. I feel like it paid off as I ended up playing a lot more games."